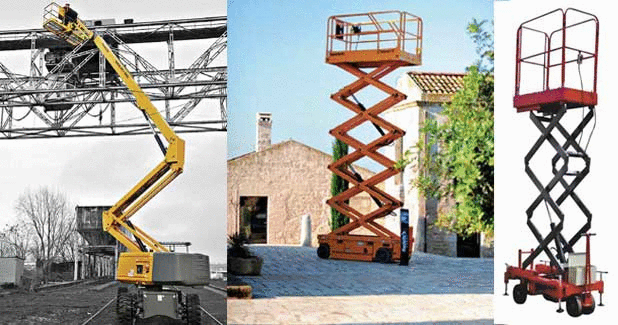 The use of aerial work platforms in India is still to gather momentum, in spite of the growing construction and urban infrastructure development. Increased awareness on safety among the end-users and a growing rental market are expected to drive the market in future.
With safety awareness growing in Indian projects, use of aerial work platforms (AWPs) is gaining momentum with more advanced equipment like boom lifts and articulated truck booms are being added to the fleets of many rental players and end-users. They are now in use in large projects across the country. However, compared to the developed market, the use of advanced AWPs is still low in India. The use is still limited to large and high-end projects and is still to pick up in the small and medium segments.
A fledgling market
Construction has achieved new heights in terms of structures that are coming up in the country. However, use of advanced equipment and technologies is still in its nascent stage, especially in the case of AWPs, as Souma Ray, Director, Haulotte India terms it, "India is still a very immature AWP market." Although demands have been growing over the years, still the usage of AWPs is limited. "Perhaps the lack of concerns towards safety while working at heights is one of the reasons on the inhibited growth of the AWP industry in India. The current estimated market size as of end 2019 is around 8,000 units which is miniscule as compared to developed markets like the US, Europe, Australia, Japan, South Korea, Singapore and now China which has emerged as the second largest AWP market in the world after USA."
Rakesh Modi, Chairman, Mtandt says, "In 2019, about 1,000 new and 1,000 used AWP machines were imported to India, wherein, construction and maintenance are the key segments that drive the market."
According to Ray, over the years, the Indian AWP market for new machines has been very end-user centric with the rental segment being more for used machines. GÇ£However, over the past few years, the rental segment also has started evolving with few rental companies investing in volume purchase of new machines as well as smaller and new entrants in the AWP rental industry investing in newer machines, albeit in smaller numbers," he adds.
Applications evolving
AWPs are being used across the segments of industry and businesses, such as infrastructure, construction, power, oil and gas, facility management, maintenance, buildings, hospitals, malls, hotels, etc. Wherever people need to work safely at heights, such machines are required. In spite of the low numbers, the AWP use is evolving in the country."Of course, with the growth of awareness, people have started preferring AWP over traditional methods of accessing heights since it is directly related to safety and productivity," says Ray. Modi is of the view, "In early 2000, the market opened up for the use of mid-size AWP machines ranging from 12 m to 24 m. But by 2019, there was a surge in demand for lower height platforms operating in the range of 4 m to 12 m, along with considerable import of large-size equipment from 24 m to 70 m."
Market dynamics
The market for AWPs is a mix of end-user and rentals in which, rentals have the lion's share. According to Modi, about 2,500 machines are owned by end-users and about 7,500 machines are owned by the rental companies. Ray explains on the market dynamics, "The end-user segment owned machines have generally been new machines that have been imported over the years, whereas the rental segment has mostly been used machines with a lesser percentage of newer machines added. The estimated share between end-user owned vis-a-vis rental segment is 30 per cent and 70 per cent, respectively."
Rental market
In India, the AWP market is picking up mostly with the growing rental market. Ray elaborates, "The rental market has started evolving as awareness is increasing. With infrastructure projects on the rise, contractors are hiring more machines to meet their project requirements. Further, demand for new or younger well-maintained machines is on the rise, thus pushing the rental companies to import such machines, which is an encouraging sight. Like in any matured AWP market, the growth of the rental market is directly proportional to the growth is demand. For example, China which was a 3,000-machines market about five years back is now the second largest market in the world (projected to be 42,500 units in FY2020). As the market has grown, the rental market in China has grown exponentially. We are hopeful that in the years ahead, we would witness similar growth in India too."
Rental players in India are focusing on the kind of application requirements and expand the fleet accordingly with adding fit-to-use equipment. Modi says,"Availability of fit-to-use equipment with lower rental rates is making working at height safer, more productive and economical in construction and maintenance sector. Skilled and trained operators provided by the rental companies are further driving the demand."
Promoting AWPs
It is important to promote the use of AWPs in the market in order to improve the safety and productivity of workers at jobsites. OEMs and rental players have equal roles in promoting the importance of using such equipment, especially while working at heights. Asserting the importance of AWPs, Ray explains,"Haulotte as a leading worldwide manufacturer has been at the forefront in spreading the awareness on the advantages of using AWP in India. Over the years, we have taken part in all major exhibitions in India and exhibited our machines for customers to have a hands-on experience on them. Further, we regularly give articles and write-ups on our product as well as the AWP industry so as to keep people abreast with the changes in our industry and how newer technologies are being incorporated to make our machines more user-friendly to operate and maintain."
Modi elaborates on his company's efforts in promoting the use of AWPs in India, "Mtandt is currently channellising AWPs through direct selling, dealerships, and majorly in renting. We know of only one strategy, giving our customers a safe and reliable product and back it up with excellent service and economical pricing. Mtandt is able to execute this strategy because of our experience and commitment. Moreover, efficient operations generate better value for all the stakeholders involved."
Technology trends
All major manufacturers of AWPs are constantly striving to update the technology in their machines not only to keep up with the changing needs of the customers, but also to make the machines more user-friendly and efficient, and ensure optimum level of safety while in operation. According to Modi, use of technology has enabled the AWP manufacturers to make machines safer, reach higher while being environment-friendly by use of less energy.
Ray describes on the technology developments, "At Haulotte, we always hear the voice of our customers and their needs. Hence, we are continuously innovating in terms of our R&D in introduction of newer and more user-friendly technology and also working on to expand our product line. We are already revamping our older models which have stood the test of time with newer technologies."
On the new product developments he adds,"Our R&D team is working relentlessly to incorporate the best safety features in our machines so as to make them safe as well as give optimum performance to the user's needs. One of the recent technological advancements we have introduced in our diesel boom lifts is the Entrapment Prevention System, ACTIV" Shield-¬ Bar 2.0. This is a secondary guarding system that ensures safety of the worker in an entrapment situation. The system once activated allows on reverse and down function of the machine, thus preventing further danger to the worker. The system unlike some of our competitors offer, can be reset from the platform itself, thus saving both time and money." On some of the other key features, Ray further elaborates, "Each of our models and variants has its own USP, but one of the many distinguishing notable features is in the lower ground control box of our new generation articulating and telescopic booms. We have incorporated the Haulotte ACTIVE Screen in the panel which will enable the user to get all details of performance and related parameter at the touch of a button. Further, any fault diagnosis can also be done on this screen, which gives a pictorial description of the nature and location of the fault. This tremendously helps in reducing the downtime of the machine and any intervention can be done in the shortest possible time."
The company has also introduced a new LED lighting system on its machines. Ray adds, "Our newest introduction of Haulotte ACTIVE Lighting System which is the provision of LED lights integrated on our new generation booms is to facilitate safe loading operations of the machine at night. Furthermore, our emphasis will also be to ensure increased availability of the equipment, enabling the users to get higher rental rates and productivity."
The Haulotte Stop Emission System is a fuel conserving feature in Haulotte's new generation booms.
This feature automatically shuts off the engine in case of idling for over 90 seconds, thus conserving fuel.
Skill development
Operators training is one of the most important and critical subjects for any equipment and so too for AWPs. Considering the life hazards that are involved whilst working at heights, precision and skill are very important for those who operate such machines. Ray elaborates on the training initiatives, "We at Haulotte provide certified training to operators through our training instructors who are well versed, and factory trained to undertake such courses. We are members of Aerial Platform Association of India (APAOI), an AWP rental association, and Infrastructure Equipment Skill Council (IESC), a government body established to design and provide training courses for equipment. We are also a member of International Powered Access Federation (IPAF), an international non-profit training organisation. We offer our services both directly as well as through these organisations to provide training courses."
According to Modi, Mtandt has invested in setting up operator and maintenance training centres in Chennai, Delhi, and Mumbai. Use of Virtual Reality and Augmented Reality technologies allows the operators hands-on approach making training safer and better. Also, we emphasise that everyone who comes in contact with the equipment should be trained to operate, instead of just having a dedicated operator. This is standard practice all over the world."
New products
Major players in the AWP market have been providing AWP products with updated and innovative features from time to time. Ray describes,"Over the past six years, we at Haulotte have been adding new models in our lineup to keep in pace with the changing technology and needs of our customers. We have introduced new generation AWPs in our product line up with the best value, performance, and features that enhance operation and maintenance capabilities, yet been easy for the user to operate and maintain. In 2018, we launched our first machine of the PULSEO generation, a fully rough-terrain electric articulating boom HA20LE/LEPRO. This is a unique machine that can work both indoor and outdoor on a 24x7 basis, if required. Also, we are the first manufacturer to offer a five year warranty on our machine. This machine has won many prizes and accolades across the world and is very popular both with end-user and rental segments. In line with our global strategy, we shall be introducing newer models this year and also come up with newer features in our range of machines which are going to be essential operational life of our machines."
Modi explains on the new products introduced, "We have introduced a couple of new products to improve productivity and efficiency. These include small self-propelled machines on rubber crawlers to operate on the pebbled ground and unpaved ground like switchyards. Another product is the powered modular aluminium tower platform. Since this is a modular product, it can be easily transported to different levels of a facility using standard lifts or stairs. It can also be used on the fragile floors like tiled floors and low weight-bearing slabs and is versatile in terms of height and carrying capacity. The low level manual personal lift is suitable for working in the food and process industry, where there is zero tolerance to contamination, and in areas where there are flammable gases."
Challenging, but opportunities galore
The current AWP market in India faces many challenges in spite of the vast opportunities in the market due to a series of infrastructure developments in the country. Ray points out the key challenges, "There are three main challenges that continue to hinder the growth of the AWP industry in India. These include lack of legislation by the government on safety whilst working at heights. Unless we have a law in place like in the developed countries, which forbid working at heights of over 3 m without using an access platform, we won't see notable change and increase in the use of AWPs. It is similar to making it mandatory to use helmets while driving a two-wheeler. In both cases, it's human life which is in question and I earnestly request our government to consider bringing in a stringent law for safety while working at heights."
Import of used machines is another challenge that Ray highlights. "There is uninhibited import of used machines into the country. Unfortunately, India doesn't have any restriction on import of used machines and because of this, very old and out of serviceable life machines find a way in, which are then offered to customers. For sure, everyone can understand what level of safety can be assured using such machines. Of course, used machines can get imported, but there should be a restriction in terms of age."
Another challenge is related to operators. He adds, "In India, customers insist on rental companies to provide operators along with the machines they hire. In reality, an AWP is generally operated from its platform controls. Thus, the users themselves operate the machines, who need to work at height. Ground controls are used only for emergency or in loading/unloading and intervention during maintenance. We definitely need to come out of the practice to have an operator use the good control to operate the machine and lift the workers to the required height. Neither this is safe nor can it be economical and productive."
On the market challenges and opportunities, Modi has this to say, "I believe there are huge untapped opportunities in AWP renting and distribution in the market. The challenge is to sustain and make enough money until the market matures and volume grows to its true potential."
Market outlook
Ray elaborates on the market realities and the future,"Although the growth of the AWP industry in India hasn't been up to the expectations, on a global perspective, the demand of AWPs has certainly increased both in government and private sector. Rental sector is also seeing good demands of our equipment which is an encouraging sign. But going forward, as the AWP industry matures in India and people become more aware of the multifarious advantages of using such equipment, the AWP industry shall start seeing a steady growth. In my opinion, in the next five years, this industry shall evolve to become one of the fastest developing sectors."
Modi is bullish on the future prospects as he adds,"We are positive and optimistic about the coming years. With the government's vision of a $5 trillion economy by 2025, we expect an upward momentum in infrastructure spends, thereby creating a demand for AWPs in the market."
AWPs are no more luxury in the market. As the construction and infrastructure development is picking up in the country, AWPs will be essential to do the jobs in the safest and productive manner.