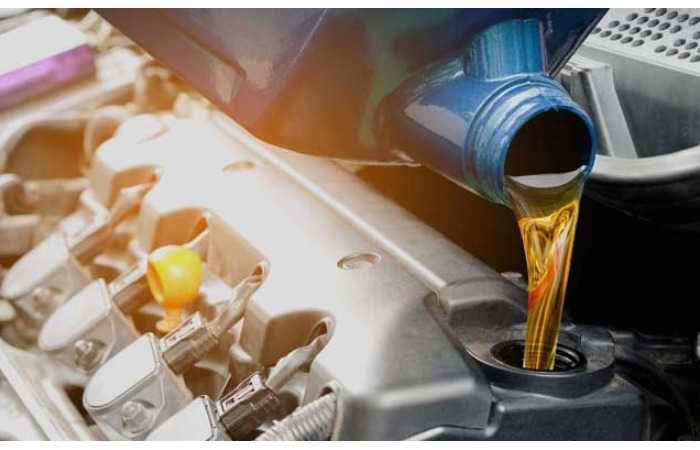 Lubricants play a vital role in construction. The equipment needs to perform under severe conditions, from heavy loads and extreme temperatures, to excessive wear and dirt and water contamination. Such challenges mean it is essential to provide optimal protection.
The market for commercial automotive lubricants declined in 2013 due to the retarded economic growth, as well as its impact on such sectors as logistics, construction, mining and agriculture. In India, more than half of the commercial automotive lubricant market is controlled by nationalised oil companies. Industrial lubricants are the largest market segment in India, with more than 54 per cent of the total market. Power generation, chemicals, automotive and other manufacturing, railways, marine, and metals are the leading end-user industries, accounting for nearly 80 per cent of industrial lubricant consumption.
The growth in construction, mining and material handling equipment sectors across the country has seen a rise and is expected to create more and newer opportunities for the industrial lubricant sector. Heavy equipment and machinery will demand fuel economy benefits from lubricants to increase their potential savings from effective equipment lubrication. This equipment requires lubrication with low viscosity; high durability and longer oil drain intervals. This is where lubricant companies like Gulf Oil, ExxonMobil, Shell, etc. will come to the rescue.
According to GfK Automotive Engine Oil Retail Census Study conducted in 94 cities (population > 5lakhs), the annual market for lubricants in India is estimated to be 130 million litres. This represents sales from around 93,000 auto retail shops across the country. Due to the high vehicle population in larger cities, almost 80 per cent of the estimated market lies in tier 1 cities (population > 10 lakh).
Said a spokesperson from Shell Lubricants India, "The Indian lubricant market is witnessing steady growth due to the rise in the demand for industrial equipment. Over the past few years, there has been an increase in construction, manufacturing and mining activities, which have increased demand for high-performance industrial lubricants for the efficient and productive operation of heavy machinery. Mining equipment works in severe operating conditions."
The Shell spokesperson added, "Industries are embracing technologies and equipment maintenance solutions, and Shell, with its deep industry knowledge, expertise and resources across operations, is leading the way. Our expertise lies in developing the highest quality of lubricants using the best-in-class technology to deliver the desired results to customers while meeting industry needs."
Shell Lubricants, in partnership with Komatsu, launched a specially reformulated lubricant - Komatsu Genuine oil 15W-40. The two companies have come together to create this new formulation that meets the requirements of API CI-4 DH1 which makes it a unique combination. The new formulation Komatsu Genuine oil 15W-40 meets the requirements of API CI-4 DH1 in addition to a wide range of industry and OEM specifications. It delivers improved high temperature performance and ensures reduced deposits and cleaner engines.
Since construction, operations often move frequently from location to location, a maintenance team will not always be nearby. Machine breakdown can lead to long unplanned downtime and unexpected costs, which all equipment owners and operators hope to avoid.
Ravi Chawla, Managing Director and CEO, Gulf Oil India, said, "The global lubricants market was valued at $125.81 billion in 2020 and is expected to grow at a compound annual growth rate (CAGR) of 3.7 per cent from 2021 to 2028. The Indian finished lubricants market is the third-largest and one of the fastest growing lubricants market in the world and with the growing trade of vehicles and their spare parts, it is anticipated to grow at a CAGR of 4.77 per cent by 2027.
The automotive lubricant segment constitutes a large pie of the Indian lubricant market. It is projected that the automotive industry only will see a growth at a CAGR of 3.9 per cent by 2027. According to the latest report by Moody's, India is set to see the strongest growth in automotive sales in the coming years which will boost the demand for automotive lubricants. The demand for automotive lubricants has a direct correlation with on-road vehicle movement, as well as growth of vehicle population and automobile sales.
Adds Chawla, "Gulf Oil recognised the importance of the infrastructure sector in a developing country like India and early on, we set up a dedicated team to cater to the needs of this sector. Today, 6-7 per cent of our sales volume comes from this segment. We offer customised products and services at more than 5,000 sites and to more than 1,000 customers who are building roads, highways, metros and houses. Our customer focus and service-oriented approach has helped us grow the business from this sector year on year. However, the last one year has been challenging for all of us due to slow progress of projects and slowdown in overall market. Despite this, we are still gunning for growth."
Recently, Schwing Stetter entered into a strategic partnership with Gulf Oil for its construction equipment needs. The company says the demand for high quality, synthetic industrial lubricants and oils will witness growth and Gulf Oil is strategically positioned to cater to the growing market consumption in the construction segment.
The partnership will bring to the market a range of products that include high technology and high-quality lubricants including – premium hydraulic oil, engine oil, axle oil, gear oil & high-end synthetic gear oil for their concrete pump, batching plant, concrete mixture and self-loading mixer. It will cater to the distinct and technologically progressive needs of the Construction Equipment sector for Schwing Stetter all-India aftermarket requirement. These genuine oils will be distributed by Schwing Stetter exclusively through its own outlets positioned at various locations across the country.
Choosing the right lubricant
Choosing the right lubricant is essential in helping to improve reliability, boost productivity and reduce the frequency of breakdowns. It is important to consider what factors will affect whether a lubricant will be effective for its intended purpose. With engine oils, some of the key considerations are viscosity grade and performance attributes.
Lubricants are available in different Society of Automotive Engineers (SAE) viscosity grades, which dictate the acceptable temperature range in which they can perform optimally.
Improved aeration control is also particularly important for off-highway engines due to the potential for more air than usual to become entrained within the oil. At the bearings, this can prove dangerous, as these components need an oil film to protect them. Entrained air is detrimental as it interferes with boundary lubrication, or the thin oil film that protects against metal-to-metal contact.
Latest innovations
The widest aera of innovation today is in the adoption of digitalisation, and Artificial Intelligence and Machine Learning (AI/ML). Data interpretation has proven to be challenging – largely due to the lack of real-time monitoring, inaccuracy in measurement, and absence of precise predictive analytics that prevent the optimisation of performance. By developing the technology to digitally monitor oil health and equipment performance, at Mobil, we are taking innovation further by integrating AI/ML and Industrial Internet of Things (IIoT) to overcome the challenges of insufficient equipment effectiveness and downtime.
Said Deepak Miglani, General Manager – Industrial Lubricants, ExxonMobil Lubricants, "For instance, the Mobil Serv Lubricant Analysis (MSLA) programme is combining services that supply reports, analyses, and solutions to help professionals make effective business decisions by limiting unscheduled downtime, equipment repair and lost productivity. Further, Mobil Serv IIoT Insights helps users understand the mechanics of their equipment and provides precise data, enabling them to direct manpower elsewhere – while automated machinery handles tasks such as alerting customers to potential problems before they arise and providing solutions to deal with them."
Further, the Mobil Serv Real Time, the next-generation oil condition monitoring tool, is enabling instant access to oil diagnostics and performance issues, preventing users from paying for costly repairs later. By making this kind of information accessible, Mobil is driving the optimisation of resources and protecting critical assets through technological advancement.
Road ahead
The Government of India has planned to spend $1.4 trillion in the next 10 years in the infrastructure sector. Government's continued emphasis to drive India's infrastructure sector will provide impetus to commercial vehicle sector. Beyond the increased need for lubricants in a commercial vehicle, there will be an increase in demand for industrial lubricants too. The need for gear oil, transmission fluid, metalworking fluid, and grease will see an upsurge in demand. The Indian industrial lubricant market was worth $1.4 billion in 2020 and is further projected to reach $1.8 billion by the year 2027, growing at a CAGR of 3.8 per cent during the forecast period (2021-27).