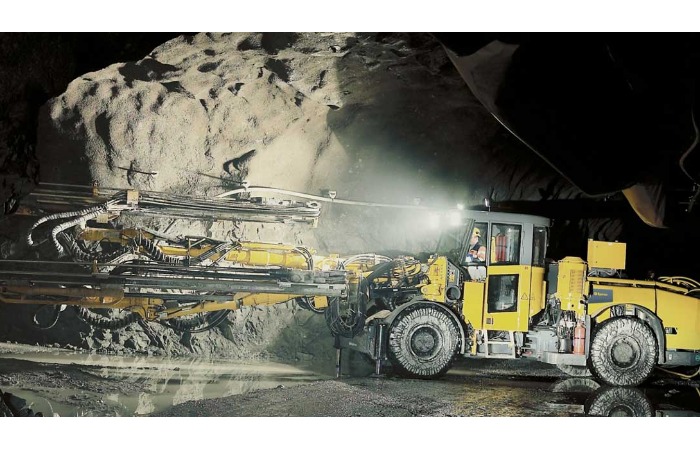 With the growing demand for coal production in India, companies are planning for higher capacity opencast mining projects. This will require deployment of higher capacity mining equipment with the latest technology that will increase productivity. "In order to meet this demand, BEML has indigenously developed and manufactured the latest technology higher capacity mining equipment as per the requirement of Indian mining industry," says
MV Rajasekhar, Director (Mining & Construction), BEML.
Epiroc is an important player with a wide range of advanced, reliable, safe and environment-friendly equipment made in India and at various production facilities across the globe. The company provides a complete solution from supply of state-of-the-art advance equipment for blast hole drilling in open cast coal and iron ore mines, surface drilling equipment for stone and line industries, underground tunnelling face draining boomers, dump trucks, ventilation solutions, and loaders. Also offered is a range of advanced technology battery-operated equipment with zero emissions. Arvind Patil, General Manager, Epiroc Product Company Nashik elaborates, "In India, we have added several new products recently like the complete range of dimension stone equipment for the booming granite industry in India. We have indigenously developed advanced deep-hole drilling equipment for the US and Canadian markets. We have successfully developed exploration drill rig and a range of hydraulic breakers. For underground mining, we have added advance features like measurement while drilling to our boomers and range of dump trucks."
Dheeraj Panda, Director, Sales, Marketing and Customer Support, Sany Heavy Industry India, elaborates on product evolutions in Sany for mining applications, "We have the SK T90S as the latest addition in the dump truck family in our mining division. SKT90S is a wide-body mining truck and is the star product in mining machinery. It comes in both AT and MT versions, with a load capacity of up to 61 tonne. It has five major core advantages of safety, reliability, economy, efficiency and comfort. Its technology reaches the international first class design standards." Another revolutionary product from Sany India is the road header, mainly used in building tunnels for roadways, railways, non-metal mining tunnel, etc. Sany has recently introduced a ripper arm attachment for its SY 500 and SY800 excavators, which is one of its kind first attachment introduced in India, according to Panda.
Tata Hitachi has access to global technology through its principal Hitachi Construction Machinery, Japan. Hemant Mathur, Assistant Vice President, Sales and Marketing, Tata Hitachi Construction Machinery Company, adds, "We have GI series of machines fitted with online health monitoring system ConSite, to track equipment performance and make recommendations with benchmarking to customers." Tata Hitachi has introduced mining wheel loaders in the range of 7T-12 T payload for the Indian market. According to Mathur, Full Maintenance Contract (FMC) has been core to Tata Hitachi's service offerings ensuring low machine downtime and effective utilisation of machine.
Voltas MCED Mining Machinery Solutions offers a global distribution platform to customers for a wide portfolio of auxiliary products for earthmoving mining machinery from its partners in India and across the world. Sharad Thussu, Vice President, Mining & Construction Equipment Division, Voltas, adds, "In our auxiliary product business, we do offer our customers Voltas branded solutions along with products and solutions from well recognised global players. Voltas also provides quality products from MSMEs under the 'Make in India' initiative VOLCAB earthmoving machinery air conditioners constitute a small part of the cost of the equipment that OEMs make. Yet they can cause expensive builds industrial air conditioning units specifically to minimise problems and to assure that if they occur, users can repair them without waiting for special parts." Wirtgen is the market leader in surface mining, offering a technically mature product portfolio for opencast mining which has been tried and tested in operations around the globe. Wirtgen surface miners offer cutting widths ranging from 2.20 m to 4.20 m and cutting depths of between 20 cm and 83 cm. Ramesh Palagiri, Managing Director and CEO, Wirtgen India, adds, "Wirtgen is the only manufacturer covering a scope of performance ranging up to 3,000 tonne per hour with direct loading by conveyor belt.
Wirtgen surface miners cut primary resources such as coal, gypsum, iron ore, salt, phosphate, bauxite, limestone or granite, achieving high degrees of purity in the process. They are increasingly used as primary extraction equipment also in newly opened-up opencast mines or extensions of existing opencast mine operations."
Trending features
According to Patil, in present day mining and for the mining companies globally, automation, digitalisation and interoperability of the existing systems, play vital roles in the overall mining process. "Though in India, we have a lot to do to catch up momentum, we can say it has started," he says. Adding further, he says, "All these above-mentioned three features are presently available in all our drills through which the customer can benefit and plan their process to optimise the productivity and profitability."
Epiroc drills can now work without the operator. As Patil explains, "With our 'Autonomous Drilling System' drill plan can be uploaded into the drill rig's RCA systems through WiFi network from a remote control tower, miles away from the mines, taking out risks to the operators, supervisors in field and also boosting the productivity to the next level."
In underground mining and construction, the level of technology adoption in India is at advance level, according to Patil. "We are proud to be part of it by providing solutions such as Mobilaris and My Epiroc to do detailed planning, scheduling and monitoring of the mining equipment working inside tunnels," he adds.
According to Panda, SANY mining machines are equipped with the latest technologies, which meet all the customer requirements. He explains further, "Our machines are efficient, reliable, robust and have low operation cost in its class. Our hi-tech modern engine has fast digging speed with low energy loss. And its maximum operator comfort makes the SY500C-10HD efficient, economical and the perfect match for mining activities. We have developed EVI App to monitor the real time performance of the machine and fleet management by the customer. Along with this, we have also developed an internal service app which helps us to increase the uptime of machine when and where required."
Tata Hitachi provides online monitoring systems and ConSite as the latest technologies with their machines. "Additionally, our mining machines are equipped with the latest safety standards to ensure high level of safety in mining operations," adds Mathur.
Maintenance and repair is essential for enhancing machine performance and reliability, therefore optimising production. "We can fully tailor any type of service, maintenance and parts contracts to allow our clients to concentrate on running the operation," says Thussu.
Palagiri elaborates on the trending features in Wirtgen machines, "With our machine technology, we also constantly endeavour to keep environmental pollution as low as possible. A Wirtgen surface miner is a perfect example of this philosophy: it impresses with its environmentally friendly technology as it cuts, crushes and loads rock in a single operation. A tremendous advantage of selective mining is that the vibrationless mining operation without drilling and blasting is accompanied by low levels of dust and noise. The low environmental impact also permits maximum exploitation of the deposit right up to the edge of residential areas. The selective mining of high-quality materials requires considerably less space than conventional mining methods. Our fuel-efficient, intelligently controlled engines comply with the strictest exhaust emission standards, thus making our surface miners very reliable."
Introduction of advanced technology equipment and digital solutions will drive the efficiency and productivity at mining sites.
New products from BEML

BH150E electric dump truck with payload of 136 MT
BH205E electric dump truck with payload of 186 MT
BE1800E electric hydraulic excavator (180T class)
BE1800D hydraulic excavator (180T class)
BD475 bulldozer (850 hp class)
Trending Features

AC drives system for dump trucks, shovels and draglines
Environment-friendly electric hydraulic excavators
Emission norms compliant engines
Payload Monitoring System (PLMS)
Vital Information Management System (VIMS) to take timely corrective action to avoid major breakdowns
Antilock Braking System (ABS) and Automatic Spin Regulator (ASR) system
Provision for Operator Independent Truck Dispatch System (OITDS) for monitoring the productivity.
Solutions from Voltas

Mine Safety Products: Voltas offers a host of safety products in mining machinery from proximity devices, to 360-degree rear view camera, operator fatigue monitoring system, seat belt reminders and many others.
Wheel Wash: Voltas collaborates with Wheel Wash and brings environmentally friendly wheel cleaning systems with recycling and effective wastewater treatment options. These have been designed to provide significant energy, water and operational cost savings for the customer.
Mesabi heat exchangers: L&M Industrial is a global manufacturer and supplier of Mesabi precision-engineered OEM cooling and heat transfer solutions since 1957. The Mesabi product range includes radiators, oil coolers, charge air coolers, fuel coolers, tube and shell transmission and brake coolers, and more and finds application on off-highway dumpers, excavators, dozers and others.
Technologies from Epiroc

FAM – Drilling angle measurement for accurate tunnelling
MWD – Measurement while drilling on boomers
Certiq – Wi-Fi data acquisition of equipment in fields, better service support and preventive maintenance predictions
Ventilation - High efficiency drives and digital safety monitoring
Sophisticated dimension stone drill equipment – Production recently shifted from Italy to India
Upgradations of equipment with Euro 4 low emission clean engines