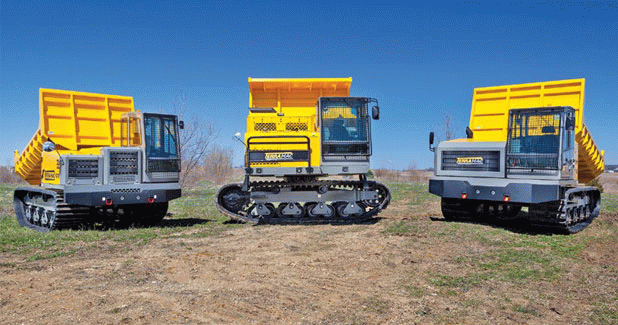 Terramac crawler carriers provide unmatched versatility to conquer any job.
Terramac, a leading manufacturer of innovative rubber track crawler carriers, offers various models that deliver superior performance and versatility to tackle the toughest jobs. Terramac?s RT9, RT14 and RT14R crawler carriers are well-appointed to provide operators with maximum efficiency and easy maintenance.
The greatest feature that sets Terramac?s units apart from other vehicles is its rubber track technology. Terramac crawler carriers exert minimal ground pressure while fully loaded, making them ideal for loose and wet ground conditions where heavy, wheeled or steel track machines are likely to get stuck. Flotation from the units? rubber tracks leave a minimal footprint and less disturbance on the soil while providing reduced slippage to conquer adverse conditions, climb faster on rugged terrain and reach remote areas.
Designed to provide an unprecedented degree of customisation, the Terramac RT9 and RT14 feature easy front and rear bolt-on attachments which enable an array of specialsed equipment to be mounted, such as: bark blowers, cranes, drills, generators and tanks. The standard hydraulic system incorporated into each Terramac model is designed to accommodate the attachments, whereas competing units require a hydraulic conversion to take place. Standard units are available with either a flatbed, dump bed, or rock bed.
The robust Terramac products feature powerful Cummins diesel engines and added torque, allowing operators to tackle a wide-range of applications with ease. Terramac crawler carriers also boast large carrying capacities and impressive travel speeds to ensure quick cycle times and keep productivity levels on point - regardless of application.
Terramac RT9 and RT14
Contractors rely on the mid-size RT9 and larger RT14 straight frame units for their customisation options and key features. ?No matter what business you?re in - from pipeline or utility to aggregates and general construction - Terramac crawler carriers help you tackle any jobsite challenge that comes along,? says Andrew Konopka, President, Terramac. ?We customise electrical power sources and frame adjustments on the RT9 and RT14 to suit any configuration.?
The Terramac straight frame models also conquer the toughest pipeline jobs and can be outfitted with a variety of industry tools and equipment including tac welders, pipe heating units, personnel carriers and vacuum excavation units. ?Utilising Terramac?s carrier with the Vermeer hydro excavation unit allows our customers to have easier access to jobsites in rougher, more treacherous terrain,? says Ray Miller, Sales Manager of Vermeer Texas-Louisiana. ?The two-in-one machine provides our customers with safer, faster and more cost-efficient exposure to pipelines and positively impacts their bottom line.?
Moreover, the RT9 and RT14 crawler carriers tackle environmentally sensitive jobs with specialised restoration equipment such as hydro seeders, bark blowers and straw blowers. Terramac?s rubber track technology enables the units to exert the low ground pressure necessary for environmental work - even at full capacity. ?The RT9 and hydro seeder customisation allows environmental crews to spray seed mix for erosion control with minimal disturbance to the ground,? says Barry Casto, General Manager of Shafer Equipment. ?Crews finish their jobs with little evidence they were ever there working.?
For mining applications, both RT9 and RT14 units can be configured with a water tank and hydraulic crane unit to handle drill sections. Power for the crane comes from the gear pump powering the dump bed. In addition, the units can be mounted with a spray boom for dust control on tailings ponds.
Equipped with a digger derrick, the RT9 tackles a myriad of utility tasks that include digging holes, lifting/setting poles, turning screw anchors and setting transformers. The RT9 also accommodates boom tip configurations, multiple sized augers for different jobsite applications and outriggers for extra stabilisation. ?The RT9 and digger derrick combo is a great addition to the utility industry because it can adapt to the environment of any jobsite,? says Matt Slater, Director of Sales, Terramac. ?Its ability to effortlessly maneuver through the toughest terrain, reach the most remote jobsites and dig, lift and set on any ground condition makes it a unique customisation for the industry.?
When configured with the standard dump bed, Terramac?s straight frame units are ideal for carrying material to hard-to-reach jobsites. And with the heavy-duty rock-dump bed, the units haul the heaviest materials - including dirt, mud and rocks. The larger RT14 can also be outfitted with a flatbed, making mat hauling easy on the right of way.
Terramac RT14R
Built with a rugged upper frame that rotates a full 360 degree, the Terramac RT14R crawler carrier hauls and dumps material at any position, even while driving. This unique rotational functionality allows the RT14R to offload materials faster than a standard straight frame unit as its tracks don?t need to be counter-rotated to drive another direction.
?The RT14R provides contractors with a versatile solution to tackle a range of applications while improving efficiency and cost savings,? says Slater. ?The amount of time saved adds up quickly when you factor in how many loads are being hauled on a daily basis.?
The RT14R?s ability to dump without tearing up the surrounding ground also minimises environmental damage and land restoration costs. Low ground pressure and rotating functionality make the RT14R ideal for work in confined spaces and environmentally sensitive awreas, such as: rail road track right of way access, rivers and levees, general earthmoving, site prep, mining and utility jobsites.
?We?ve been looking for a 360 degree machine for our general construction and pipeline slip projects because space is very limited,? says Kenny Newhouse of K&N Contracting. ?Some of these areas are so tight that you can?t turn a machine around. We like the rotating feature of Terramac?s RT14R as well as its carrying capacity. It?s great for hauling material up and over hills on our projects.?
In addition, the Terramac RT14R provides users with increased safety and easy maintenance. The innovative RT14R enhances safety on the job by eliminating the time an operator spends in reverse. Downtime is reduced with easy access to maintenance checks and track wear is significantly less as the unit can spin, resulting in reduced expenses for repairs.
The Terramac RT9, RT14 and RT14R are manufactured in North America and built entirely of premium components. Terramac?s CE-certified models come standard with roll-over protective structure (ROPS) and falling object protective structure (FOPS). Each unit is ergonomically designed with upgraded features, including: a wide access door for easy entry and exit, windows on all sides and a large mirror for increased visibility. A tilt hood for engine access and a dog house for fluid/filter checks are also provided for hassle-free maintenance. Furthermore, the Terramac RT14 and RT14R carriers are equipped with a multi-function joystick with dump controls for user-friendly operation and a 2-speed hydraulic transmission for increased power. Terramac is committed to providing the best full service and parts availability in the industry. Terramac customers enjoy access to greater parts availability as well as timely and accurate delivery through Terramac?s full-line dealer network, dedicated support team, and aftermarket support.