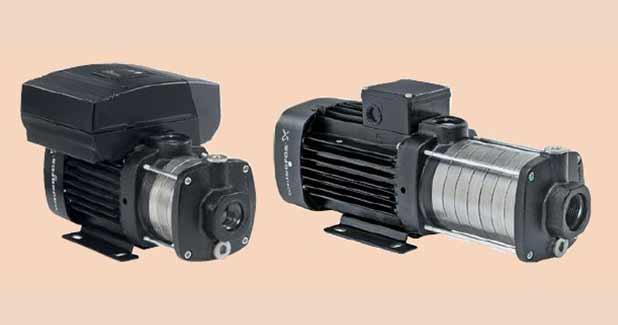 Grundfos is introducing the next generation of ideal, compact pumping solutions. The CM and CME pumps range redefine compact efficiency for any industrial applications. These horizontal, multi-stage pumps are driven by Grundfos' innovation-led approach and are primarily used as a built-in pump in OEM solutions. Its compactness and flexibility make it an optimal solution for installations and interactions with other components in a larger product.
CM and CME pumps are close coupled and comprise a series of interchangeable modules designed to work together seamlessly. The key differentiator between a CM and CME pump is its motor. While the CM pumps are fitted with a mains-operated motor, CME pumps represent the new era of pumps with an integrated frequency driver and PI controller.
All CM and CME pumps are capable of pumping liquids at temperatures from -30oC to +120oC, respectively. These pumps are available in various sizes and the number of stages to meet customer requirements, in terms of flow and pressure.
Features and benefits
Like all other Grundfos solutions, these pumps are designed to conserve energy and use water optimally during its entire lifetime. CME pumps fitted with permanent magnet motors and its high frequency variable frequency drive has one of the highest energy efficiency ratings worldwide. Their highly reliable nature ensures that there is minimal downtime with low maintenance costs.
Applications
CM and CME pumps cover a wide range of applications, from small installations in homes to large industrial systems.