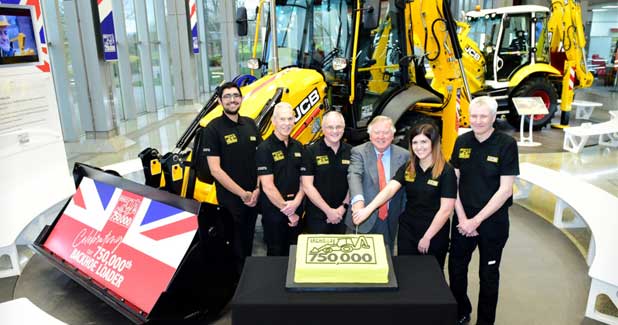 JCB celebrated a unique milestone as its 750,000th backhoe loader rolled off the production line. The landmark machine was driven off the line at the company's factory in Rocester, Staffordshire - the very location where the first JCB backhoe was manufactured almost 70 years ago. The 750,000th model is a special edition of JCB's latest 3CX backhoe loader, bearing a unique livery and comprehensive specification.
Lord Bamford, Chairman, JCB
said, "Some of my earliest childhood memories are of watching our first backhoe loaders being produced at Rocester and it's incredible to think we have now manufactured 750,000. What's even more incredible is that the backhoe remains one of the world's most popular pieces of construction equipment almost seven decades after the first was produced. It really is a testament to the versatility of the machine that its popularity continues to endure and will see it continue to prosper in the future."
Speaking at the occasion Subir Kumar Chowdhury, Managing Director and CEO, JCB India said, "JCB introduced the iconic Backhoe Loader in India four decades ago. Today, it is visible at almost every worksite in metros, towns, and villages, working tirelessly towards building a new India. JCB backhoe loaders have made a significant impact in the country, with the machine becoming almost synonymous with infrastructure development."