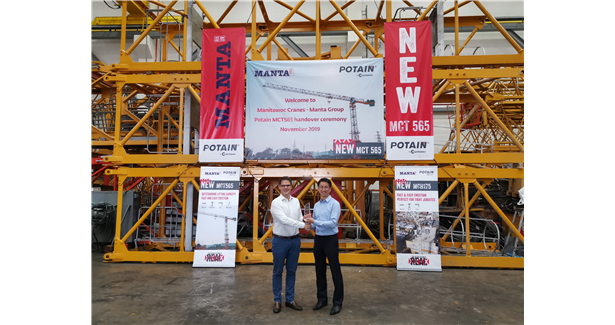 Manta Equipment received two brand new Potain MCT 565 M25 topless cranes in Singapore and recorded immediate success with both. Hock Guan Cheong Builder purchased the first from the company and is using it for residential construction projects, while BHCC Construction is renting the second one for use on housing projects.
?We chose the MCT 565 because the Potain topless crane has better lifting capacity compared to the similar class of cranes from other manufacturers,? said Benjamin Goh, Marketing Manager at Manta Equipment.
The MCT 565 M25 offers a 25 t maximum load and jib length configurations from 30 m to 80 m in 5 m increments. At its 80 m jib end, it can handle an impressive 4 t. Despite its increased size, the new model stays true to the design characteristics of Potain topless cranes, with easy transport and erection combining with excellent on-site performance.
Manta Equipment is one of Asia?s leading tower crane rental companies. It serves primarily the construction and infrastructure sectors in Singapore, Hong Kong and Macau. In Singapore the company has been leasing Potain cranes to customers for over 25 years.
?Since the MCT 565 launched at bauma China 2018, popularity is continuing to grow,? said Darren Tan, Regional Sales Manager, Tower Cranes, Manitowoc Cranes ? Greater Asia Pacific. ?With many contractors preferring topless cranes and job sites using heavier construction materials, we expect to see more demand for the MCT 565, which is now the largest topless crane from Potain?s Asia Range.?