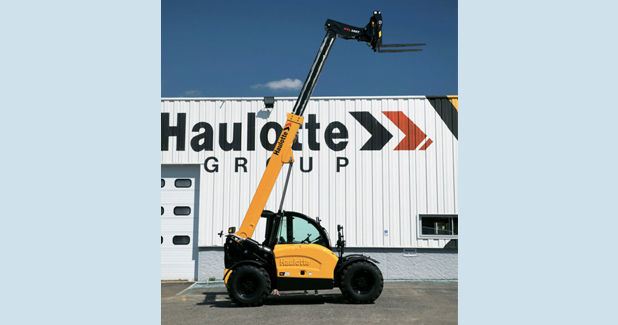 Compact and versatile, Haulotte's new telescopic handler HTL 3207 provides maximum efficiency on tight job sites. It offers excellent manoeuvrability and significant work autonomy under optimal conditions of safety and comfort.
High Productivity & Precision
HTL 3207 is equipped with hydrostatic transmission. It delivers optimal torque, power and speed for an unequal led driving comfort. The inching pedal is ideal for smooth and progressive driving to easily approach a structure. Thanks to proportional movements, manoeuvring is intuitive, secure and precise. The HTL 3207 provides a maximum lift capacity of 3.2 tonne, and is designed to lift any type of load up to a height of 6.85 m. With a short turning radius and a length of 4.67 m, this new machine can easily access narrow spaces. It addresses the needs in the construction and industrial sectors where performance and compactness are inextricably linked.
Comfort and Ease of Use
The new compact telehandler is user friendly. The spacious and ergonomic cab offers optimal visibility. Because comfort is so important for all-day driving, a fully adjustable seat with shock absorbers aims at reducing fatigue at work. The joystick 4 in 1 enables the operator to control precisely all movements. All controls (including the parking brake button) have been specifically positioned to be easily accessible according to their frequency of use. Finally, the load moment indicator which is positioned to be easily read includes an automatic cut off when operating with a tilting risk and an automatic reset in case of dysfunction.
Versatility
The HTL 3207 adapts to the ground conditions so that the operator can focus on lifting operations in complete safety. Thanks to 20-inch tyres, the machine can easily cross a gap. On worksite mode, speed is limited to 8 km/hr for a higher safety; on road mode, the telehandler runs up to 25 km/hr. Three driving modes assure excellent manoeuvrability in any environment (2 WS, 4 WS or crab steer). Haulotte's new telehandler is a multipurpose machine that can be rapidly fitted with multiple accessories: forks, buckets, and so on.
Easy Maintenance
HTL 3207 is a reliable machine which has been designed to be easy to maintain. The diagnostic tool provides operators with key information about the functioning of the telehandler. A backlit electronic dashboard centralises all information about the operating status of the machine for continuous monitoring. To optimise downtime costs, all the engine assembly components are easily accessible. Maintenance operations are simple and fast to execute, therefore improving the total cost of ownership of the machine.
STANDARD EQUIPMENT

Hydrostatic transmission
ROPS / FOPS cabin with heating and ventilation
Cut-off of dangerous movements when overloaded
Possibility to combine mast, telescopic boom, excavation and accessories movements
Safety valves on hydraulic jacks
Gear equipment pump
4-wheel drive and steer
Backlighted e-tronic dashboard
OPTIONS AND ACCESSORIES

Electrically hydraulic controls
Different types of tyres
Working lights
Rear camera or sensor
Air conditioning
Metal windscreen protection
Cold, hot environment or biodegradable oil Buckets
Grabs
Jibs
Winches