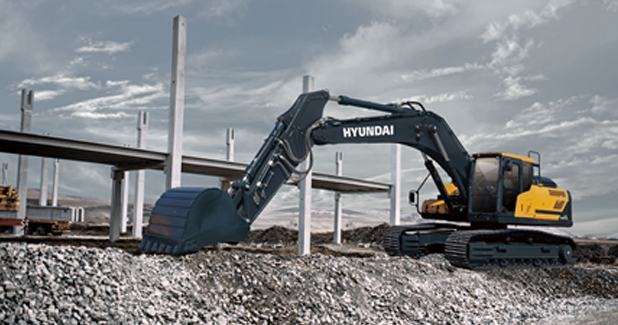 Hyundai Construction Equipment Europe (HCEE) introduced the HX300AL, a 30-tonne Stage V-compliant crawler excavator. This new machine is the ideal workmate for infrastructure works and general construction. The HX300AL comes with a wide range of new technologies and services offering the operator a convenient, safe, efficient and productive workhorse.
Coming with a new engine platform (Stage V), a new hydraulic flow regulation, improved operator controls with 2D/3D machine guidance, new safety features, and improved uptime and productivity, this 30-tonne crawler excavator is ready to make its mark in the construction equipment industry.
The HX300AL will incorporate some of Hyundai's new technologies, which include:
Electric Pump Independent Control (EPIC): By controlling the pump's regulation independently, the machine offers improved fuel efficiency and controllability.
Auto Safety Lock prevents unintended operation/start of the excavator, which improves safety for the operator and on the job site.
Eco guidance indicates "inefficient operation" status to prevent energy losses (fuel consumption, hydraulic power) by inadequate working habits, which is displayed on the machine cluster.
Machine Guidance/Machine Control (MG/MC) indicates the work status and automatically controls the attachment to assist the driver. MG displays the position of the bucket tip and assists the operator by use of positioning guidance. MC will automatically take over the grading with the bucket tip or face and has an automatic stop control: up, down, forward and cabin protection.
All A-series excavators will incorporate several new service features that have been developed and tested with the aim of improving machine uptime.