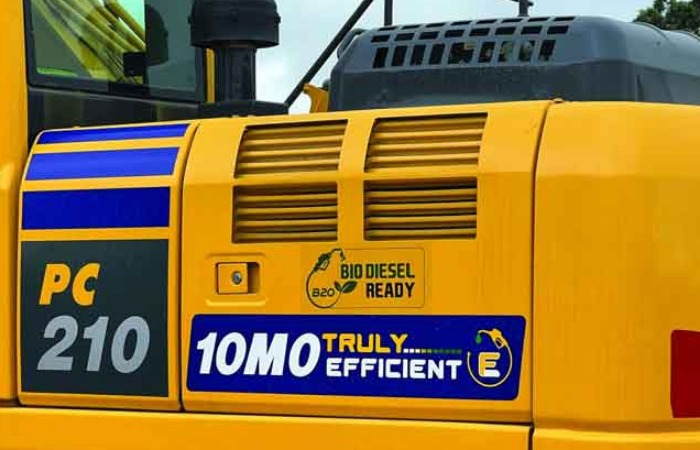 Komatsu India, the 100 per cent subsidiary of the global construction and mining giant Komatsu and Larsen & Toubro, India's largest engineering company, put together an impressive display at bauma CONEXPO India 2023. The participation covered a large outdoor area with a constructed stall and a comprehensive display of 15 machines, genuine parts and special attachments. For the first time, Komatsu had on display the HB365LC-1 hybrid excavator, which is at least 20 per cent more energy efficient and helps reduce carbon emissions compared to conventional equipment.
The PC300LC-8 hydraulic excavator fitted with a parallel cabin and orange peel grapple is ideally suited for scrap handling which is expected to grow multifold with the new automobile scrapping policy.
Other products on display included Komatsu's PC210-10MO super long front, PC205-10M0 hydraulic excavator 'the EarthMaster' and newly introduced PC500LC-10R hydraulic excavator developed for the mid-mining segment and the next-gen GD535-6 motor grader. These new models incorporate Komatsu's cutting-edge technology and have been specially developed to suit tough Indian applications and conditions. The new high-performance hydraulic excavators have generated tremendous interest among buyers and have been lauded for introducing highly productive machines.
All these models are bio-diesel compatible and poised to bring about a behavioural change in customer-buying preference and contribute to the sustainability index of the nation. Komatsu is in discussions with oil companies to make biofuel available at project sites with easy access to end users.
L&T recently commissioned Komatsu's 100 tonne off-highway trucks for a steel company in Odisha that plans to operate the machines using bio-diesel. This equipment delivers the same power and productivity even when they operate on alternate energy but save fossil fuel and reduce greenhouse gas emissions.
L&T also showcased its fully indigenously developed and manufactured world-class road machinery viz., L&T 1190 soil compactor, L&T 990 tandem compactor, L&T 491 mini compactor and L&T 2490 pneumatic tyred roller (CE-IV compatible) that have become well accepted in the Indian market.
L&T 9020-wheel loader and L&T S315R skid steer loader deployed for material handling formed part of the impressive product display. L&T's environment-friendly Sand Plants and Crushing Solutions, which are manufactured at its Kansbahal Plant in Odisha, are showcased with tabletop models. These are truly the 'Make in India' machines under our Honourable Prime Minister's vision of 'Atmanirbhar Bharat'.
The stall also showcased value-added special attachments from Komatsu such as rock breaker, quick coupler and car scrap handler, as well as L&T-manufactured items viz., crusher bucket, rock splitter, clamshell and slope compactor – which have multiple applications in the Construction Industry.
Yasunori Fujii, Managing Director, KIPL, and Arvind K Garg, Senior Vice-President & Head, Construction & Mining Machinery, L&T alongwith senior executives led the company's participation in the Bauma Conexpo show.