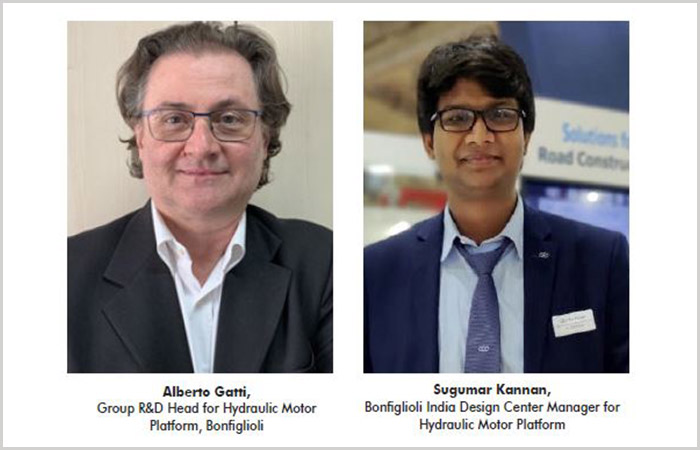 Bonfiglioli provides a complete range of innovative integrated hydraulic motor gearboxes for mobile solutions. Alberto Gatti, Group R&D Head for Hydraulic Motor Platform, Bonfiglioli, and Sugumar Kannan, Bonfiglioli India Design Center Manager for Hydraulic Motor Platform, share more on the hydraulic motor technology trends and product innovations.  
Which are the key hydraulic motor variants used in construction, mining and material handling equipment? How do the features vary according to applications?
Alberto Gatti: Hydraulic motors are among the most versatile systems used in mobile machines; this is true regardless of the final machine type, purpose, and application. We classify them into three big families: Orbit motors, Swash plate motors and Bent axis motors.
Each family of motor has unique performances, overall dimensions, cost, allowable pressure, flow range, and efficiency. All these parameters must be evaluated based on the operating conditions, applications 
and specific machine functional requirements in order to select the appropriate solution, which provides the optimum performances for final equipment usages. A well-designed hydraulic motor will boost speed performances, gradeability, and overall machine fuel consumption.
Our product portfolio has an extremely wide range of solutions for track and wheel drive gearboxes. We must be able to match the right motor to the right gearbox in any possible case, and this implies that also our hydraulic motor portfolio must be as wide as possible.
The same concept needs to be further down extended to additional motor features:
The motors that will be used in open loop applications will likely incorporate a counterbalance valve (a.k.a. motion control valve) in order to stop the machine on flat ground or prevent over-speeding when travelling downslope;
The motors that will be used on heavy-duty closed loop applications will feature a loop flushing valve to help keeping oil temperature at acceptable levels, even when the machines are working with the highest ambient temperatures.
It is important to note that we mentioned just two of the many possible features we may offer, and moreover we did it without even saying it was for swash plate type or others. Being possible to do this for every motor, we immediately get a multidimensional matrix of designs, displacements, valves, options, and settings that exponentially gets larger and larger. It is necessary to thoroughly understand the machine, the application and the specific requests of each customer, in order to find out the best motor for the task.
What are the new technology trends in hydraulic motors?
Alberto Gatti: Bonfiglioli has always pioneered the concept of integrated drive solution - the motor and the gearbox integration forming a unique system - with many advantages in terms of high-power density, compact dimensions and application-based solutions. In addition to all these functional needs, the demand from end-user market is also to have lower operating and equipment costs, which is also a challenge for system providers like us to have an highest technology motors with optimum costs.
The construction equipment are experiencing a giant revolution. Saving weight on some components could be fundamental to add some batteries or hybrid features without affecting the total machine gross weight. Space is equally important because we need to locate additional components, and so on.
For all the above mentioned reasons, we are keeping untouched the choice of plug-in hydraulic motors, but we are expanding the range of integrated solutions. We cross-feed ideas used initially only on excavators, to other machines, and we always strive to design new products with something more than its predecessor.
The second important point we see is the increase of the average working pressure, that offer a quick way to obtain the same output torque from a smaller displacement motor. At the very beginning, it may seem a cost neutral change, because we are basically exchanging a medium pressure unit with a smaller heavy-duty equivalent, but every customer can realise that they will still have weight and space advantages and these are big pro factors.
And about the cost difference, production scale effect has always a great impact on this, and it is possible to minimise it when volumes increase.
What are the major products and solutions offered by the company in hydraulic motors?
Alberto Gatti: Based on what we just mentioned, we are able to propose tailored solutions, sometimes the motor choice is driven by motor and pump packaging opportunities (parts from the same OEM) to leverage common CPU and machine controls. 
We offer complete range of products for various machines for construction equipment like excavators, drilling machines, building cranes, milling machines and many others, and agricultural equipment too. Our drives and geared motors perfectly adapt to hydraulic, hybrid and electric machine needs. With a range of solutions suitable for machines weighing anywhere from 
1.5 to 400 tonne, we meet today's market needs. All the hydraulic and mechanical functions are incorporated into a single unit. The unit assures high reliability and excellent performance, smoothness in operation and, due to its compact dimensions, very easy and economical installation on board of machines.
Sugumar Kannan: I would like to mention some of the products like the 600WT/Th68 Series wheel drives which are the best choice for wheeled agricultural equipment, such as self-propelled agricultural sprayers. This solution is the perfect combination of proven mechanical parts, with a new, integrated 68cc variable displacement hydraulic motor, especially developed for closed loop, highly demanding applications. This motor is available with both hydraulic two-position or electric proportional variable displacement control and it has zero-displacement capability. Another product to mention is 700CT/Th45 Series, extremely compact, lightweight, efficient and smooth to operate track drives.
How do electronics play a role in the technology of hydraulic motors?
Alberto Gatti: Electronic plays a big role also in the hydraulic motors. The integrated closed loop motors we designed in 2010, was conceived since the very beginning with the speed sensor, not as an additional feature, but as a standard part of the motor, and since then, all the closed loop motors have been thought same way.
In this way, the space claim for the speed sensor was taken into account, as well as wire routing, target wheel detectability, not to mention EM compatibility and many other aspects.
We carefully monitor the state-of-the-art, as well as machine needs vs environmental conditions (mud, water dirt) that could make electrical harnesses more or less usable at a certain IP protection level. The use of electronic sensors is quickly spreading from the cleanest applications/machines down to the toughest working conditions, and we are ready for this step.
We are also not excluding the possibility of integrating other kind of sensors in the motors, of course any added characteristic need to be discussed with the final customer, because there could be multiple positions to place the same sensor, and some of them could make the life easier than others lead to higher reliability, less field claims. It must be a joint decision, but we are definitively ready to give our contribution.
How are IoT-enabled features gaining importance in motors? What is the trend?
Alberto Gatti: The trend towards intelligent and connected product has already started and is growing steadily. The use of additional sensors increases the ability for diagnosis and thus reduces machine downtime. Smart and connected products offer exponentially expanding opportunities for new functionality, far greater reliability, much higher product utilisation and capabilities that cut across and transcend traditional product boundaries.
Bonfiglioli already started this initiative focused on the connected products. We also successfully installed them on some applications which are working in the field now. Multiple sensor units with embedded smart algorithms will provide useful and sensible information, real time in the Bonfiglioli proprietary dashboards. This gives the clear visibility on motor usage patterns and gives the OEM the ability of better managing the claims and warranty. Most importantly, these feedbacks help to improve product engineering and sizing of solutions.
Sugumar Kannan: For example, gearbox health monitoring through lubrication and vibration analysis, residual useful life prediction based on direct pressure and speed acquisitions on the hydraulic motor. The integrated oil sensor measures the changes in the properties of the lubricant, providing indications on status changes, oil aging or water content. These information are all used to prevent machine faults and to prolong maintenance and oil change intervals.
How do you see the market recovery and opportunities for hydraulic motors going forward?
Sugumar Kannan: We all know the COVID-19 pandemic has already negatively impacted the global and Indian economy. Understandably, this is a very challenging period for everyone. Our first and foremost priority is employee safety and we have taken all the necessary steps to have the safety of our people at the highest level. We are following new methodologies to keep the projects in R&D running. We have some engineers working from home remotely and some at office. We have provided all the best-in-class tools for design engineers to keep working smartly and safely.
For immediate and short-term projects, we are very well connected with all our Indian and global customers and providing them all the required solutions to keep moving forward. All our long-term product development plans are progressing well and we are focused to keep them moving faster. As we work in many diverse market segments and we believe that each segment will recover with a certain time and may be not all the segments at the same time. As Group R&D, we believe in long term product plans and even during lockdown we were able to keep working on all the critical projects and product designs. In the coming days, we will further accelerate with our plans and as Bonfiglioli we love to move forward...
FOREVER FORWARD!