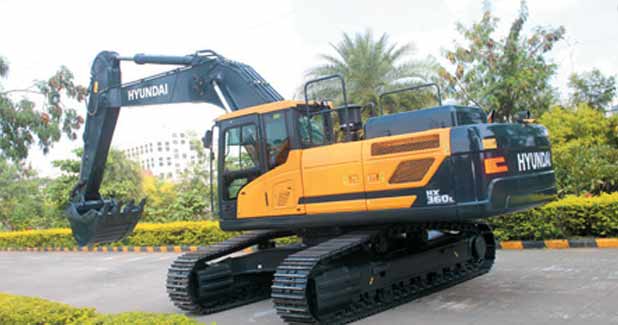 Hyundai Construction Equipment (HCE) India has launched five new excavators and forklift at Excon 2019. The newly launched equipment will cater to the emerging demands of the customers. The company launched R30Z-9AK, 85A SMART, 130 SMART, HX220L and HX360L in the excavator range. It also launched a range of Li-Ion powered forklifts on the occasion.
HX360L is HCE India's next generation offering in the premium excavator segment. Targeted at the mining and quarrying segment including granite and marble block handling, HX 360 comes with heavy-duty structure as well as premium operator cabin and console. It is equipped with best-in-class safety features.
The HX 220L has heavy-duty structure as well as best in operator comfort and cabin ergonomics.
The model is targeted at heavy duty applications like quarrying and tough construction worksites.
R30Z-9AK is Hyundai's second offering in the mini excavator segment. This 3-tonne excavator has been launched to address the needs in agriculture, general construction and urban civil work including canal cleaning and trenching, among others.
The 130 SMART product, an upgrade from HCE India, comes with improved fuel efficiency and enhanced operator comfort. It also features higher productivity, fuel efficiency, rigid structure for durability and reliability and safety features.
The 85A SMART, a product upgrade by Hyundai boasts of higher productivity, reliability and advanced aesthetics. The machine is widely used in applications like general construction, civil work and brickfields.
The new forklift series 25/30/35B-7A equipped with Li-Ion battery ranges from 2.5 T to 3.5 T capacity with lift height of up to 6 m.