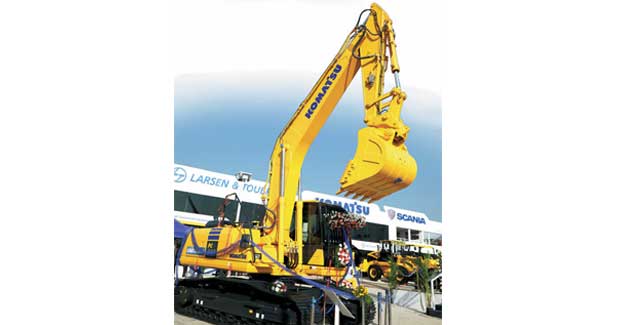 At Excon 2019, Larsen & Toubro launched the all-new Komatsu PC210LC-10M0 hydraulic excavator. This machine is 20 per cent more productive and 20 per cent more fuel efficient vis-a-vis PC210LC-8M0. The new machine was launched jointly by
Masaaki Kamizono, Managing Director, Komatsu India and Arvind K Garg, Executive Vice-President and Head, L&T Construction and Mining Machinery at L&T pavilion.
The PC210LC-10M0 excavator is developed specially for the Indian market. Designed to perform in the most demanding work conditions, it offers unmatched reliability, durability and versatility in a wide range of applications. The machine is manufactured by Komatsu India at its state-of-the-art plant in Oragadam-Chennai, marketed and supported by L&T through nationwide network of dealerships and service centres.
Important features of PC210LC-10M0 include:
12 per cent more engine power and superior forces, bigger capacity buckets, higher lifting capacity, re-engineered hydraulics, smart engine-pump control system, 15 per cent higher travelling power, ROPS compliant, safe and comfortable cabin and latest Komtrax system.
Reinforced boom with cast-end fittings and bush-type turret mounting make the structure reliable. Increased operating weight and strengthened structures have enabled PC210LC-10M0 offer bigger buckets and higher lifting capacities. Improved design revolving frame and swing circle lend the machine superior stability and durability. Smart engine and pump control system in this excavator handles complex functions effortlessly.
Safety and comfort are given top priority in the all-new PC210-10M0. Operators will have a safer, comfortable and higher productive time in the spacious, low noise and low vibration cabin. In addition, the weight adjustable suspension seat with pressurized cab and automatic air-conditioning makes it the most comfortable cabin.
Multiple operating modes make the machine an attractive option. The new excavator has been configured to connect seamlessly with attachments such as rock breakers, quick coupler and crusher bucket.
It is designed to deliver the right force and productivity at the most optimum fuel consumption across user segments. Komatsu PC210-10M0 comes in variants of Standard, LC, Quarry and Granite configurations.