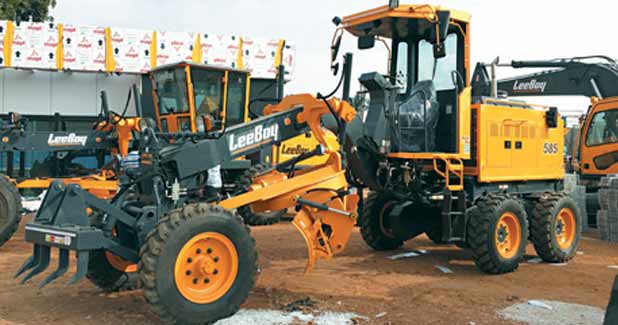 LeeBoy India Construction Equipment has launched their new series compact motor graders for India and other overseas developing markets. The new compact model LeeBoy motor grader 585 is fitted with a 10-ft moldboard and powered by 110 BHP engine developing 380 Nm torque. This compact grader is designed to perform all functions in normal case by any other bigger grader is supposed to deliver, with high level of grading accuracy. LeeBoy 585 graders have advance design features viz, heavy duty tandem axle, front axle leaning and oscillations, articulated frame structure, ZF power shift transmission, variable flow load sensing hydraulic system etc, compared to other similar capacity models available now in India.
"This compact grader is fully designed in India by our engineers, taking into account of the requirements of the small graders in India. This augurs well with the æMake in India' initiatives promoted by the Government of India," said K Sunil Kumar, President, LeeBoy India.
The compact design of the grader is highly suitable for small to medium road projects in villages and cities and also makes them most preferred choice of contractors for road projects like the Pradhan Mantri Gram Sadak Yojana (PMGSY). As highlighted by Hatim Shabbir, Director, LeeBoy India, "LeeBoy 585 offers 20 per cent more productivity and 10 per cent lower fuel consumption, compared to the similar range of products currently available in Indian market."
With the addition of 585 model in the product range, LeeBoy India has the unique capacity to manufacture graders from 110 hp to 280 hp in India.