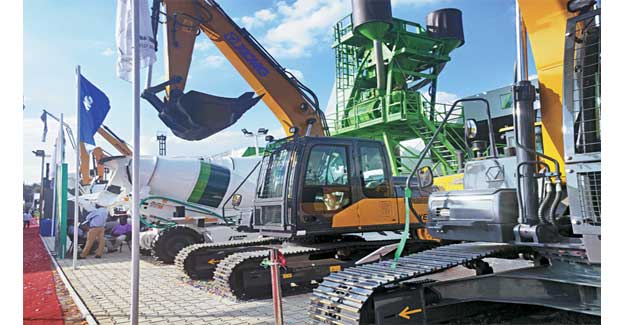 Schwing Stetter India unveiled 22 new products at the Excon 2019 in Bengaluru. With this new product line up, Schwing Stetter India aims to position itself as one of the most prominent infrastructure equipment partner in the country and an active participant across all government projects to be announced.
Schwing Stetter India also showcased Internet of Things (IoT) solutions of Schwing IoT In, Schwing IoT Ready, Schwing IoT Abled, Schwing dashboard for batching plants, Schwing Stetter India gateway device, hi-tech weighing system, Schwing Smartrack and Stetter concrete transit mixer with mobile app. These solutions are in line with the theme of Excon 2019 being intelligent, interconnected, innovation, infrastructure and internet.
Schwing Stetter India displayed these new products at Excon 2019 along with existing product innovations of SSI, XCMG, GOMACO and Rubble Master HMH products with a grand total of 46 products.
Speaking on the occasion, VG Sakthikumar, Managing Director, Schwing Stetter India said, "Schwing Stetter India is extremely delighted to be a part of Excon 2019. We have been an exhibitor since 2000. We believe our participation in such a reputable platform will do much to bolster our standing as one of India's leading concreting and construction equipment manufacturers to be reckoned with. This year, we have unveiled 22 innovative machines which are revolutionary and aimed at both maximising efficiency and boosting customer profitability. These machines will be primarily operated in key infrastructure and transportation projects effectively contributing to the growth of the construction equipment sector. The response to our display is overwhelming and that is a matter of great satisfaction for us as a company."