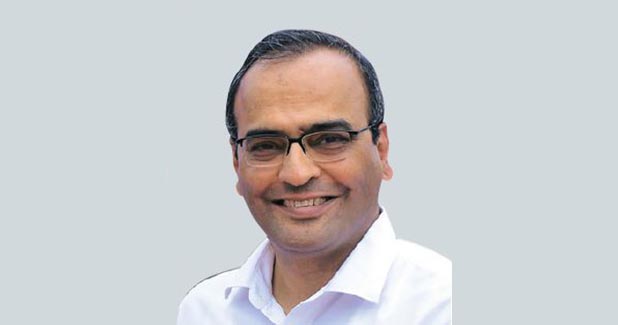 A JV between Tata Motors (40 per cent) and Hitachi Construction Machinery Company (60 per cent), Tata Hitachi provides world-class construction equipment to address India's infrastructure and mining needs. The organisation's machine line-up includes a wide range of excavators:
2 tonne to 800 tonne excavators, 35 tonne to 290 tonne rigid dump trucks, wheel loaders and backhoe loaders. It has three plants in Jamshedpur, Dharwad and Kharagpur that epitomise world-class manufacturing and state-of-the-art-technology.
Hemant Mathur, Assistant Vice-President - Sales and Marketing, Tata Hitachi Construction Machinery Company,
shares more...
Market outlook: The elections in Q1 were disruptive. Also, there were issues with liquidity and NBFC funding, leading to demand contraction in H1. We expect a recovery in the second half of the year given the government's focus on infrastructure as well as the various measures taken to improve business sentiment and availability of liquidity. India's infrastructure sector is poised to grow significantly with increasing demand for development of roads and highways, rural connectivity and urban infrastructure including metro rail projects, ports and airports, industrial corridors and smart city projects.
Demand drivers for the company's offerings: Several projects have been announced in the last year opening new avenues for the construction machinery industry. Therefore, the long-term growth for the construction and earthmoving equipment is intact and positive. In terms of growth, we see the mini excavator segment showing significant opportunity in the near term given the increasing mechanisation of construction in the country.
Business opportunities at Excon: We have participated in all editions of EXCON except one year. As always, it attracts key stakeholders and customers, exposes them to the latest offerings and engages them in one place to bolster business. Also, increased footfall of customers boosts the feel-good factor and confidence of the OEMs.
Key products at the expo: At Excon 2019, the new products we will exhibit include the EX215LC-SLR, a super long-reach machine for long-reach applications; a 20-tonne quarry variant excavator for quarry-specific applications; our range of hydraulic excavators (both in the economy and the premium segment); our all new backhoe loader, SHINRAI; and TL340H, the indigenised wheel loader. Apart from this, there will be a display of our attachments and spare parts.
Meeting buyer requirements: We keep our eyes and ears open to track customer requirements and attempt to bring value adds that customers may not have even realised they need. As in the case of ConSite, we have taken the telematics data of our machines and coupled it with recommendations from our experience to provide a unique service aimed at loss reduction and productivity improvement.
Stall No: OD 38