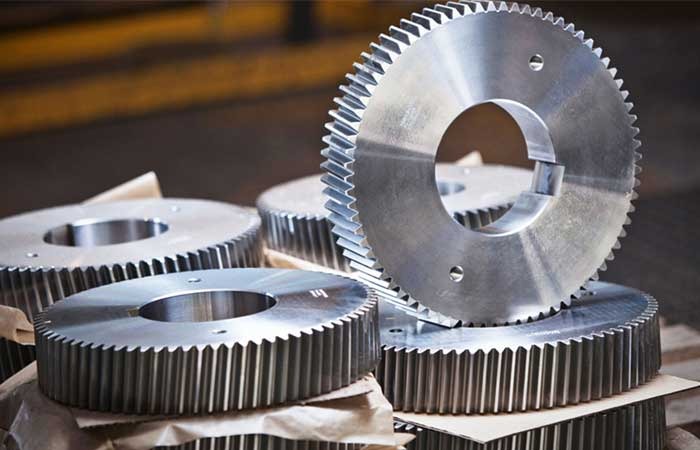 The pandemic year has turned out to be a top gear one for the construction equipment segment, which is riding on the government infra spend to see a more than 15 per cent year-on-year rise in domestic sales volumes in FY21 and a doubling of sales in Q1FY22 compared to last year.
One of the most efficient methods for mechanical power is geared drive. Starting simple spoke gears made out of strong wood in the pagan era, this system has evolved to its present state, over the past several centuries of industrialisation. Sophistication, innovation and design or manufacturing concepts for any product move hand in hand. Ultra modern gear technology has made it possible to achieve the highest possible percentage of positive mechanical energy transmission required for all plant and machinery manufactured around the globe. Innovative materials, gear profiles, angle of contact and other specifications have ensured minimum power loss, lowest noise emission and reduced wear in gears.
Consequently, the production processes have transitioned to use of highly precise gear generation techniques, which deliver burr-free, fully polished and finished gears, shining like glass! Another significant development in gear technology is directed towards miniaturisation to accommodate smaller high-speed gearboxes and drives delivering the same amount of power as before, more so in the automotive and engine applications.
India is fast joining the club of world leaders in gear manufacturing. Over a hundred new manufacturers have developed during the past decade. They cater to a variety of machine tools, construction equipment, automotive, white line and household appliances and many other applications. Their good reputation extends beyond our national waters as they find tremendous acceptance in the overseas markets.
Destined to be the third-largest manufacturing hub in the world, India beckons young and aspiring entrepreneurs to come forward and carry this development to the next generations.
Says Blake Griffin, Senior Analyst at Interact Analysis, "Demand for drives is absolutely linked to increased levels of automation within manufacturing. While it is not a new product by any stretch, we know the installed base of drives is significantly smaller than the installed base of motors within manufacturing." (Read full interview later in the issue)
On the dimensional range and type of gears used in construction equipment, Suresh KV, President, ZF India, said, "ZF uses different types of gears in our drive systems, and their uses depend on its application. Spiral bevel gears are used in the axle differentials to transmit the torque perpendicularly at 90o, helical gears are used inside the gearbox for high torque transmission with low power loss and low noise. Construction machinery requires high reduction ratio in the axle for which planetary gear sets (epicyclical) are used on the wheel hub of the axles for the higher axle ratio."
He added, "The dimensional ranges of gears depend upon the requirement of the torque transmission. Various gear sizes are available and are used in the drive systems on the basis of the application requirement."
High loads at low speeds in combination with a high dynamics are the outstanding requirements for construction machinery. Said Suresh KV, "These criteria are met optimally by the new ZF CVT technology which possesses a degree of efficiency that was inconceivable up to now. The rising demands for fuel reduction and increased productivity require new technologies such as the CVT in construction machines. A trend towards lower engine speeds and the demand for engine stabilisation by a constant speed concept are the future challenges in the construction machinery market. The continuously varying cPOWER from ZF meets both these requirements."
Technology innovations matched with a robust global supply chain supports our state-of-the-art manufacturing and assembly process which is coupled with ZF production systems approach. This holistic approach ensures global quality products at vehicle level and field level. The affirmation of our product quality can be seen on the accolades we receive from OEMs and end users. "We ensure ZF quality across manufacturing locations by using standard processes," said Suresh.
Kennady V Kaippally, Country Manager, Bonfiglioli India, said, "Bonfiglioli has perhaps the largest portfolio of hydrostatic transmissions that exists globally. We offer an unmatched range of drives, ranging from a small one thousand NM drive weighing as low as 20 kg to massive drives that deliver three million NM torque and weigh as much as 11 tonne. This massive range of gear drives are offered under various configurations, each having its unique key characteristics. These would include, highly robust 700 C Series with fail safe parking brake compatible with most cartridge type fixed or variable displacement motors for track drive and drum drive applications used widely in machines ranging from pavers, compactors, loaders to drilling equipment."
He added, "Extremely Compact 700 CK Series with integrated motor and valves. Lightweight, efficiency and smooth operation are the key features of this new series and are widely used in excavators from 1.6 to 100 ton class range. Innovative 700T Series that provides safest and most effective solution for all slew drive applications in excavators and cranes. Convenient 600 Series wheel drives with option of park brake disengagement for towing the vehicle during emergency. Absolutely dependable 500 Series drum drives used for transit mixer applications are famous for their low maintenance. Versatile 300 Series, used in concrete mixers, tower cranes and all other applications where shock loads are more a rule than exception. With this diverse range of products, our customers are spread across construction equipment and will include all major manufacturers of earthmoving, construction, concrete, road building, mining and material handling."
Major changes taking place in terms of technology in gears and drives of construction equipment are driven by the ever increasing expectations of the customer from their equipment.