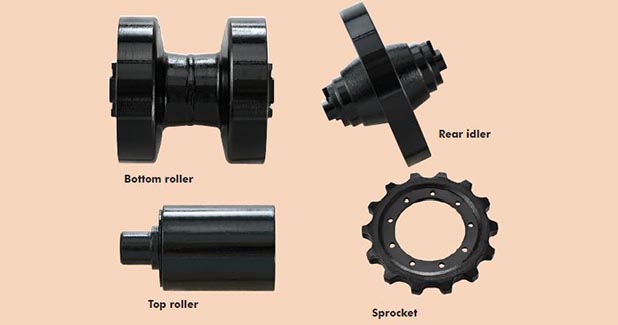 Undercarriages and parts are important components in track-mounted equipment for the mobility of the equipment.
Undercarriages and parts in crawler- or track-mounted equipment play important role in the mobility of the whole equipment and its uptime. Undercarriage parts are small and simple, but when all put together, support the entire track system. The major undercarriage components include links, pins, bushings, sprockets, rollers, idlers, shoes and frames. The market for track-mounted equipment is growing in India which contributes to the growth of crawler parts and components. Equipment such as crawler excavators, piling rigs, dozers, cranes, trenchers, pavers, milling machines etc are the major markets for undercarriage parts.
Market trend and opportunities
The construction equipment market in India has become a front-runner in the global market space in the past few years. A lot of advancements and innovations are happening in the construction equipment space with more global players are entering the market to cash in the opportunities arising in the infrastructure development activities in India. Though the market has slowed down in the past one year, it can bounce back any time within the next year as a lot of activities are lined up in construction and mining segments in the country. The government is pushing hard with a slew of stimulus packages for the industry.
Track-mounted equipment find an important place in the Indian construction equipment market with the use of excavators, piling rigs, dozers, pavers and similar machines is growing over a period. With construction and mining activities are improving, the use of general equipment such as hydraulic crawler-mounted excavators is growing in construction and mining. While dozers are largely used in mining, there are many other track-mounted speciality machines used in mining and construction. Recently, the use of excavator-mounted piling rigs has been on the rise with many big scale projects like metro, bridges and sea-links are taking off. In a nutshell, the opportunity for track-mounted equipment is immense in the coming years. This is a positive scenario for undercarriages and parts manufacturers in OEM and aftermarket segments. Currently, the demand from OEM market is low due to the prevailing market conditions, but aftermarket is still a demand driver. The OEM market is expected to bounce back soon.
Needs to be on fast track In spite of the positive trends, the market for undercarriage parts and components needs to gain pace in the coming years. Compared to global market, the segment in India is still moving at a slow pace. Upgraded maintenance practices and developing advanced components matching the growing requirements of the OEM market can put the segment on fast track. While the global market prefers for tracked equipment, in India the tracked machines are limited to a few equipment segments such as excavators and crawler cranes. However, going ahead, there is a great chance of compact equipment with crawler base to work in difficult to reach areas and urban development projects.
DOZCO, ITM announce new joint venture
Italtractor ITM Spa (ITM) and DOZCO India announced the creation of a joint venture company called ITM DOZCO Pvt Ltd. The intention of this joint initiative is to create the leading manufacturer of undercarriage components in India to optimise service to local and global customers. The company will offer a full range of undercarriage components and complete track systems for earthmoving machines. The joint venture will cover the Indian market needs as well as requirements for global customers across all industries. This agreement follows years of successful cooperation between ITM and DOZCO.
"By leveraging on ITM's expertise in undercarriage production and design, and DOZCO's market knowledge and service capability, we will be able to offer our customers a significant improvement in operational efficiency and quality service. This reinforces ITM's position as a global player and key partner in the world of undercarriage," said Maria Cecilia La Manna, Chief Executive Officer, ITM.
"DOZCO, a reputed Indian manufacturer of mining and construction equipment, attachments, and components, joining forces with ITM, an international leader for manufacturing undercarriage components to meet the global demand, is a milestone in the honourable Prime Minister's Make in India initiative. This will be a boon to the customers who are starved of quality and critical components. The world will reap the benefit with the joining hands of two respected and renowned leaders in their field," said NG Bangur, Director, DOZCO.
"There is a clear preference for tracked equipment globally"
- Ankit Maheshwari, Senior Manager - Sales & Marketing, Trident International

How do you assess the importance of undercarriage and parts in crawler-mounted equipment?
The undercarriage parts such as links, pins, bushings, sprockets, rollers, idlers, shoes and frames are assembled into a system to support and propel a machine. The interplay between the components and the operating conditions results in a complex mechanism that requires regular maintenance to keep the equipment operating costs under check.
The condition of undercarriage and parts is therefore very important to ensure optimum equipment utilisation, low running and maintenance costs as these parts can represent 50 per cent or even more of the equipment lifetime repair bills.
What is the current demand trend for undercarriages and parts? What is the share of OEM and after-market segments?
Internationally, there is a clear preference for tracked equipment over wheeled equipment, especially in the compact construction equipment segment which is a positive for undercarriages and parts. However, we are yet to see this trend in India.
What are the new developments happening in terms of materials and technologies in undercarriage parts?
We see developments towards weight reduction, use of composites and engineering plastics, lubricant- free bushings, etc aimed at improved efficiency.
What are your products and solutions for OEMs and aftermarket in undercarriage parts?
Our undercarriage parts (sprockets, idlers, bottom rollers and top rollers) are developed primarily to complement our offering of rubber and steel tracks. The range covers popular makes and models of compact track loaders and mini excavators.
With the sales of many key equipment segments affected due to slowdown in the market, what is the impact on your business?
During a slowdown, while sales of new equipment are impacted as purchase of new equipment is deferred, demand for replacement parts tends to hold as use of existing equipment is prolonged.