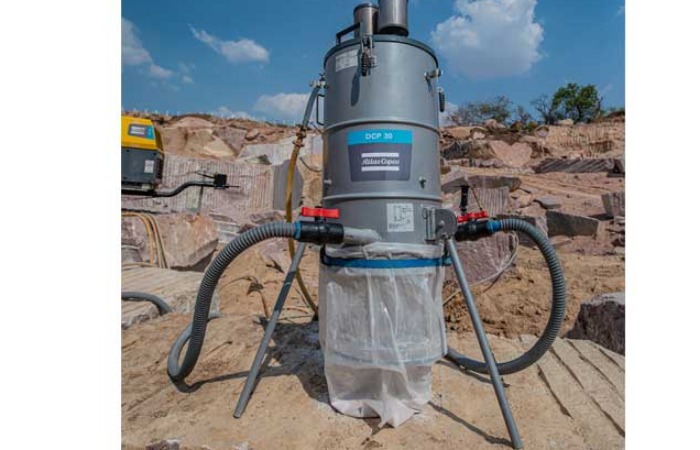 Atlas Copco DCP30 pneumatic dust collector, the first-of-its-kind in India, has been working for 400 hours over five months for Shaheen Granites in a dressing application in a dimensional stone industry (DSI) granite quarry in Chimakurthi, Prakasam District, Andhra Pradesh.
Be it rock drilling with jack hammers or inline drilling applications, dust is a constant worry in quarries and mines. Respirable crystalline silica dust exposure can impair the efficiency of operators on site while causing adverse impact on their lungs, with diseases like silicosis and cancer. The answer to reduce this health hazard, is the DCP 30 dust collector.
With operator health and drilling productivity top of mind, Shaheen Granites required an efficient solution to get rid of the enormous volume of dust produced when rock drills were in operation. An easy to set up and high on performance dust collector was clearly the need of the hour to address the breathing difficulties faced by some operators from the continuous exposure to dust. The customer was also witnessing deteriorating operator efficiency, which reduced the drilling output.
With over 15 years brand loyalty to Atlas Copco jack hammers where precision drilling is required for trimming blocks into the required size, the Atlas Copco sales team was able to mitigate the customer concerns by offering the DCP 30. This is the only dust collector system in the market with patented vacuum technology designed to collect dust while operating with three rock drills at the same time.
"It's been five months of effortless drilling with the DCP 30 dust collector where my drillers are safe and the return on investment from operating three jack hammers simultaneously with just one dust collector is unparalleled on any site today", says Rafiq, General Manager, Shaheen Granites.
The DCP30 also protects all equipment working nearby from dust. This prevents breakdown due to dust entry and keeps productivity on track on the worksite. To manage the health of the dust collector, the Atlas Copco aftermarket team, ensured there were uninterrupted drilling operations. Rafiq says, "I trust the Atlas Copco brand for it's quality and hence benefit from low cost of operations. The service team is well trained and demonstrates proactive support". He further adds, "Once the dust collector is in operation, you simply see the dust disappear. Most importantly, if my operators are happy and healthy then I get peace of mind."