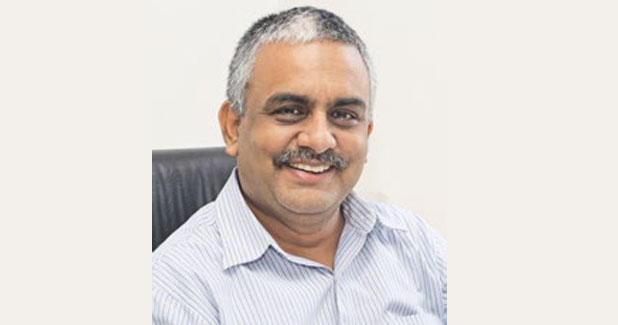 Eaton is a global leader in power management solutions for the hydraulics market.
Soami Das, General Manager - ACE (Application and Commercial Engineering) and Market Development, Industrial Sector, India, Eaton
, explains more on the company's offerings in hydraulic motors.
What is the role of hydraulic motors in a hydraulically operated equipment?
Hydraulic motor is an actuator where the hydraulic power (pressure and flow) is converted to rotational power (torque and rotation). Just for comparison, hydraulic cylinder is also an actuator but here the hydraulic power is converted into linear power (force and speed).
What are the important products and solutions you offer in motors? What are the distinguished features of these products?
Eaton specialises in the design and manufacturing of various kinds of motors that make equipment more efficient and reliable. These include gear motors, vane motors, Orbitrol motors (Char-Lynn), piston motors, radial motors etc. Eaton can offer motors as small as 1 cc/rev (gear type) to as big as 50,000 cc/rev (radial motors).
How do motors vary according to the equipment (construction, mining, material handling)?
As the need of every application are varied, Eaton has thoughtfully developed a vast range of motors which can meet the majority of applications in different market segments. For high-speed and low-torque requirements, we offer our gear, vane and piston type of motors. For low-speed and high-torque applications, we have our Orbitrol (Char-Lynn) , special Dowmax range of piston motors and radial motors.
What are the new developments and trends in this product range to comply with the current and future emission norms?
Owing to a major emphasis to be more productive and cost-effective at the same time, new technological innovation mostly focus on making components more and more efficient. Eaton is a global leader in power management solutions for the hydraulics market and is focused on continued innovation to offer the best solution. We consistently work on improving the efficiency and reliability of our products. For example, we recently launched new range of Orbitrol motors where we have been able to reduce the neutral pressure drop by more than 50 per cent.
What is the demand from OEM and aftermarket for your range of motors?
Eaton has driven major innovations when it comes to our Orbitrol and vane motors. Our Char-Lynn range of motors are very popular in agriculture, machine tools, IMM, drilling machines, material handling applications etc.
Where do you see the market by 2020?
We are seeing a fairly positive growth trend in construction, material handling and agriculture markets and we expect this growth to stay at least for the next 3 to 5 years.