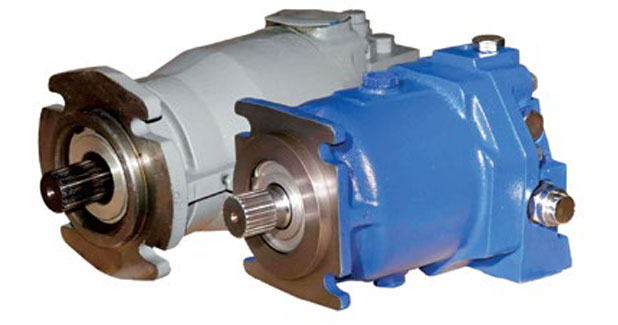 In order to match the requirements of equipment market, hydraulic motor manufacturers are coming out with new improved designs that enable better efficiency and productivity with the machines.
Hydraulic motors are important components of a hydraulically powered equipment (construction, mining, material handling, etc).
These are used in any application requiring torque and are especially well suited to mobile machinery. They are the primary drivers for most off-highway equipment.
Soami Das, General Manager - ACE (Application and Commercial Engineering) & Market Development, Industrial Sector, India - Eaton,
defines, "Hydraulic motor is an actuator where the hydraulic power (pressure and flow) is converted to rotational power (torque and rotation). Just for comparison, hydraulic cylinder is also an actuator, but here the hydraulic power is converted to linear power (force and speed)."
Massimo Boscarino, Northern Europe and India Sales Manager, Poclain Hydraulics,
describes the hydraulic motors and their performance, "In one machine with hydrostatic transmission, you have typically a diesel engine connected with a hydraulic pump which creates the oil flow that reaches the hydraulic motors that normally are located in the machine's wheels. The motors will generate then a torque to allow the machine to move in all planned conditions. Normally, hydraulic motors are used for machines requiring high torque and working in difficult environment. Hydraulic motors are also fitted on other applications where it is required a significant torque, for example a winch, a drilling machine, a shredder, etc."
Meeting demands
With productivity and efficiency on top priority for equipment manufacturers, components and accessories need to meet or exceed the requirements. Das explains,
"Owing to a major emphasis to be more productive and cost effective at the same time, new technological innovation mostly focus on making components more and more efficient. Eaton is a global leader in power management solutions for the hydraulics market and is focused on continued innovation to offer the best solution. We consistently work on improving the efficiency and reliability of our products. For example, we recently launched new range of Orbitrol motors where we have been able to reduce the neutral pressure drop by more than
50 per cent."
Boscarino elaborates on the new solutions and technologies offered by Poclain Hydraulics to meet the emerging demands on efficiency and productivity, "For some agriculture machines (for example, sprayers) Poclain Hydraulics can provide the full system (motors, pumps, electronic to control the complete transmission equipped with a special software that can optimise the machine's engine RPM and reduce the fuel consumption and to keep the same performances). There are other advantages in using a hydrostatic transmission with hydraulic wheel motors: there is no need to have an axle since each motor is independent, which gives a lot more freedom in the machine design. For example, with the possibility to have more room inside the machine to place the diesel engine (that is becoming bigger due to the latest emission norms). The diesel engine can also be lowered (thanks to the missing axle), making the machine more stable."
Future perfect
The market is positive with forward looking measures from the government on infrastructure creation offering new opportunities for equipment players. The current momentum will drive the steady growth of hydraulic motors market for at least the next 2-3 years.