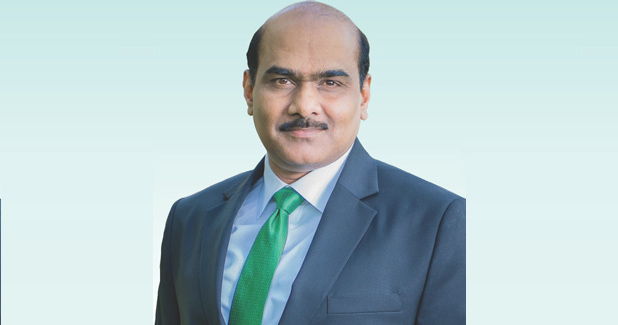 By delivering high-precision bearing solutions and systems for a large number of industrial applications, the Schaeffler Group is shaping "Mobility for tomorrow" to a significant degree.
Harsha Kadam, President - Industrial, Schaeffler India,
elaborates on the company's solutions for construction equipment industry.
What is the trend in bearings for CE applications?
Working closely together with the manufacturers of construction machinery, engineers in the Schaeffler Group develop bearing solutions that meet the extreme requirements in this field. To do so, they incorporate the ever-increasing demands - such as greater automation, higher safety standards, better reliability and easier operability - into the further developments and innovations. We have developed bearings with lightweight steel alloys of different grade, alternate materials like ceramic etc. Apart from this, we have also developed special coatings on our bearings, thereby improving the performance of bearings. We also offer mechatronic solutions for CE applications which enhance value output for our customers.
What are the new technology trends in bearings for CE?
By delivering high-precision bearing solutions and systems for a large number of industrial applications, the Schaeffler Group is shaping "Mobility for tomorrow" to a significant degree. Schaeffler plays a large part in achieving peak performances in a wide variety of construction machinery around the world. The INA, FAG and LuK brand products used are characterised by high-performance density, long operating life, and maintenance-free bearing and clutch solutions at many installation points. CE manufacturers and operators face multiple challenges: Complexity is continuously increasing, market requirements are changing rapidly - and Schaeffler's mechatronic modules and cost-effective, ready-to-use system solutions provide the perfect answer. Schaeffler has been developing mechatronic components for a wide range of industrial applications for some years. These components are "enablers" for Industry 4.0 and they will not only reduce downtime but also help in predicting failures.
What are your latest products in CE bearings?
Modern construction machinery is subjected to high loads and is often used in products with critical deadlines. Therefore, the associated rolling bearings need to be selected with the greatest care. When doing so, it is good when the construction machinery manufacturer can rely on the experience of a competent rolling bearing manufacturer. Schaeffler attaches great importance to working together as partners - from the development phase to producing and assembling the components to putting the bearing to practical use.
A broad field of application with a wide variety of requirements necessitates a broad bearing product range and broad application experience: From wheel loaders with environmentally friendly solutions to mobile cranes with assembly-friendly solutions to vibration machines with bearing supports subjected to extremely dynamic loads.
APPLICATIONS AND SOLUTIONS

Schaeffler's solution options and application experience
Mobile cranes -cable sheave bearing supports
Wheel loaders - lifting frames
Construction machinery -pivot joints
Vibrating rollers - eccentric shaft bearings
Mining trucks - wheel bearings
Special construction machinery - hose reels
LuK product range specifically for CE segment includes

Clutch assemblies
Wet and dry clutches
Dual clutches and dampeners
Self-adjusting clutches
Long travel dampeners addressing comfort of operators
INA product range specifically for CE segment includes
Needle bearings (needle cages, needle bush, machined needle roller bearings etc)
Plain bearings
Maintenance-free engine systems
Engine components like HLA, idler pulleys, water pump bearings
Gear shifting mechanisms, synchro parts
FAG product range specifically for CE segment includes

Cylindrical roller bearings
Spherical roller bearings
Spherical plain bearings
DGBB
What are the new innovations in your range of bearings?
In an ever-shortening innovation cycle, a good product line is very important to meet the global market trends. Bearings are one of them and are an integral part of almost every industrial application. Likewise, innovations in bearing technology such as customisation and integration of sensing Internet of Things (IoT) are generating huge prospects for the component manufacturers. Electro-mechanical features with detailed optimisation are playing vital roles in improving the performance and reducing cost of products.
At Schaeffler, the key areas of innovative range of bearing components are special material and different sealing technologies for demanding applications. As a leading industrial supplier, we are progressively emphasising on R&D projects to manufacture application-specific bearings to improve their efficiency. We anticipate proceeding to lead innovation and digitisation trends in the bearing business by quickening and scaling up the procedure from concept to operational delivery.
How do you look at the opportunities and challenges for bearings in CE market?
Construction equipment sales have been considered to reach the market estimate, as far as volume is concerned. Being a component multinational company with local presence, our aim has always been to bring efficiency and cost savings to the bearing market by providing end-to-end solutions to our dealers and customers. We offer various cost-effective solutions to meet customer value preposition. However, the major challenge would be on Supply Chain Management (SCM) front to manage irregular demand and equip ourselves with flexible production capabilities.
What are the expansion plans?
Considering the earthmoving equipment to be the largest sector, we believe to leverage our production capabilities to offer different CRBs and SRBs to earthmoving segment. For the next 3-5 years, we will continue to expand our capacities for product portfolio and engineering capabilities in the country.
Lately, we have expanded our operations at Talegaon, Pune, Savli and Vadodara. The expansion at Talegaon includes a new manufacturing facility and a new R&D facility within the existing premises. We are going to invest in our distribution network and in all the logistics area which will provide us substantial benefits in the long run.
How do you look at the future of bearings for CE applications in India?
We foresee a good business model for CE applications in the coming years as the production numbers are increasing along with growth in infrastructure spending by the government. Moving along the drive to reduce the weight of vehicles for more eco-friendliness, greater fuel efficiency and lower CO2 emissions, we are working towards utilising the latest technologies to follow the changing norms and meet the market demands.