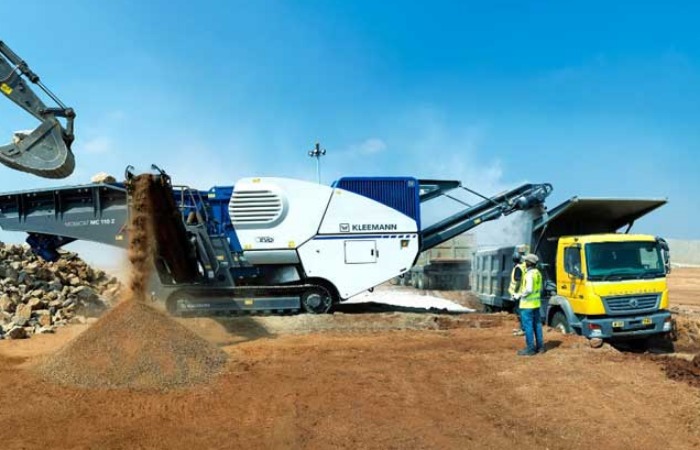 After the COVID-19 pandemic hitting the country's industry and economy hard in the past few months, the market is in the mode of recovery with the industrial and construction activities resuming in the unlocking period. In the long term, the construction and mining activities are expected to pick up in the country owing to the ambitious infrastructure creation plans and the new reforms in mining. There will be a growing requirement of aggregates in the coming years to meet the demand from the construction and infrastructure sector. This anticipates an increased demand for crushers and screens for quarrying, aggregates and mining segments.
Aggregate market scenario
Construction aggregates can be classified as crushed stone, quarry dust, boulder, and gravel and manufactured sand (M-sand). Aggregates are used for multiple applications like raw materials for site mix and ready-mix concrete, sub-base for road projects, railway ballast etc, and are available in various sizes from 6 mm to 60 mm. The crushed stone aggregates used for concrete preparation varies from 1,000-1,200 million tonnes. The rest is used directly for infrastructure, road and railway projects as aggregate. "Overall construction aggregates demand in the country is estimated to be around 4,500-5,000 million tonnes. The share of crushed stone aggregates is estimated at 40-45 per cent of the overall construction aggregates used," says Mahesh Madhavan, Head - Construction & Infra Practice, Feedback Advisory.
The average usage of aggregates varies from project to project since the specification of each project is different. Madhavan elaborates, "Typically for a two-lane national highway (asphalt) 6,800-7,500 cu m of crushed aggregates are used. Similarly for bridges, canals, irrigation, concrete roads, buildings etc, aggregates are used in the concrete prepared and the quantity of crushed stone varies from 3,000-8,000 kg per cu m of concrete manufactured. The supply is largely region-specific and approximate distance of quarry to supply crushed aggregates to the project site varies from 15 km to 120 km."
M-sand, which has been growing in popularity, is a very region-specific market. According to Madhavan, the market is highly unorganised and there are a few large players who are region specific. He adds, "Tamil Nadu, which has granite quarries in districts like Madurai and Krishnagiri, has more than 1,000 M-sand manufacturers who cater to markets like Bengaluru, Chennai and other tier 2 cities."
According to Ranjit Ravindran, Director-Mining, Voltas, the availability of good quality aggregate is still a problem, mainly due to the strict environmental laws that restrict mining.
Crushers & screens: application trends
The quarrying of natural stone types is associated with the use of machines that crush material with high compressive strengths systematically and effectively. Jaw crushers are ideally suited for tough applications in quarries and are mainly used as primary crushers.
Cone crushers are the choice for use in medium-hard to hard and abrasive natural stone as well as for raw material preparation in mining applications. The cone crushers deliver cubic final grain sizes in the second and third crushing stage that meet the standards. The cone crushers are available in different sizes, versions and for various applications. Whether in a quarry or on a construction site, impact crushers crush stone so efficiently that the grain shape, grain size distribution and cleanness comply with the strict standards for concrete and asphalt aggregates.
The mobile screening plants are used for screening almost all natural stone and in recycling. A large number of suitable screen surfaces are available for achieving the different final grain sizes and for different feed material.
Product and tech trends
Wirtgen has successfully introduced its Kleemann range of crushers in India years back. The product portfolio of Kleemann comprises a varied range - MOBICAT range of track-mounted jaw crushers, MOBIREX range of track-mounted impact crushers, MOBISCREEN series track-mounted screening plants, and the MOBIFOX/MOBICONE range of secondary screening units. Each of these variants comes with further different models and the complete range of track-mounted crushers from 150 TPH to 1,500 TPH in jaw, cone, impactor and screens. With the MOBISCREEN EVO screening plants, Kleemann also places an emphasis on the subject of safety. Operation of the screening plant is via a mobile control panel that can be attached at three different points on the plant. This guarantees the best viewing positions of the executed plant functions. All plant functions are started automatically – without each side discharge conveyor having to be activated individually. Data on machine operation can also be read off at the control panel. Plant movement is without jolts thanks to proportionally activated hydraulic valves. The plants operate particularly efficiently and produce a high output when interlinked with crushing plants of the EVO series, whose size and output are tuned to the EVO screening plants. A further bonus for safe plant operation is the emergency off function, which, in the case of an interlinked combination of plants, works across all screening and crushing stages.
The Kleemann crushers of the EVO series have several advance features like the CFS - continuous flow system - where all the plants in line are interconnected. Ramesh Palagiri, Managing Director & CEO, Wirtgen India, elaborates, "Recently we have introduced the SPECTIVE control system for all EVO series machines which is a simple and reliable intuitive control technology without lengthy instruction and familiarisation periods." In this, the operator is guided step by step through the starting process. The start screen provides a graphical view of the complete plant with all adjustable functions at a glance. When the desired function is selected, clear instructions guide users through all operating steps. If a fault occurs, a fault diagnosis appears on the display. Fault localisation, description and the remedy tips appear which result in reduced downtime.
The impressive hardware includes the new user interface with a 12" touch panel. The panel is not sensitive to dust, is splash-proof and can be operated at the touch of a finger, pen, tool or even gloves. It is also very easy to read in direct sunlight with its brightness and contrast settings. Due to the simple operating concept, the user can also operate the crushing plant without any prior knowledge and extensive explanations.
Voltas M&CE division is the distributor for Terex Power Screen crushers and screen in India. One of the highlights of the Terex Power Screen range is the Horizon range of horizontal screens (H Screen) ideal for handling high volumes of sticky materials and for the exact, fine sizing demanded in many construction contracts. This H range is ideally suited to applications such as natural and crushed aggregate, coal, iron ore, recycled concrete and asphalt. Power Screen crushers and screens range from Warrior 600 mobile screen to some of the largest mobile crushing plants – the Premiertrak 600 jaw crusher, 1500 Maxtrak cone crusher, and Trakpactor 550SR, which operate in diverse applications.
Propel Industries has designed and developed a gyratory cone crusher which can deliver more than 600 tonne per hour. "We are the pioneers in this attempt, in the Indian crushing industry. The AVGC 600 model offers higher reduction ratio and higher input material size ranging from 340 mm to 450 mm," says V Senthilkumar, Managing Director, Propel Industries. Also, Propel's horizontal impact crusher is the new version of the 'hammering rock' configuration. The material feed is crushed at a very high intensive impact produced by the rotations of the rotor and blow bar, attached to the rotor. The company has recently launched a higher capacity washing system called Prowash 250, along with a dewatering screen DW 300.
Crusher market scenario
The crushers and screens market in India has two types of players: large organised and medium and small unorganised. The large organised players typically have a pan-India presence and also are involved in exports of products. These players typically provide crushing solutions to customers with a wide range of products (stationery, wheeled and tracked). The medium and small players are many and typically operate in a specific region. Their product range largely involves stationary products. According to Madhavan, the crushers and screens market for FY2020 is estimated at Rs 65-70 billion. "About 40-45 per cent of the overall market is unorganised. Organised market would account close to Rs 40 billion. Close to 20 per cent of the organised market would be accounted by tracked solutions. Most of the unorganised market is catered by stationary and wheeled plants," he adds.
According to Senthilkumar, the market size of crushers and screens is estimated to be approximately Rs 30 billion per year comprising both organised and unorganised sectors. This is for aggregates which are 100 tph and above.
From a demand perspective, the infrastructure segment, primarily roads, continue to drive the industry. This constitutes for more than 40-45 per cent of the demand for aggregates in the country, according to Madhavan. He further adds, "This segment is also driving the tracked crushers and screens demand. One of the key reasons for this is the quick commissioning and de-commissioning of the plant, which otherwise could take over a 3-4 month time period.
Ravindran, says, "We are currently witnessing a surge in demand for crushers in the iron ore segment. This is primarily due to the increased local steel demand and the auctions of iron ore in 2020. The production of aggregates, M-sand is also in upward trend with investments in roadways, railways, metros and smart cities." He adds, "While the demand for newer machines is not that bullish, the existing population of machines is fully optimised to undertake current developmental activities in mining and infrastructure."
Post-COVID scenario
The COVID-19 pandemic has impacted the market adversely over the last few months. After the unlocking of the lockdown, manufacturers have taken a new approach in the overall functioning of the business. For example, Wirtgen India's Pune plant manufactures screens for the world market and is the biggest exporter from India. Palagiri elaborates on how the company is coping with the situation, "We have planned our inventory accordingly to meet the revised demand for Kleemann screens for the global requirement. Same is applicable to our plant in Goppingen, Germany where the crusher range of impactor, jaw and cone are produced. We have adjusted our production plan accordingly at both plants."
Market opportunities and challenges
In the construction sector, growth in roads, railways, irrigation and other infra projects will drive the material processing equipment industry. Palagiri says, "Due to new road projects being rolled out, there was an increase in demand for construction and road building equipment and with these, the demand for aggregates is also increasing where greenfield projects and expansion from two to four-laning and four to six-laning is being taken up. This has boosted the demand for crushing and screening units. Also, the development in road and rail sector will see a huge surge in demand for aggregates for construction. The new urban infrastructure projects also add up to the demand for aggregates and consequently for crushing and screening equipment."
Tracked crushers demand will grow largely from the demand expected from the road segment. "Real estate had always been a major consumer of aggregates. Since the slump in real estate from 2014, the demand has slowly shifted to road projects. Revival of real estate sector will create huge aggregate demand. Wheeled crushers are expected to be used more to meet this demand going forward," says Madhavan. The revival in mining segment is also attracting more demands for crushers and screens. Madhavan adds, "Lifting of ban on iron ore mining in the states of Goa and Karnataka will boost sales for tracked crushers and screens. Currently, we are seeing this revival in the Odisha market."
The National Infrastructure Pipeline (NIP) may be one of the most talked about government initiative these days as this ambitious plan chalks out the overall development of the infrastructure in India towards becoming a $5 trillion economy by 2025. According to Madhavan, the NIP, on paper, looks good with a total spending of Rs 100 trillion over the next five years and could help revive the entire construction equipment industry and scale it to new heights. But, he adds, "There are some road blocks which need to be cleared to even achieve 60 per cent of the proposed investment.
The need of the hour is finance availability. The financing in the construction and mining equipment has an equal share of both NBFCs and banks. Starting from the November 2019 IL&FS fiasco, there has been a huge impact on the financing of this sector. NBFCs have had a funding freeze and the banks have been very selective in their financing. This lack of funding has impacted the contractor segment which largely comprises MSMEs. The COVID-19 has further worsened the scenario by adding newer problems like labour issues. While the government has come up with many measures to ease the financing stress in the market, a lot more is desired."
Ravindran highlights the challenges, "The biggest challenge for new equipment sale is the over leveraged balance sheet of many infrastructure companies, reluctance of NBFCs to fund due to poor CIBIL score of contractors and RBI's tight guidelines for banking and finance sector."
Looking at the crusher market future, Madhavan sums it up, "Even though there is a huge requirement for aggregates and in turn crushers and screens, the prevailing scenario has been a dampener. FY 2021 might see some uptick in the market demand only towards the third or the fourth quarter. While we all know that the only way to revive the sagging economy is by investing in infrastructure, does the government have the money to invest? Only time will tell."
Quotes
"About 40-45 per cent of the overall crushers and screens market is unorganised."
Mahesh Madhavan, Head - Construction & Infra Practice, Feedback Advisory
"The new urban infrastructure projects add up to the demand for aggregates and consequently for crushing and screening equipment."
Ramesh Palagiri, Managing Director & CEO, Wirtgen India
"The availability of good quality aggregate is still a problem, mainly due to the strict environmental laws that restrict mining."
Ranjit Ravindran, Director-Mining, Voltas