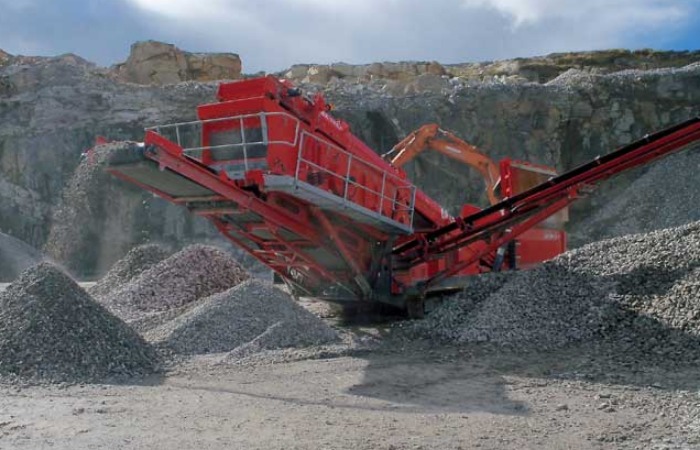 With an increase in mining activities and infrastructure development in India, the demand for crushing and screening equipment will also rise.
Followed by prolonged spell of business slump for the past two consecutive years, crushing and screening plant manufacturers are seeing gradual, although modest off take in demand of plants. There are huge untapped opportunities in the crushers and screens market. Recently, the government extended its Rs 111 lakh crore ($1.5 trillion) National Infrastructure Pipeline (NIP) to cover more projects by 2025. NIP has now been expanded to 7,400 projects, which means there will be more demand for crushers and screens.
After the Covid-19 pandemic hitting the country's industry and economy hard in the past few months, the market is in the mode of recovery with the industrial and construction activities resuming in the unlocking period. In the long term, the construction and mining activities are expected to pick up in the country owing to the ambitious infrastructure creation plans and the new reforms in mining. There will be a growing requirement of aggregates in the coming years to meet the demand from the construction and infrastructure sector. This anticipates an increased demand for crushers and screens for quarrying, aggregates and mining segments.
Aggregate market scenario
Construction aggregates can be classified as crushed stone, quarry dust, boulder, and gravel and manufactured sand (M-sand). Aggregates are used for multiple applications like raw materials for site mix and ready-mix concrete, sub-base for road projects, railway ballast etc, and are available in various sizes from 6 mm to 60 mm. The crushed stone aggregates used for concrete preparation varies from 1,000-1,200 million tonnes. The rest is used directly for infrastructure, road and railway projects as aggregate.
Said V Senthilkumar, Managing Director, Propel Industries, "India is one of the largest aggregates market in the world. It is growing very fast and structural changes are happening too. The government's thrust on expanding road and rail network is igniting the market growth. I estimate the aggregate market to be around 3.4 billion tonne."
"Overall construction aggregates demand in the country is estimated to be around 4,500-5,000 million tonnes. The share of crushed stone aggregates is estimated at 40-45 per cent of the overall construction aggregates used," says Mahesh Madhavan, Head – Construction & Infra Practice, Feedback Advisory.
The average usage of aggregates varies from project to project since the specification of each project is different. Madhavan elaborates, "Typically for a two-lane national highway (asphalt) 6,800-7,500 cu m of crushed aggregates are used. Similarly for bridges, canals, irrigation, concrete roads, buildings etc, aggregates are used in the concrete prepared and the quantity of crushed stone varies from 3,000-8,000 kg per cu m of concrete manufactured. The supply is largely region-specific and approximate distance of quarry to supply crushed aggregates to the project site varies from 15 km to 120 km."
M-sand, which has been growing in popularity, is a very region-specific market. According to Madhavan, the market is highly unorganised and there are a few large players who are region specific. He adds, "Tamil Nadu, which has granite quarries in districts like Madurai and Krishnagiri, has more than 1,000 M-sand manufacturers who cater to markets like Bengaluru, Chennai and other tier 2 cities."
Amol Sinha, General Manager, Terex India, thinks that the production of aggregates and M-sand is in upward direction due to investments in infrastructure projects and we expect this to continue in the coming years and this in turn is driving demand for capital equipment like crushers and screeners. "There is shift in demand towards modular crushing solutions to augment capacity, customisation to improve plant efficiency. We are also serving the rising demand for mobile crushing and screening equipment, including electric hybrid track crushers," he adds.
Currently, there is a growing emphasis and investment on infrastructure development by the government, which in turn is giving the much-needed push to the construction sector, says T Chandrasekhar, Director-Technical, Aparna Enterprises. "On the demand side, it's not just the growth momentum that the Indian equipment sector is witnessing, but also a positive approach among buyers who are increasingly more receptive to innovative equipment, machinery, and solutions, being offered by manufacturers," says Guizzetti.
"The booming infrastructure of the country has created a huge demand for stone aggregates and natural sand, as the same is a rudimentary element in the production of concrete which is used for most infrastructure projects," comments Chandrasekhar. Apart from the infrastructure, he has observed that real estate sector is also a leading consumer of metal aggregates. In affirmation with the government's decision to provide funds for stalled real estate projects and help revive the construction activity in the sector, he says that this will also help in pushing the demand for metal aggregates.
"Propel Industries is known for incorporating latest technology to constantly upgrade our products, which in turn benefits our customers. The pandemic has only strengthened our resolve to turn to technological means for our operations too. The market growth of crushers and screens is because of the incorporation of technology and its increased usage. Automation in the mining and construction industry is also a key factor in propelling the industry growth. Track plants operated with electric power rather than by hydraulic means is the latest trend," says V Senthilkumar.
Technology trends
Terex is proud to be offering a wide range of equipment from Modular Autosand® cone crushers for sand manufacturing to Terex washing equipment for sand classification to Mobile crushers and more, thus fulfilling customer needs. Terex products are designed to be highly productive, efficient, reliable and easily transported from one place to another. The fine aggregates produced from Terex machines are of superior quality, helping customers to reduce the overall cost of their infrastructure projects.
German major Wirtgen has a major presence in India with its Kleeman integrated range of CSE machines. Kleemann crushing plants have several innovations like the CFS - Continuous crusher feed system, diesel-electric drive, crusher de-blocking system etc. Kleeman's range comprises six jaw crusher models of various sizes, a variety of impact crushers of different sizes, as well as cone crushers and screening plants. They have a broad performance range extending from 100 tph to 1000 tph. The delivery range includes tracked mobile plants suitable for low-loader transport, with 150 different customer-specific plant configurations. The entire product portfolio is a closed aggregates material manufacturing cycle.
The Kleemann crushers of the EVO series have several advance features like the CFS - continuous flow system - where all the plants in line are interconnected. Ramesh Palagiri, Managing Director & CEO, Wirtgen India, elaborates, "Recently we have introduced the SPECTIVE control system for all EVO series machines which is a simple and reliable intuitive control technology without lengthy instruction and familiarisation periods." In this, the operator is guided step by step through the starting process. The start screen provides a graphical view of the complete plant with all adjustable functions at a glance. When the desired function is selected, clear instructions guide users through all operating steps. If a fault occurs, a fault diagnosis appears on the display. Fault localisation, description and the remedy tips appear which result in reduced downtime.
The impressive hardware includes the new user interface with a 12" touch panel. The panel is not sensitive to dust, is splash-proof and can be operated at the touch of a finger, pen, tool or even gloves. It is also very easy to read in direct sunlight with its brightness and contrast settings. Due to the simple operating concept, the user can also operate the crushing plant without any prior knowledge and extensive explanations.
thyssenkrupp is another German major that offers a wide range of CSE products. Its crushers are specially designed for different types of materials – from soft coal to very hard iron ore. Each type of crusher is available in various sizes, the selection being based on the requirement of particular capacity, feed and crushed product size. They can be offered for both stationary and mobile applications. These include: roll crushers, hammer crushers, impact crushers.
Sandvik from Sweden is also a major player in the CSE space in India. Its product line of CSE provides advanced, proven solutions for any size-reduction and classification challenges. Their application expertise covers greenfield, expansion, and individual or multi-equipment replacement projects. Sandvik screens for scalping and classifying minerals and coal come in a wide range of sizes and in several types – both individual units and complete systems. Their wide range of feeders for crushers and other applications include robust, impact-resistant grizzly feeders, reciprocating plate feeders, and pan, belt, and apron feeders to swiftly and economically transfer material.
Voltas M&CE division is the distributor for Terex Power Screen crushers and screen in India. One of the highlights of the Terex Power Screen range is the Horizon range of horizontal screens (H Screen) ideal for handling high volumes of sticky materials and for the exact, fine sizing demanded in many construction contracts. This H range is ideally suited to applications such as natural and crushed aggregate, coal, iron ore, recycled concrete and asphalt. Power Screen crushers and screens range from Warrior 600 mobile screen to some of the largest mobile crushing plants – the Premiertrak 600 jaw crusher, 1500 Maxtrak cone crusher, and Trakpactor 550SR, which operate in diverse applications.
Post-Covid scenario
The Covid-19 pandemic has impacted the market adversely over the last few months. After the unlocking of the lockdown, manufacturers have taken a new approach in the overall functioning of the business. For example, Wirtgen India's Pune plant manufactures screens for the world market and is the biggest exporter from India. Palagiri elaborates on how the company is coping with the situation, "We have planned our inventory accordingly to meet the revised demand for Kleemann screens for the global requirement. Same is applicable to our plant in Goppingen, Germany where the crusher range of impactor, jaw and cone are produced. We have adjusted our production plan accordingly at both plants."
Looking at the crusher market future, Madhavan sums it up, "Even though there is a huge requirement for aggregates and in turn crushers and screens, the prevailing scenario has been a dampener. FY 2021 might see some uptick in the market demand only towards the third or the fourth quarter. While we all know that the only way to revive the sagging economy is by investing in infrastructure, does the government have the money to invest? Only time will tell."