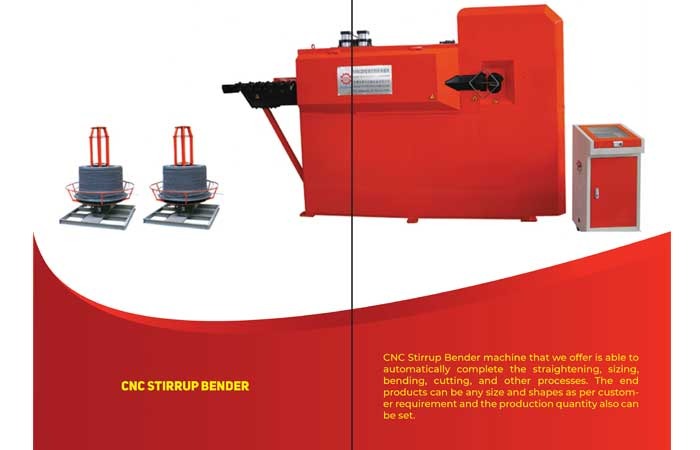 Hall: 2 / Booth: A4
Since the Indian infrastructure and construction industry are taking a new pace, every contractor is searching for new options to speed up the projects. CNC highspeed rebar processing machines are one of the latest trends in the industry to increase the speed of the project. Mainly CNC stirrup benders, double benders, shear lines, and pile cage-making machines are being used. The stirrup benders production speed is 110 to 130 m/min with a single rod and if used with double rods then the speed will be 220 to 260 m/min. For the production, through the stirrup benders, coiled rebars are available up to 12mm in diameter in India, whereas many countries have 16 mm diameter rods.
Now the civil contractors in infrastructure as well as in the construction industry are setting up a small workshop to process the rebars through these high-speed machines on the site or near the site. This will reduce the following:
1. Rebar processing time as per bar bending schedule.
2. Number of labours can be drastically reduced
3. Labors compliances like EPF, PT, ESIC, Labour camp …etc. along with the cost of PPE
4. Rebar processing cost
5. Rebar wastage by using coiled rebars.
Additional features of stirrup benders:
· Low vibration and low failure rate
· Very easy to operate, multiple selections of shapes and exact quantity feeding
· The angle of stirrup forming is flexible from 0 to 180 degree
· Stirrups can bend up or down according to the requirement, like square, triangle, round, rectangle, U Type, and more than 140 different shapes widely used in RCC
· More than 500 shapes can be programmed and can select one at a time to produce
· Straitening, traction, formation, and cutting are fully computer-controlled
· Unique design for bending axis, quick changing and saving time with long service life
· High transmission precision gives high accuracy on length by ± 1 mm and bending angle by ± 1 degree
· High power saving. Consumption is only 4 to 5 units per hour
· Accurate shapes as per drawing
Therefore, it is highly recommended to set up a small workshop at the site or nearby to process the entire rebar as per schedule. If you have multiple projects in one city, better to set up a rebar processing shed and send it to various sites according to site requirements. This will definitely