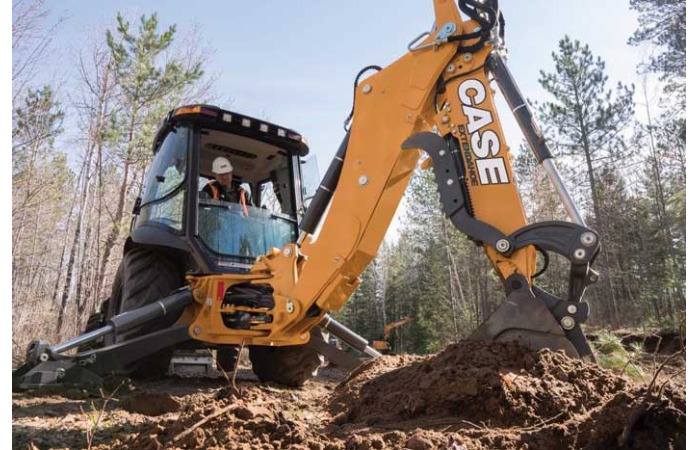 Government initiatives focused on infrastructure development are boosting demand for construction equipment in India. According to a report, "India's market for backhoe loader is projected to cross $5.13 billion by 2025, on account of anticipated growth in construction industry, increasing foreign investments, and rising number of smart city projects in the country."
Backhoe loader market, on the back of the Government's focus on infra development as outlined in the Budget, are introducing newer and upgraded models with BSIV compliant engines, enabling engineering interventions to reduce operating costs, and even looking at alternate fuels. They are also expanding their customer base and offering enhanced support and services in a bid to strengthen brand recall amongst existing and potential customers.
The backhoe loader industry, which was growing by over 20 per cent YoY with annual sales averaging at 43,000 units in 2021, is seeing sales come down, despite the strong demand from the construction industry. Numerous factors are being attributed to the downward trend: decreasing rental rates, unstable fuel prices, price increase due to mandatory BSIV compliant engine, rise in raw materials cost. However, sales of backhoe loaders have recovered much rapidly as compared to other construction equipment.
Budget's strong focus on infrastructure development has raised the dwindling hopes of the construction equipment industry. This push from the government will boost demand for construction equipment, wherein backhoe loaders account for a larger chunk of market share in India.
Nitesh Jain, Director of CRISIL, sees huge opportunity in the construction equipment market in India. He adds, "We expect a capex growth of 30-35 per cent in construction in the current fiscal. Central government capex was up 26 per cent, and national highway construction posted growth of 30 per cent, and rural road construction around 18 per cent. Construction GVA was 8.1 per cent of GDP, the highest in the past 12 quarters. All these are clearly indicating that construction activities have resumed post-pandemic. The impact of the Covid-19 second wave was not as impactful as the first wave. The government envisages a significant spurt in infrastructure through National Investment Pipeline (NIP). Under NIP, Rs 111 lakh crore is to be spent by FY 25. If we look at key sectors, infrastructure is the biggest one that would be contributing to the growth of this segment, followed by the road, energy, and railway sector.
"The construction equipment market is Rs 45,000 crore. On average, 80,000 to one lakh equipment are sold annually, employing three million people directly or indirectly. Earthmoving equipment is the leader in this segment, contributing 70 per cent share in the construction equipment market," adds Jain.
Rahul Shorey, National Head – Construction, Tata Hitachi Construction Machinery, is optimistic about the market. He says, "With CEV4 implementation, the increased prices are expected to impact first time buyers and we do expect to see a slightly muted demand in the near term. However, we do expect robust growth in the construction equipment industry, driven by the government's thrust on both urban and rural infrastructure. The central government alone has enhanced capex outlay by 26 per cent on a year-on-year basis. Substantial allocations have been made to the government's infrastructure initiatives like Jal Jeevan Mission, PM Gram Sadak Yojana, PM Awas Yojana, AMRUT and smart cities, among others. These factors, combined with a robust monsoon for the third consecutive year, are likely to further drive growth later this year."
Wide range
JCB has the widest range of backhoe loaders in India and the company enjoys a strong brand recall. The company's new range powered by well-known 55kW JCB ecoMax diesel engine, which is environment-friendly, and comes with the proven CRDI technology, a Waste-Gate Turbocharger, and a 2-stage cooling EGR system. A unique feature of this engine is that its combustion system eliminates the need for any after-treatment, DOC (Diesel Oxidation Catalyst), or a DPF (Diesel Particulate Filter). The engine has proved its reliable performance even at high altitudes and in difficult mountain terrains.
Recently during Excon, Case Construction launched 770 NXe, a highly versatile loader backhoe that demonstrates the right balance between power and efficiency. The equipment features a cutting-edge Electro-Hydraulics variable displacement pump, coupled with the proven FPT S8000 49.5 hp engine that promises to deliver exceptional productivity in all applications without any compromise.
Alok Jha, Director – Sales and Marketing, India and SAARC, CASE Construction Equipment, said, "CASE India's loader backhoes are renowned in the industry for their quality and performance. The recently unveiled 770EX Plus loader backhoe is powered by a native AL H4C4 engine known for its excellent reliability and durability. The high torque electronic engine is acknowledged for its proven transmission and low downtime and is backed by a modern hydraulics system that provides more output per litre."
"In backhoe loaders, we have a market share of 7 per cent. We are leaders in compaction equipment in which we have a market share of 28 per cent. We are spread all across the country – right from Ladakh in the north to Kanyakumari in the south, and from Jamnagar in the west to Arunachal Pradesh in the east. We have more than 200 touchpoints, 66 dealers, and one factory in India. We also have a couple of retail offices," says Jha.
"Customers always need a product that can increase their productivity. With that they also focus on saving cost on fuel and maintenance. Powered by BSIV Kirloskar engine, the Manitou backhoe loaders manufactured in India, comply with the new emission norms of India and with their fuel efficiency, the machine is for sure one of the best in the Industry in turn bringing more profits to customers," said Hafeez Khan, Managing Director, Manitou South Asia.
The Manitou BHL BS IV was started with two variants - 74,5hp naturally aspirated and 74.5 high torques. "We have now launched a new variant "MBL Ranger- 74.5hp" with a Banana Boom. The ECU coupled with the Common Rail Direct Injection (CRDI) system - provides higher output power and torque rises while offering enhanced fuel efficiency by 10 per cent. The engine mounted after treatment device used is DOC or diesel oxidation catalyst. The regionalised cooling system is designed to operate in demanding and extreme conditions of dust and high ambient temperature environment with ease. Another initiative is saving the maintenance cost. When it comes to impeccable aftersales, we are twice as good, which is why we offer standard extended warranty for two years or 4,000 hour for our MBL series," adds Khan.
Last year, Gmmco and Caterpillar launched the all-new Cat®424 backhoe loader. Talking about the Cat 424, V Chandrashekar, MD and CEO of Gmmco, said "The new 424 is an exciting product. The new 424 is a high-performance machine with a low cost of ownership. This makes the Cat 424 truly beneficial to you, our customers. The new engine, the fuel-economical 'Eco" mode, and comfortable cabin are some exciting features in our new Cat 424."
The new Cat 424 brings in a fresh design and numerous improvements for our customers. This high-performance Cat 424 machine offers more comfort to the operator, better fuel savings, robust engineered structures, and comes in multiple options.
Focus on efficiency
Deepak Shetty, CEO and Managing Director, JCB India, said "JCB machines are getting smarter and have been supporting the building of infrastructure in India for over four decades. These machines are used to build roads in urban and rural India, schools, hospitals, and airports among many other applications. An embodiment of the vision of Atmanirbhar Bharat, our Made in India products are at par with the rest of the world and are used in over 110 countries. With operating costs becoming more critical than ever, our products are designed to consume lesser fuel and have lower maintenance costs, thereby improving the profitability of our customers. We have also integrated digital technology such as Telematics and Parts App into our products and services."
Hyunsoo Kim, MD and CEO, Doosan Bobcat India, "Customer centricity being the fulcrum, Doosan Bobcat India introduced B900 CEV stage IV backhoe loaders for the Indian market in 2021. With the rising market demand for advanced machinery and the enhancement in technologies due to mandates to adapt to newer emission norms, the associated cost for such advancements is borne by customers. Doosan Bobcat with its customer-centric approach ensures the Made in India Bobcat backhoe loaders paybacks customers with value addition right at the product design level. For instance, the B900 backhoe loader comes with a highly fuel-efficient Ashok Leyland engine, besides the largest fuel tank in its class, coupled with 10 per cent better fuel efficiency to ensure an approximate 40 hours of uninterrupted work giving us a competitive edge of around 12 hours. So once the tank is filled, the machine idle time is also relatively reduced to avoid refueling."
He adds, "As our environment is increasingly being threatened by the amount of pollution, Doosan Bobcat India turns its complete focus towards green initiatives by adapting to newer technologies and making eco-friendly equipment for a pollution-free environment. Bobcat B900 CEV Stage IV backhoe loader powered by H4 series electronic engine from Ashok Leyland is amongst the most reliable and proven engines working in the construction equipment segment. The engine produces more horsepower which emits a far lesser amount of smoke and offers great fuel efficiency. Usage of such fuel-efficient equipment is not only beneficial for the eco-system but for customers in reducing the overall maintenance cost. In addition, it helps in extending runtime, ensuring greater productivity and lesser time in refueling, and acquiring fuel, thereby, reducing total operating costs."
Says Khan, "Construction industry is getting more efficient day by day with new technology. With efficiency needs, users are demanding features like compactness, environment-friendly, etc. Manitou with its 60+ years of experience, is constantly investing in new products with new technologies and features which are fully aligned to the customer's demand and their various applications. The focus on total cost of operation for the end customer is the focal point which has helped us to understand the customer needs more intricately. This also has helped us out in rolling out machines which are much more productive and reliable to our end customers."
Challenges
The implementation of BSIV emission norms is presenting some key challenges for both sellers and buyers. The first major challenge from the buyer's perspective is the operation and maintenance of the new range of BSIV equipment. Many of our customers already own tippers as part of their fleet. Most of these customers are familiar with the usage of BS4 and BS6 compliant tippers whose engines and after treatment systems are similar to the ones being used on CEV4 on-road construction equipment.
"For first-time buyers we have institutionalised training and familiarisation procedures at the time of commissioning our equipment. safety precautions as well as the proper operation and maintenance of these systems – particularly with respect to the use of urea in the upkeep of the aftertreatment system. This process will help customers get used to the new technology faster. We believe that this technology adoption will be easier than during the implementation of the first emission norms for engines with the incorporation of turbochargers in the 1990s. In terms of demand, we do see some impact given the significant increase in prices of these machines. We are also watching closely, the impact on rental rates because of this change. We expect that a part of the market may downshift to the 49hp backhoe loader as it is outside the ambit of current emission norms. We also anticipate some shift to excavators too, given inherent operational efficiencies," adds Shorey.
Going forward
Shorey concludes, "The increased prices due to transition to CEV4 norms are expected to impact first time buyers and we expect to see an impact on relative volumes. The governments thrust on both urban and rural infrastructure, and the substantial budgetary allocations this year are likely to drive growth in backhoe loaders later this year. This will boost demand for construction equipment. Additionally, highway and road construction will support demand for wheel loaders. There is a narrowing of price levels between excavators and backhoes are expected to have an impact on relative volumes. We are continuing to watch this play out. However, backhoe loaders will continue to have an edge given their mobility advantage, as well as a resale market that is more robust than that of excavators."
Top 10 Backhoe Loaders

In the construction sector, corporate goals are rigorously occasional and revenue oriented. Hence contemporary construction machinery is critical in driving the industrial growth ensuing national welfare. Compared to traditional equipment modern construction machinery is extremely fast and efficient and it boasts good convergence systems built into it as it has progressed over time. With its appropriate application the equipment phenomenally enhances the project with respect to affordability durability security efficiency and most important-timeliness.
Some of the common construction equipment includes Backhoe loaders Excavators Cranes Wheel Loaders etc. Backhoe Loaders are pretty common and almost everyone has seen it once in their lifetime at any random construction site. No construction takes place without a backhoe loader. Backhoe loaders are used for excavation work ditch clearance hauling goods hoisting cargoes and cracking asphalt. They're also great for excavating below the machine's level which is normally at least 14 feet deep. Landscapers hole diggers and demolition workers can all benefit from backhoe loaders. Here we bring the top 10 backhoe loader manufacturers in India.
1. JCB backhoe loaders: Backhoe loaders from JCB are extremely flexible to a variety of tasks and can be utilised in a myriad of infrastructure assignments. The product range include 2DX 3DX 3DX Plus 3dx Xtra 3DX Super and 4DX.
2. Caterpillar backhoe loaders: The backhoe loader by caterpillar ensures durability and is known for its meticulously designed structure. From a 3.6 L engine with an optimum efficiency the engine produces remarkable peak torque of up to 424 Nm. Once functioned in the new Eco mode it ensures great fuel conservation saving up to 20 per cent compared to its earlier version.
3. Escort backhoe loaders: The backhoe loaders by the firm includes Escorts Jungli 4x4 Backhoe Loader Escorts Loadmax II Backhoe Loader Escorts Digmax - II (2 WD) Backhoe Loader and Escorts Digmax - II 4 WD Backhoe Loader.
4. CASE backhoe loaders: CASE has been in the industry encasing its strong value and skills. The backhoe loaders by CASE has generation engine designed by Fiat Powertrain Technologies Industrial (FPT Industrial). It offers remarkable functionality like speedier convergence as well as close to 10 per cent higher fuel efficiency.
5. Mahindra backhoe loaders: With the deployment of advanced NOVA-C every individual component undergoes a series of rigorous and extensive quality control steps prior to actually being released. Mahindra EarthMaster is the backhoe loader by Mahindra. It is available in three advanced models namely EarthMaster VX EarthMaster SX and EarthMaster 4WD.
6. VOLVO backhoe loaders: Volvo Construction Equipment began the gentle transition of a line of self-designed backhoe loaders in 2002. The eagerly anticipated offerings were indeed a great asset to the business' product portfolio. The range of products includes BL71 BL71 Plus BL60B BL61B etc. The products boast several enhanced features like durability reliability sturdiness and adhere to every aspect of ergonomics.
7. Komatsu backhoe loaders: Backhoe loaders from Komatsu come in rigid 2 and 4 wheel steering variants. Komatsu intends to achieve emerging business milestones with its long legacy of expertise and well-established expertise in the global backhoe loader sector. The product range for backhoe loaders by Komatsu includes WB93R-5 WB93S-5 WB97R-5 and WB97R-8.
8. Terex backhoe loaders: Terex Corporation creates manufactures and supports products for applications in building servicing production power resources and materials management. Terex has a production plant in Hosur that manufactures Materials Processing systems for native consumption as well as outsource to nations in Asia Africa and the Middle East.
9. ACE backhoe loaders: ACE backhoe loaders are used to excavate relocate grade and load earth and other loose aggregates in the building and construction industries. Such equipment are also used in heavy industries and mining operations. The different types of backhoe loaders by ACE include AX124 PHANTOM AX130 and AX124 NS.
10. Bull backhoe loaders: Bull is an innovative company boasting a compelling R&D staff as well as a long list of patents to its name. Bull HD 76 4WD Bull HD 76 2WD Bull HD96 4WD and Bull HD 100.