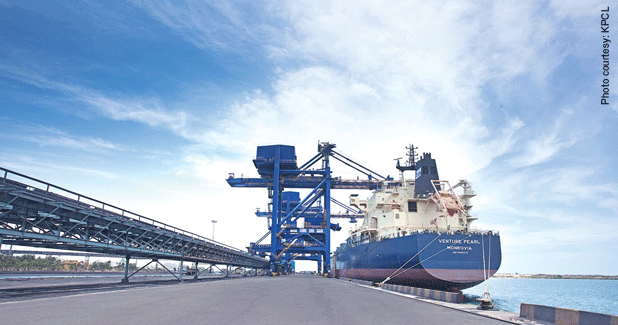 Expected increase in containerization, new ICDs and CFSs, expansion plans of major and medium sized ports will push the demand for port equipment.

Increasing
investments and cargo traffic point to a healthy outlook for India?s ports sector. Cargo traffic, which was 976 million metric tonne (mmt) in 2012, is expected to reach 1,758 mmt by 2017. The Indian ports sector received FDI worth $1,637.30 million in the period of April 2000?November 2014. The number of containers handled at major ports in India increased by 8.32 per cent.
According to Sanjay Wadnerkar, Vice President, LiuGong India, the trend seems positive for wheel loaders in port sector; a lot of opportunities are opening up in material handling at ports and also handling of bulk cargoes such as coal, minerals and agricultural products at ports. This will increase the demand for wheel loaders. Sanjay Saxena, Business Unit Head - Heavy Equipments, Sany Heavy Industry India, says, ?Sany is providing the total solutions for port and CFS operation through its large range of port equipment like reachstackers, empty container handlers, port mobile cranes, RTGs and ship-to-shore cranes. He adds, ?We have already launched our state-of-the-art reachstackers in India. We also foresee a good growth in demand in our range of products, specially reachstackers and RTGs.?
?Definitely, the ports sector has better future. More ports are expected in India. Technology is playing a major role in this. Advanced equipment, systems with better safety options are in vogue. Advanced quality and cost-effective systems are becoming the norm,? says Arvind Gadge, Director, AR Crystal-tech Solutions.
According to Saxena, Indian port sector has seen all-time low traffic during the last few years, which has resulted in idling of equipment and facilities with low utilization level. He says, ?Containerized traffic has seen a decline of about 4.32 per cent between April 2013 and March 2014. Similarly, sea-borne traffic of various commodities like iron ore, fertilizers and liquid commodities had also seen the decline in this period. However, we are bullish on growth of this segment in the coming years, increased focus on segments like oil and gas, projects like dedicated freight corridors, thermal and coking coal, iron ore etc, will definitely push the cargo handling in port sector.?
Saxena adds, ?Trends of technology in this sector are focusing on better human and electronic interface, highest level of safety, advanced protection systems, intelligent control system and maintenance and fault diagnosis system etc. Sany is providing advanced state-of-the-art control and diagnosis system, movable counter weight for better stability, advanced safety features and superior operational speeds for better productivity and efficiency.?
Speaking about the technology trends, especially for the harbour cranes, Sunil Kalra, Divisional Manager - Maritime Cranes, Liebherr India had this to say. ?The mobile harbour crane sector is a very innovative one. New technologies are introduced to the market on a regular base. In June 2014, Liebherr introduced SmartGrip for its mobile harbour crane range. This unique technology operates as an intelligent system which optimises grab filling rates in a self-learning manner. SmartGrip provides a number of valuable advantages, including higher performance and zero overloads. Today, cranes across the globe are already equipped with this game-changing technology. SmartGrip is the continuation of a history full of innovative technologies, including Pactronic and Sycratronic. In our opinion, innovation will also be a key success factor in the coming years.?
Saxena points out, ?The Railway Budget and the Union Budget are very encouraging to the port sector and proposed corporatisation of ports is a welcome step. The government has focussed on large investments like Rs 11,635 crore will be allocated for the development of outer harbour project in Tuticorin for phase I, 16 new port projects announced and SEZ at Kandla and JNPT will definitely give a boost to the demand of port equipment. Even the inland waterways project on Ganges has been allocated will encourage transportation through rivers.?
He sums up on a positive note. ?We expect CAGR of approximately 10-15 per cent in coming 4-5 years time. Growth prospects are very encouraging and is expected increase in containerization, new ICDs and CFSs, expansion plans of major and medium sized ports will push the demand of container handling equipment like reachstackers, RTGs, STS, port cranes, heavy-duty forklifts etc.?