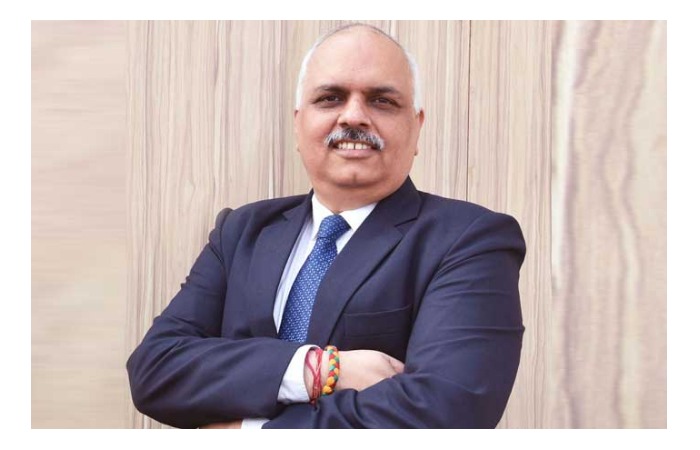 AJAX Engineering is offering truck-mounted boom pump of 30 m, mounted on a 4x2 chassis. Their shorter turning radius makes them most suitable for RMC plants working in constricted city sites or in tight locations. "Concrete boom pumps have been revolutionising the construction of large commercial and residential buildings and structures. The placement of concrete in inaccessible areas has necessitated the use of AJAX boom pumps in the current construction processes. We are promoting our boom pumps to commercial RMC plant owners and to cement companies that are setting up RMC plants at urban locations," informs Ajay Aneja, Chief Marketing Officer at AJAX.
Over the last three decades, the need for energy efficiency, higher productivity, easy mobility and flexibility has been the focus to meet growing customer needs. The growing urbanisation, high rise residential and commercial buildings, modern industrial infrastructure and the nationwide rural development programmes have resulted in a range of concrete solutions.
Keeping pace with the changing requirements of customers, "We will be soon coming out with a 25m self-propelled boom pump SPBP 25ZX, mounted on a 4x4 chassis, and with a 360-degree rotating boom. It is designed for use in housing and infra projects in restricted spaces; plus, the pump has the smallest footprint in its class that helps in efficient maneuvering and will be able to work in hilly areas and in muddy terrains owing to its excellent maneuverability. The product is currently undergoing tests, and, as a unique product, it will be patented by AJAX."
AJAX offers concrete batching plants in CRB, IRB and IBP series ranging between 20-30-45-60-75-90-120 that goes up to 240 cu m/hour. For the RMC industry, it is targeting its 30-45-60-90 cu m/hour range of batching plants that churn out varied concrete design mix and are easy to set up owing to its modular design. They come with an option of planetary and twin shaft mixers.
The planetary mixers give lower operating cost, better product consistency, and the right homogeneous mix while the twin-shaft mixers are robust and heavy built with unmatchable speed to deliver high-strength concrete.
Says Aneja, "AJAX offers a wide range transit mixers, suitable for 3 and 4 axles, BS6 chassis with a range of RMC capacity. The PTO drive-based transit mixers with optimised power utilisation offer increased payload with lower fuel consumption. Designed with built-in strength and durability, the AJAX transit mixers are the perfect choice for all types of construction in rural and urban applications. Customers can choose transit mixers driven by either power take-off (PTO) or slave engines. Since, we are seeing more demand for higher capacity transit mixers, we are offering even an 8 or 10 cum capacity transit mixer mounted on a high-capacity truck chassis with a larger axle configuration."
The company supports the functioning and maintenance of its plants through its 36 dealers, located pan India, and operating from 100+ locations. A new toll-free call centre has been set up for customers' requirements for parts. The company also provides operator training programmes accredited by NSDC that provide in-depth operation and maintenance training to our customers operators which in turn benefits our customers in productivity and reliability of AJAX products.
Informs Aneja, "AJAX has earmarked Rs 100 crore to build a new manufacturing facility and a design center across 20 acres of land in Bengaluru, Karnataka. This investment is being done to expand our robust business operations to meet the demands of the construction industry in the future. The new factory will be equipped with the state-of-the-art facilities to design and manufacture the recently introduced products, such as concrete slip-form pavers, boom pumps and the self-propelled boom pumps. The annual production capacity from the upcoming plant for boom pumps and concrete slip-form pavers would be 100+ units and 50+ units, respectively. A further investment of Rs 40 crore is being done at Gowribidanur plant to expand our existing facility that produces batching plants and transit mixers."
AJAX has a very strong focus on the capabilities needed to succeed in the new market dynamics and meet the challenges and demands. Strengthening its foothold in the concreting equipment market, AJAX would be introducing new products in the forthcoming customer interface platforms to help customers to steer their business with increased speed, greater flexibility and enhanced quality.
AJAX is always geared-to meet the challenges the infrastructure development sectors with competitive advantage and differentiation strategy, to establish itself as a high-efficiency, quality player in the concrete pump category.
- Ajay Aneja, Chief Marketing Officer, AJAX Engineering