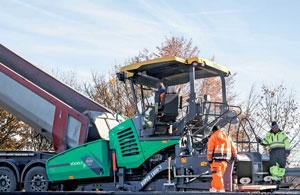 Cost efficiency is not only achieved through cleaner engines, but also through optimising the man-machine interface with a variety of machine control technologies, 'correcting' the usage patterns, and packaging solutions that take care of clients' business needs around project costs, top-line and bottom-line impact, and overall cost of ownership. Agith G Antony takes a closer look at the emerging trends.
Time-bound projects need reliable machines, and considering this fact, all equipment manufacturers are trying to innovate and adapt to the latest trends, and are in a continuous process of improving the productivity of the machine. Improving cost efficiency has become one of the most challenging aspects for any business in an intensely competitive market. In today's scenario, OEMs have more focus on improvements in cost efficiency, noise and dust control, environment design and ergonomics that ultimately provides them with a cutting edge in a highly competitive market. No wonder, fuel and energy efficiency have become two major parameters while selecting an equipment. The environment and energy issues have also made the construction equipment industry to develop more efficient and energy-saving machines. Equipment uptime is one of the major factors that a customer considers while deciding on the machine.
From initial to lifecycle cost
An end-user per se is highly conscious of the variety of costing involved in a project, and initial cost of a machine is one of them. As per the prevailing trends, bidding of projects ultimately is influenced by the lowest bid by the contracting fraternity. This, to a great extent, has lead to cost cutting through bypassing the advanced technology products available in the market, due to the initial high cost of such machines. Is the trend moving towards a holistic approach such as the lowest lifecycle cost of machines? Says Amit Gossain, EVP - Marketing, Business Development and Corporate Affairs, JCB India, "Today, companies are looking for equipment which offer the best-in-class productivity, safety and fuel efficiency to ensure speedy completion of projects. Hence, government tenders and contracts now state the pre-requisites in terms of technology and features in the machines. Price continues to play an important role but only after the parameters have been met by the bidding companies. This ensures that best quality products are used in the process."
Says Sunil Chaturvedi, Managing Director & CEO, Tractors India, "While securing equipment based on the lowest initial acquisition, cost has been one of the key retardants in introduction of advanced technology. Especially in public sector procurement, we are witnessing growing orientation of most of our key customers towards lifecycle costs. This is helping in developing sharper focus on superior technology, which brings in enhanced competitiveness. Technologically advanced equipment may sometimes have higher initial costs but in terms of superior lifecycle value, they always provide lower lifetime costs, better efficiencies and markedly enhanced throughput."
Chaturvedi explains, "Our customers are increasingly seeing the advantages of this perspective. For a variety of compelling reasons including size and dimensions of upcoming infrastructure, project duration, pace of construction, site availability, quality of build, etc, Indian infrastructure growth has to embrace superior technology as we go along."
According to Sunil M Yembarwar, DGM Equipment, Hindustan Construction Company, this may not be the case always. He says, "We generally do cost benefit analysis in such cases. For example, if we go for advanced equipment, the initial cost will be high. But in the long run, if we get increased production, that will be a benefit. Based on the analysis, sometimes instead of direct purchase, we opt for lease or rental option as well. On an average, the cost of high value equipment can be 1.5-2 times that of a normal/regular equipment."
Yembarwar adds, "When we select an equipment, we see what production rate it can give, its productivity, and operation and maintenance (O&M) cost. Also important is the environment in which the machines are working." He further adds that in some cases they negotiate the cost with the best brand to bring it down to a respectable level.
Says Prem Nathani, National Sales Manager - Mobile & Crawler Cranes-India, Manitowoc, "The lowest bidder concept works in the government sector very strictly. But for corporate sector even though price is a key component, it is not the be-all and end-all. Most of the private sector companies give more importance to the performance of the equipment, after-sales support, and the level of satisfaction from the existing users/owners. At Manitowoc, we have created a platform where we conduct periodical surveys to find out the level of customer satisfaction on our products and services. We call this the Customer Satisfaction Index (CSI) and it gives us a fair and accurate feedback."
"Bidding where equipment are selected on L1 basis, this is correct. Whether it is government tender or private company tender, the bidder tries to cut all corners to reduce price," says Ajay Kumar Somani, Director?Mobile Crane Division, Liebherr India. Somani further adds, "Companies like Liebherr are of international repute and don't manufacture equipment with different technologies. The quality and material used are the same irrespective of where the equipment is sold. However, there are always some optional features, which save operational cost and also enhance more usefulness in future. Such things are curtailed. In case all additional features are taken, the impact on price will be about 10 per cent."
He further adds, "There are two segments of customers customer who is more price-sensitive and the customer who value quality, safety and reliability of operation. Our focus in R&D department is on quality as 80 per cent of world market is quality conscious and do not consider only price before selecting the equipment."
When the project timeline is shrinking beyond imagination what the customer is looking for are machines that help complete a project in time without sacrificing on quality. Says Mrunal Patel, Joint Managing Director and Founding Chairman, MCL, "The machines are imperative to drive progress and deliver targets on time. After careful evaluation of the options, we decided to buy Volvo construction equipment and trucks because they are reliable, efficient and we can count on them. Today, Montecarlo is experiencing rapid growth and needs strong and reliable machinery to conduct its duties and operations."
According to Ashok Srivastava, Vice President?Soma Machinery Division, Soma Enterprise, "The selection of equipment for a project is based on quantities involved, time period and utilisation of particular machine, the brand/capacity, availability and low cost of production. Since, cost of machines directly effect on the production cost, to keep the production cost competitive and low, one has to choose appropriate machine of required cost." He adds, "The technical support and the required services from OEM, increases availability of machine and production, which reduces production cost."
Back-up support
Most of the innovation is actually happening with respect to aftermarket support site support, site management, availability of machines, parts business, operator efficiency, and connectivity to machines (electronic). Says Gossain, "We strongly believe that manufacturing world-class products is only half the recipe for success. The other part is providing the best after-sales support/customer service by establishing excellent distribution network. Hence, JCB offers the largest and strongest distribution network in the industry 59 dealers and 575 outlets. To ensure that prompt service is provided to our customers, our dealers run a service van which offers 24x7 assistance to our customers in case of a machine breakdown in any part of the country. Strategic investments are made in facility expansion and human resource development by our dealers to ensure sustainable growth momentum is maintained. JCB dealerships have over 5,500 employees who are trained by us for selling and servicing these machines."
When it comes to customer support and services from OEM, Anil Yendluri, Chief Executive Officer, Krishnapatnam Port Company (KPCL), chips in. "In supply chain management, you don't get away by simply providing world-class equipment. You back it up with world-class service to make a real difference." KPCL is one of the most sophisticated ports in the country with a handling capacity of about 200 mt. "I really appreciate the customer-centric approach Volvo CE always takes," says Yendluri. "They seem to understand specific customer needs and go out of the way to deliver solutions in line with those needs."
Chaturvedi of TIL says, "Infrastructure equipment requires much nuanced upkeep. As a company and Cat dealer, we are pioneers in introducing what is now popularly called maintenance and repairs contract (MARC), which allows customers to focus on increased output and longer working hours as we keep their equipment in '24x7x365 ready' mode. MARC provides its customers outstanding value for money and takes away all their concerns on equipment uptime. We are happy to see more and more key customers in the mining segment opting to come under MARC arrangement. For our customers in the CE segment, we offer our customer support solutions (CSA) that is packaged for a wide range of customers fleet owners to retail. Trained engineers, wide network of parts outlets, state-of-the-art workshops and a commitment to serve our customers are the key deliverables we offer to our clients."
"We provide total solutions to our customers, once a machine is sold, right from commissioning the machine be it a slipform paver, a recycler, soil stabiliser or asphalt paver, depending on the nature of the job. We can prove to a customer that the lifetime cost of our machines is the lowest," says P Ramesh, Managing Director & CEO, Wirtgen India. He adds, "We have 'application specialists' at our project sites to work closely with the project managers and supervisors. This ensures maximum output from our machines."
According to Ramesh, strong prequalification criteria by which only those contractors with a proven track record of execution and financial capability are prequalified. This will ensure that work is done on time and the project execution would not be overrun and also they would build roads with good 'ride' quality. The Wirtgen Group new age machines are designed so that the lifetime cost of the machine is reduced considerably. New technological innovations are a part of the continuous improvement process for all machines of the Wirtgen Group.
The energy impact
Word over, the emission standards are becoming stricter in an effort to gradually reduce the legal level of emissions for various sizes of diesel engines. To remain competitive, manufacturers have been tirelessly working to design and produce equipment that will deliver higher performance, longer life, lower operating cost and at the same time with low environmental impacts. To comply with these standards, engine manufacturers have invested in the R&D of new cutting-edge technologies aimed at lower diesel emissions level. Most of the global OEMs who have established manufacturing facility in India are well ahead with advanced engine technology complying with the required standards.
Cleaner engines
Says Nathani of Manitowoc, "Emission norms are getting tougher in Europe and some countries in Asia. The crane industry is introducing many changes based on the latest emission parameters set by the regulatory authorities. In addition, cost is another challenge but we can see the industry is moving and the growing infrastructure demands heavy lifts ? so the only way to go is forward and comply with the emission regulations as they are introduced in each market."
According to Gossain, JCB engine ecoMAX is optimised for JCB construction equipment, to offer a package that produces maximised fuel efficiency while enhancing productivity and operating efficiency solutions. The BS III compliant ecoMAX has been specifically designed for Indian climatic, and terrain conditions and machine usage pattern and has over 93 per cent indigenisation by value; it is the first engine in India that has been developed exclusively for off-highway applications. ecoMAX is known for its best-in-class fuel efficiency. The JCB backhoe loaders save up to Rs 2.5 lakh per year on fuel and the recently launched JS205LC saves up to Rs 5.4 lakh in four years." He adds, "Lean manufacturing principles are followed through JCB production system. The manufacturing process of the engine plant works on the 'no fault forward' production model. To maintain high quality standards, the engine is verified at every stage of production using cutting edge technology, cameras, and sensors providing optimum engineering value to the manufactured product."
Says Chaturvedi, "Globally, Cat? equipment sets the standard for infrastructure industry. Driven by constant innovation, these products set benchmarks of performance, durability and efficiency. Major R&D advances are a way of life in Caterpillar. For instance, the latest Tier-4 emission standard compatible final engine is equipped with a combination of proven electronic, fuel, air and after treatment components, based on engine size, application and the geographic location in which it will work. This will signify how our products remain best suited to the geography in which they operate." He adds, "Cat machines are also equipped with factory installed tracking technology products, which help the users to remotely monitor their fleet including diagnostic and maintenance alerts. This interfaces with online parts ordering and other technology services on the e-business platform and provides single-window total solutions to our customers for any after-sales/product support."
The latest range from CASE - F series wheel loaders and B series motor graders are fitted with FPT 6.7 litre engines equipped with common rail diesel (CRD) injection system and electronic diesel control (EDC) systems.
The EDC system comes in handy when it comes to efficiency of fuel consumption. According to Abhijit Gupta, Managing Director, CASE New Holland Construction Equipment, EDC system helps supply of the exact quantity of fuel required to the engine according to the load demand to avoid unnecessary fuel consumption and emissions. The injection timing is decided by the Engine Electronic Control system (ECU) and based on the inputs of various sensors like ambient temperature, ambient pressure, fuel temperature and coolant temperature, the engine ECU will decide the quantity of the fuel requited to the engine. Gupta adds, "These machines also fitted with electronic control unit on the transmission (TCU). With TCU, the machine can be operated either manual mode or in automatic mode. The automatic mode gives optimum speed and torque according to the operator`s wish and working conditions."
Says AM Muralidharan, President, Volvo CE India, "Our recent launches include a series of excavators, which are more productive and fuel-efficient. The EC480DL excavator comes with a turbocharged high pressure direct-injection Volvo diesel engine that offers maximum power of 343 hp (256 kW) delivering dependable power with high torque, along with lower emissions and noise. The automatic idling system reduces engine speed when the levers and pedals are not activated, adding to higher fuel efficiency and lower external noise. These engines work in harmony with intelligent, advanced hydraulics and a rugged reinforced undercarriage." He further adds, "A new and unique function called the ECO mode has been introduced in these machines as a standard function that helps in reducing the fuel consumption in each mode of operation. A host of new features have been incorporated in the cabin including the monitor, machine tracking and preventive maintenance information."
Trends in friction management
The stricter emission norms have a positive impact on the components and aggregates segment. For instance, when case-hardened gearboxes were introduced, gear technology had taken a leap into future. What it meant was reduced size of gearbox, change in metallurgy delivering increased specific output. However, with the changes, gear lubricants faced a fresh set of challenges viz, reduced sump size, lower heat dissipation increasing system and oil temperature, in addition a new phenomenon of fatigue failure came to light as well.
Says Shankar Karnik, Asia Pacific Mobil SHC Brand Manager, ExxonMobil Lubricants, "Mobil Industrial Lubricants took up the challenge to pioneer a joint research programme with a globally well-known gear manufacturer to develop an anti-micro pitting technology that would not only address operational challenges but also prevent micropitting in case-hardened enclosed gear cases. With that, Mobil Industrial Lubricants introduced a new technology anti-micropitting gear oil Mobilgear XMP series and Mobilgear SHC XMP series, commercially, both in mineral and synthetic range." Karnik adds, "This is just one example and like this, Mobil industrial lubricants has introduced new products or technology as and when equipment builders/OEMs introduced new technology into the market through its 125 years-plus history." According to him, energy efficiency is obviously a paramount issue for every company in the global industrial sector, no matter how large their operations are or what they specialise in. Obviously, from an operations and cost efficiency perspective, reducing energy consumption can have a positive impact on a company's bottom line. Karnik adds, "Minimising energy consumption can help companies demonstrate to their partners and customers that they are committed to sustainable practices."
Tech trends in hydraulics
Subhasis Chatterjee, Managing Director India, Hydraulics Group, Eaton, throws light on the dilemma the components manufacturing are going through. He points out, "OEMs today specify seemingly contradictory requirements for their applications. It must be powerful while being very fuel efficient; it needs to be extremely rugged while being very precise and fast. The age-old universal demands of reliability remain, but new standards of flexibility, serviceability and power are now being set. Cost pressures remain high but not at the cost of compromising on safety and quality. Better controls and precise power management through integration of electronic controls are required in order to meet the demands placed on these applications."
He further adds, "There are a select number of hydraulics providers that can meet these requirements, and even fewer that have the breadth of hydraulic products that spans the range required to qualify as a complete systems solution provider. Eaton is uniquely qualified to meet the needs of OEMs across platforms in varied segments such as agriculture, construction, mining, discrete manufacturing, processes, oil and gas, energy, etc. We see a host of opportunities in equipment like the combine harvester in agriculture, excavators, backhoes and wheel loaders in construction, oil rigs or wind turbines or for that matter across industry segments ranging from food and beverages, healthcare, etc to heavy machinery and civil work."
Integrated system solutions
There is a gradual shift towards integrated system solutions that synchronise hydraulics and electronics in increasingly innovative ways. Highlighting the trend, Chatterjee says, "The hydraulics industry is making major strides in the efficiency and performance of its products. Hydraulics always has been the best choice for high power-density applications, but new designs, materials, and manufacturing technologies are extending that advantage like never before. These new components are destined to be a smaller piece reducing the footprint and enhancing the power density. The latest trends point to customers looking for the best usage of space, better power density, energy efficiency, accuracy and quicker responses. The marriage of hydraulics and electronics will deliver smarter products that combine the intelligence of electronics with the power density of hydraulics to enable all of these applications and many more that have never been thought of yet. Thus, the electro-hydraulic solutions would bring on the table the benefits of mechanical muscle with electronics brain, which deliver high reliability, guarantee specified uptimes and at the same time are quick, efficient, accurate, compact, safe, and repetitive and user friendly."
Way forward
Customers today do not want a stripped-down machine. There is an increasing awareness among them that true value-added features are not just about frills but actually designed to suit the local conditions and context, thereby maximise uptime and reduce maintenance costs.
In any market, you have different segments of customers and the usage pattern, too, varies; some look for value additions that help them better their profit margins, some look at the initial investment, and others are keen on the long-term benefits. That explains why concepts such as low lifecycle cost, faster return of investment, low cost per cubic metre, have struck a chord with the end-user segments. Today, there is a perceptible shift where end-user segments are tilting towards value addition, which earlier, used to be OEM-driven. However, that is changing fast.
MECHATRONICS SOLUTIONS
Electro-hydraulic technologies also referred to as 'mechatronics solutions' are gaining popularity in the industry due to the extremely compact package and reliability factor. Explains Chatterjee of Eaton, "These are not only fuel-efficient, but are also environment-friendly considering the low power requirements and the fact that they have no emissions. For example, the electro-hydraulic steering by Eaton is a combination of Char-Lynn? steering unit and Vickers advanced proportional valve technology that creates Eaton's new auto guidance products. These auto guidance steering products are suited for use on tractors sprayers, combines, motor graders, scrapers and other off-road equipment. These steering units are also available with Q-amp and 2-speed, which increase efficiency while maintaining excellent road performance and delivering higher level of comforts and user-friendliness to the vehicle drivers."
RIGHT LUBRICANT FOR ENERGY EFFICIENCY
From the energy efficiency perspective, the selection of the right lubricant for the right application is extremely important. On the other hand, from the application perspective, it is important to understand how equipment operates, ambient conditions and expected output that the equipment needs to achieve to ensure production goals are met consistently. An energy-efficient lubricant will not only cater to extreme operating conditions (heat, dust, etc) but also ensure that there is an overall reduction in the energy consumed by the equipment," says Karnik. He adds, "While potential energy efficiency savings to the tune of 1.5 per cent can be achieved in gas engines operating on Mobil SHC Pegasus 30, there is up to 3.6 per cent savings with synthetic product such as Mobil SHC 600 series or Mobil SHC Gear series of products. In hydraulic equipment across many industrial and off-highway applications, one can experience up to 6 per cent pump efficiency with Mobil DTE 10 Excel range of products. Understanding equipment and its application, followed by selection of the right lubricant, help gain the maximum mileage from these technologies."
Mobil Industrial Lubricants range of energy-efficient lubricants currently includes the next-generation Mobil SHC 600 series, Mobil SHC Gearseries, Mobil SHC Pegasus, Mobil SHC Cibus series, Mobil SHC 500 series and Mobil DTE 10 Excel series. In extensive testing, these technology-leading lubricants delivered significant energy savings compared with conventional oils. Since even small energy savings can translate into significant monetary and resource savings, the energy efficiency benefits offered by Mobil-branded industrial lubricants lead to achieving important gains in industrial energy efficiency.
INNOVATION FROM MANITOWOC
One of the newest all-terrain cranes from Grove, the GMK6400, earned Manitowoc the "Innovation Manufacturer" award from Europe's leading lifting and transportation trade association. The 400 T capacity GMK6400 is currently the strongest crane available on six axles. It features a range of unique design elements that set it apart from other cranes in this class. To win the ESTA award, the GMK 6400 featured four unique aspects of the crane ? and one of which was its Fuel Saver option. The Fuel Saver option, meanwhile, is an intelligent system that reduces fuel consumption during idling, which in regular crane use can constitute up to 80 per cent of running time. It is similar to the start/stop function on modern cars, which reduces RPM while the machine is at rest and eventually disconnects the pumps completely, shutting the engine down to save fuel. Restarting the power requires just a quick movement of any of the crane's joysticks. Also, the crane's design has a single engine driving both the carrier and powering the superstructure. This reduces its overall weight and improves fuel economy.
In addition, CraneSTAR, which is Manitowoc Cranes' OEM-produced crane asset management system leads in a new era of data management and planning for crane owners around the world. CraneSTAR gives users up-to-date crane fleet information, no matter where the cranes or the user are located. They can monitor locations and working conditions; plan maintenance and lifting schedules; and maximise the customer's efficiency, productivity and profitability.
Manitowoc has been constantly improving our products and delivering the product to meet customer's needs. There are some features which make our products stand apart amid competition. Our Grove line of mobile telescopic cranes ranges in capacity from 8 t-450 t (8.5 USt-550 USt), with patented technologies like the MEGATRAK suspension system, the TWINLOCK boom pinning system and the MEGAFORM boom design - all to keep Grove cranes at the top of the market. With the MEGATRAK system, at any point of time, irrespective of the evenness of the surface, the tyres remain in contact with ground that makes the wear and tear of all the tyres uniform. That increases the lifecycle of the tyres about 20 to 25 per cent which give a huge advantage to the user. It also reduces maintenance, driveline remains aligned all the time and all-wheel steer enables a fully laden crane to distribute weight evenly across all axles.