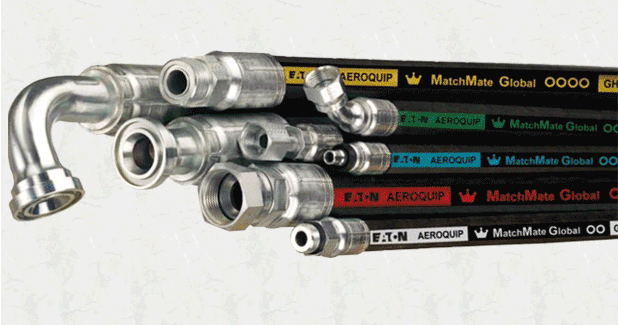 Driven by the demand growth in construction and mining equipment, hose market in India is gaining pace.
High pressure, large diameter and volumetric capacity hoses fitted with appropriately speced fittings and protection covering are key ingredients for heavy construction and mining machinery. Such hoses have endured extreme usage under adverse to poor operating cycles and environment.
Hoses: The lifeline of equipment
Hoses are the lifeline of various construction and mining equipment, conveying hydraulic and fluid power, required for the various operations of the equipment at high pressures.
Earlier systems of friction (clutches, ropes etc) and mechanical gears (drive train components) was demanding a lot of physical energy from operator and also creating fatigue which was affecting productivity a lot. Further, friction and mechanical components having tendency of faster wear leads to low availability of machines power and high operating cost.
Says
H Jayaram, Managing Director & CEO, GMMCO,
?All the current construction and mining machines right from drilling, loading, hauling and supporting machines are designed with hydraulics in power train and implements. Hydraulic system is faster and smoother in operation which gives higher productivity with low operating cost. Smooth functioning of joystick control system also gives lot of comfort to the operator. Further, hose assemblies play a vital role in equipment hydraulic system to transfer the fluid from one place to other place safely and smoothly as required.?
Subhasis Chatterjee, Managing Director - India, Hydraulics Group, Eaton
highlights the importance of hoses in off-highway equipment, ?Hydraulic systems are widely used in off-highway (mobile) equipment when heavy force or torque is involved, such as lifting loads weighing several tons, crushing or pressing strong materials like rock and solid metal, and digging, lifting, and moving large amounts of earth. Hydraulic hoses bring about the mandatory flexibility needed for the operations of the various actuators in these equipment. Hoses also help in absorbing the high vibrations these machines are subjected to where rigid pipes or tubes will invariably fail. A hydraulic hose meets all these application requirements while serving the basic purpose of conveying pressurised fluid between various components within a hydraulic system.?
Reusable fittings: A way to economise
Various types and sizes of end fitting with permanent and re-usable couplings and various types of hoses pipes are the main allied components of hose assemblies. The assembly consists of a cut to length hose, permanently attached with couplings at both ends. The couplings undergo a controlled mechanical deformation, called crimping at the time of permanently attaching with the hose. Reusable couplings on the other hand are just tightened on the hose with a vise and wrenches. Reusable couplings are generally used for low pressure applications and where assembly equipment is scarce.
Hoses and fittings are the major components in hose assemblies. Chatterjee elaborates on Eaton?s offerings, ?Eaton also provides adapters as well as protective coils/sleeves for additional hose protection on extreme abrasive conditions in construction and mining applications. Though reusable fitting are used in construction and mining, it has some limitations in terms of withstanding very high pressure. Preferred option is always crimped fittings for high pressure applications.? According to Jayaram, re-usable couplings are mainly used in high pressure with larger diameter hoses to minimise operating cost to customers. ?Normally cost of couplings in this class will be 50 per cent of total hose assembly cost,? he says.
Maintaining quality
Quality of the hose is dependent on the design and quality of the rubber compounds, reinforcements used in the hose, fitting design and compatibility. According to Gates India, the hoses should be able to withstand the severe pressure cycling, flexing, elevated temperatures, abrasion of the hose against the machine body or other hoses. All these have an impact on the life of the hose. Another important factor is the fittings or couplings used on these hoses. The hose and the couplings should have been validated together. The general practice of mix and match different makes of hose and couplings has a high potential for failure in the arduous conditions in which these equipment work.
Chatterjee explains, ?Design (tube and cover material, reinforcement, fitting integrity and accuracy) and manufacturing process are the two major factors affecting the quality of a hose. In addition, some important factors that impact the life of a hose are operating pressure and temperature, routing, pressure surges, ambient temperature, bend radius and fittings.? He further adds, ?Construction and mining applications demand higher flexibility and tighter bend radius in hydraulic hoses for enhanced installation and routing capabilities on equipment. Hoses have to deliver higher product life and abrasion resistance to support extremely demanding duty applications and tough working conditions that mining and construction equipment operate in.
Selecting suitable hoses and fittings for the required application thus becomes very critical. Eaton?s highly engineered hoses and fittings are designed to meet this application requirements.?
The whole process of hose construction, selection of appropriate hoses as per application, quality of hoses and end-fittings, assembling and testing play vital role in the quality and life of hose. Says Jayaram, ?Right hose for right application based on operating pressure and temperatures, precise angle of end-fittings, correct length and orientation, and usage of recommended lubricants enhance life of hoses.?
He further adds, ?A hose assembly with poor quality hose, poor quality end fitting and poor workmanship may cost less initially but ultimately it leads to higher operating cost due to premature failure, loss of lubricant and some times even damaging major components like pumps and motors. GMMCO manufactures hose assemblies with high quality CAT hoses and end fittings and tested as per CAT guidelines. Hence safety and long life are assured.?
Market trends
According to Jayaram, the demand for hydraulic hoses is anticipated to grow in the coming years. ?In India, the potential of hydraulic hoses in Caterpillar construction and mining machines is from Rs 80 crore to 100 crore per annum. Make in India initiative definitely help Indian hose market and also consumers as it helps in reducing manufacturing cost which ultimately benefits the customers.?
According to Gates India, the market for various types of hoses in the country is estimated upwards of around $100 million. The company is optimistic about the Make in India initiative as it says, ?The Make in India initiative will open up opportunities in various segments like defence and transportation. With more equipment production encouraged in India, the component manufacturers have access to wider market.
Gates has always been manufacturing a global line of hoses in India right from inception and will help to service our customers with a global product made in India.?
Chatterjee is also quite positive on the emerging market trend in India for hoses and he hails the Make in India programme that can boost local production. ?Manufacturing has always been considered as one of the most vital cogs in the wheel of development and we believe that the Make in India initiative in general does have the potential to boost local manufacturing and increase industrial productivity in India. Though I am hopeful that the initiative may also help the hose industry improve, we can only be sure with time and how policies unfold and get implemented.?
Technology trends
With OEMs are coming out with new generation machines and equipment with new designs and configurations, component manufacturers are looking at providing the matching products to stay afloat in the most demanding industry scenario.Eaton has a wide range of product offerings in hoses and fittings. Says Chatterjee, ?In our product portfolio, we have all ranges and sizes of hoses from 250 to 7,250 psi, extensive range of industrial hoses right from air/water transfer to highly abrasive and highly critical applications like cement, concrete transfer, dry material and bulk transfer, mud suction and discharge hose, etc. We also offer a variety of hose fittings, tube fittings, quick disconnect couplings, Flexmaster? joints and Snap-to-Connect connectors.
As I mentioned earlier, the mining and construction segment mandates the highest degree of reliability and best quality of equipment and components as the cost of downtime of applications is huge. More so as most mining and construction sites are located in remote areas and minimising component replacement time is vital to ensure maximum uptime.?
He further adds, ?Eaton has always focused on product performance and reliability by developing and delivering fluid conveyance solutions that last multi-million impulse cycles. For example, our high pressure DynamaxTM hose is tested and qualified for three million impulse cycles - first of its kind in the industry. Eaton?s LifeSense is a path breaking technology in hose condition monitoring system. The technology is capable of forewarning the user of impending hose failure, while, the customer hitherto was dependent on either preventive maintenance (depriving the user of full usage life of hose) or changing the hose as and when it fails (with disadvantages of potential safety issues, downtime costs, loss of expensive lube oil which also is detrimental to the environment etc). This break-through technology from Eaton also comes in wireless solution which can be used for remote monitoring of hose conditions.?
Jayaram elaborates on the GMMCO range of hoses and assembly components. ?At present we are offering hose assemblies for all Caterpillar machines including traditional and expanded mining. GMMCO Chennai facility is producing about 8,000 hose assemblies of various sizes per annum and is planning to upgrade the existing crimping unit by adding a higher capacity unit. GMMCO has also commissioned a hose crimping unit in Nagpur (Buttibori) facility in Nov 2015 and is producing 1,000 hose assemblies per annum. Caterpillar supplies ?Tough Guard? high pressure XT hoses for highly abrasive environments or applications.?
Gates India, a major player in the Indian hose industry, explains on its ranges, ?We offer hydraulic hoses ranging from low to high pressures up to 420 bar, specialist hoses used in fuel handling, drilling, steam and various MRO applications. We also offer tube assemblies, fittings and adapters to be able to offer a ?port-to-port? leak-free solution to our customers.?
Product developments
According to Chatterjee, Eaton has a long-standing commitment to innovation, research and development. ?We have been consistently driving ground-breaking innovations in our products and solutions through customer collaborations. Over the years, Eaton has invested significantly to enhance the product portfolio for hose and fittings, either through acquisition or through new product development and this has helped us to offer complete solutions to our customer under one roof,? says Chatterjee.
He further adds, ?For instance, the acquisition of one of the world?s largest hose manufacturing plants (located in Europe) in 2012 by Eaton helped broaden its hose portfolio and enabling us to service emerging markets with a wider range solutions. In fact we are one of the few companies with such a breadth of products offerings. In addition, we are extremely focused on new product development. Eaton?s 10,000 patents worldwide including hose technologies such as LifeSense?, DynamaxTM etc, that I mentioned earlier are a testimony of this enduring commitment. Eaton is continually working on cutting-edge technologies for the future through its five state-of-the-art innovation centres, one of them being in Pune. Eaton?s focus on global mega-trends supported by our market intelligence and customer engagement teams ensure that our innovations are relevant, effective, sustainable and competitive.?
v According to Jayaram, GMMCO is in regular coordination with Caterpillar on advance technical features. He adds, ?Introducing ?Tough Guard? hose is one such initiative. Further, we are also planning to enhance production capacity from Chennai.?
Says Gates India, ?We are looking at several products to meet customer requirements of high reliability and our team of application engineers work closely with the customers to anticipate their needs and develop solutions.
Looking ahead
Overall, hose manufacturers are bullish on the market outlook in the coming years. Says Chatterjee, ?The technology is fast shifting towards more compact machines with higher productivity, more efficiency and reliability with guarantees on uptime. This offers an opportunity for a technology-driven organisation like ours to keep developing efficient and smarter solutions for the benefit of the end markets. The key would be to deliver greater value to equipment manufacturers while maximising uptime. Eaton is already innovating in this direction and our hose solutions such as LifeSense? and DynamaxTM are clear examples of this focus.?
According to Jayaram, due to huge potential in coal segment, higher capacity hydraulic excavators, dumpers, graders, loaders and dozers are going to be deployed to meet the increased coal demand of the country. ?Also, we can foresee great potential in construction industry as government is planning for laying new highways, construction of irrigation projects, ports etc,? he adds.
According to Gates India, ?With the massive push on infrastructure development by the government, we are very excited about the growth prospects in terms of production and as more and more advanced and specialised machines are being inducted there is demand by the customers to offer products with a lower cost of ownership. These industry requirements will see hoses with more stringent performance requirements being specified. Also we see increased demand for onsite asset management for hoses, for tracking and monitoring of hose performance with large users.?
All in all, the hose market in India is here to grow further in the wake of the increased demand for construction and mining equipment and an estimated growth of these equipment in the coming years. New stages of emission norms will gradually improve the technology and efficiency of the hoses. Customers demand hydraulic hoses which are more compact and flexible, even as the system pressures and temperatures are increasing and hose manufacturers continuously innovate to offer products to suit the specific application requirements of the customers. The industry has recovered to a good growth momentum after four years of low or negative growth.
- Sudheer vathiyath