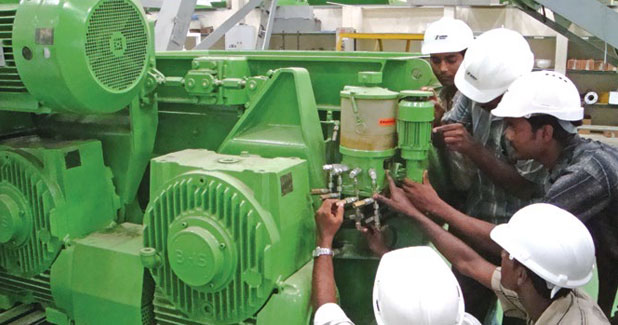 Out of about nine lakh construction equipment operators in India, only
9,000 operators are certified by Infrastructure Equipment Skill Council (IESC).
Anand Sundaresan, Chairman, IESC, and Vice Chairman and Managing Director, Schwing Stetter India,
explains the market realities in construction equipment operator training and the way forward.
Currently in India, as per the government's tendering process, there is no mandatory requirement for a certified equipment operator to operate a construction equipment. Whether the equipment is rented or purchased directly by a contractor, hiring of an operator purely depends upon the owner of the rental company or the construction company. If s/he is interested and wants all these operators to be trained, then s/he spends money and tries to update their skill sets. Otherwise, s/he brings them and provides some superficial training and puts them on the job. The operator then slowly learns everything over a period of time while on the job. This is not scientific learning. Many operators may not even know all the features in an equipment or how to improve the performance of the equipment because they are not trained in a scientific way.
Skill gap in CE operations
Whenever a customer buys any construction equipment, s/he asks the OEM to commission the equipment and provide training to his/her operators. Basic training may be provided by the OEM for two to four days, which is not the real skill development that is required for an operator. Alternatively, the contractor may recruit a new hand afresh. While shortlisting such a person, the contractor only checks whether the candidate holds a heavy vehicle driving licence. Such a candidate is given the job of handling a backhoe loader, excavator or any other construction equipment. The lack of any systematic and scientific way of training is a blatant compromise on safety, efficiency and optimal running costs. For the youth from the backward or rural area, this is an even more serious issue. This is not acceptable. Driving a vehicle is completely different from operating an excavator, backhoe loader or any construction equipment. In view of this, the Indian Construction Equipment Manufacturers' Association (ICEMA) started the IESC.
In construction project tenders, it is mentioned that, the contractor must use trained operators, but it does not say that they must deploy certified operators. In the current scenario, at least 95 per cent of the contractors don't have properly trained operators. Let us assume that for the last 10 years, on an average about 60,000 construction equipment were sold every year. If you consider 60,000 units in a year, at least there will be a requirement of two operators and one mechanic for a machine. This means 180,000 operators and mechanics need to be trained per year. Considering the average equipment life as five years (even though, the equipment is used for much longer period), the number of operators and mechanics required for these machines is about nine lakh.
At the same time, the number of operators IESC has trained and certified is below 10,000. This huge shortfall in talent is not good for a growing economy.
Skill development - A must
Skill development is extremely important for job creation. People in rural areas do not have the skill to operate machines. Most of them depend on agricultural jobs which are seasonal. But they can be trained and certified through IESC, to help them secure a steady job with regular income.
IESC for scaling up skill
Promoted by the ICEMA, IESC is one of the few councils that is performing better than similar councils in other sectors. The council comprises all the members of ICEMA and other stakeholders of the industry. Also, the council has appointed a CEO who comes with the background of construction equipment market itself and the council is doing a lot of good work. They have come up with draft of various laws and manufacturers are supporting this because the council is promoted by ICEMA. All manufacturers' training centres are accredited by the IESC and they are all certified and approved by the National Skill Development Council (NSDC). Also, some of the dealers and distributors of an equipment manufacturing company have training and certification centres, which are approved by IESC/NSDC.
IESC offers two different types of training programmes:
Providing training to fresh people. One has to fulfill the basic qualification criteria for this training in different categories. Once they fulfill these requirements, they are trained for a period of four weeks and then they will be certified as operator. This course has both theory and practical training.
Recognition of prior learning (RPL) is another training and certification programme imparted by IESC for those who are already working in a construction company for more than two years. Here, the IESC trainers will visit the work site and assess the operators for any skill gap which needs to be updated. There will be a minimum qualification criteria for RPL and if the operator fulfills these criteria, s/he will be selected for a full time or part-time course stretching in aggregate for a period of 40 hours. After the training programme, s/he has to appear for an assessment, where
s/he will be assessed and certified upon successful completion.
All ICEMA members have supported this programme. In a recent meeting, all the companies have committed that they will train as many candidates as possible for operating the equipment. It did take some time to settle down. In this new RPL programme, about 30,000 operators will have to be trained within this year.
Schwing Stetter India has five training centres and most of them are accredited with the IESC/NSDC. We have taken the target of training about 2,200 people within this financial year. These programmes will be conducted in-house in our various training centres. Also, we go to the project sites where large number of equipment are working and train operators and mechanics in that area. Similarly, other manufacturers like, L&T, JCB, Volvo, and about 18 other manufacturers have own as well as their dealers' training centres accredited to IESC/NSDC.
IESC is also actively working
on Pradhan Mantri Kaushal Vikas Yojana (PMKVY). They are also interacting separately with many government departments like the army, big steel plant owners and all those who have different types of equipment, and are trying to conduct training and certification programmes in their premises. Many state governments such as Maharashtra are in the process of signing an agreement with IESC for similar training programmes.
Challenges
Most of the trainees today are coming from the construction companies, who have large fleet of equipment. When they send their operators for training, they have to also pay their salary, which is not a big issue for the construction companies. But many a times, they are reluctant because after training and certification, there is no guarantee that the trained operator will stay with them.
The second problem is that, because it is not mandatory for the construction companies to employ only certified operator, 'construction equipment operator' is not being seen as a profession like driving. So, even though many people join construction companies as operators, they don't see a reason to get certified as an operator. Because of this reason, no private person is investing on starting a training school, like the driving school.
Construction equipment operator will be recognised as a profession only when the government makes it mandatory for deployment of only certified operator for operation of construction equipment.
Is government support enough?
There is no doubt about the government support for our skill development initiatives. The secretary and joint secretary in the skill development ministry are very dynamic and extremely cooperative.
In fact, it is only because of them a
lot of programmes are being announced. The government has promised to look into our request of making it mandatory that only certified operators could be used, at least in the government contracts.
Training for perfection
IESC has to scale up, there is no doubt about that. They are working with the support of subsidy and grant from NSDC. They are also working closely with the government to see that certification is made mandatory. This will help implement sustainable programmes by construction companies and private agencies. The number of people to be trained and certified is quite large. The equipment manufacturers alone cannot meet this demand. We need private players to take part in this skill initiative. It is not possible to train and certify all of them in one or two years. So, deployment of certified operators can be made mandatory over a period of five years. This will encourage private operators to set up sustainable training centres. IESC and NSDC would be more than willing and are fully geared to support this initiative.
On a positive note...
I would only like to stress that skill development is quite critical
for our country. The industry is here to support the skill initiatives in a
big way. The biggest support we expect from the government is to change the clause of 'use trained operators' into 'use trained operators certified by IESC or a government body'. If the government is really looking at rural development and employment, 'equipment operator' must become a profession like 'driving' and use of only certified operators in projects should be made mandatory.