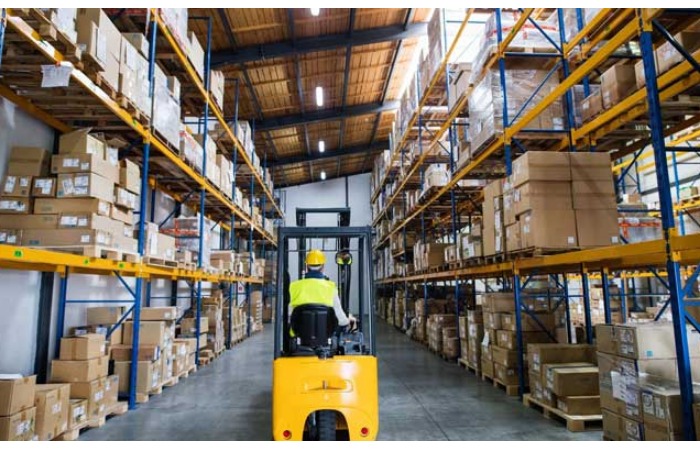 The material handling equipment (MHE) market in India has been witnessing significant growth in recent years. India's booming manufacturing and logistics sectors, along with the increasing adoption of automation and e-commerce, have been driving the demand for material handling equipment. The growth of India's manufacturing sector, driven by initiatives like Make in India, has created a demand for efficient material handling solutions. Additionally, the rapid expansion of e-commerce and logistics industries has necessitated the use of advanced MHE to handle increased volumes and optimise operations.
Quoting ICEMA's Annual Data Report 2021-22, Dimitrov Krishnan, President, Indian Construction Equipment Manufacturers Association (ICEMA) and Managing Director, Volvo CE India, points out "The material handling equipment segment which accounts for about 9 per cent of the construction equipment industry's sales remained largely stable during FY 22 witnessing ~2 per cent YoY [year-on-year] growth to about 7895 units."
The MHE market in India has been expanding rapidly. According to various industry reports, the market was valued at around $2.5 billion in 2020 and is projected to reach approximately $4.5 billion by 2025, growing at a compound annual growth rate (CAGR) of around 12 per cent.
Speaking on the current market for MHEs in India, Deepak Shetty, CEO and Managing Director, JCB India, said, "As the Indian market matures global best practices are making their way into the Indian material handling industry. There is an increased focus on productivity and safety on worksites which presents us with the opportunity of introducing solutions with the latest and state-of-the-art technology in India. The demand for safe and reliable material handling products is fast growing across India's wide spectrum of applications."
He said, "Telehandlers are gaining popularity and are today being used in three core sectors – agriculture construction, and industry. Some examples are hopper loading in ready-mix concrete ceramic products and metal scrap recycling plants. In railroad-hydel tunnel projects, the JCB telehandler with man platform provides a safe working platform for technical personnel. Telehandlers are used for horizontal and vertical movement of prefabricated components and aggregate material in the construction and infrastructure sector."
"In times to come, with an increased thrust on palletisation, one of the major demand drivers will be discrete material handling and vertical stacking in huge warehouses and at transhipment points. Similarly, mechanisation of agriculture and agri products industries offers opportunities for telehandlers in areas like husk handling in biofuel plants bagasse handling in sugar mills compost handling in mushroom farms and silage handling for the timely supply of cattle feed," added Shetty.
"Within the mobile crane category locally manufactured pick-'n'-carry cranes are the dominant seller" explains Samir Bansal, General Manager, Off Highway Research. "Pick-n-carry cranes accounted for 93 to 96 per cent share during 2017-2021 with peak sales of over 11400 units in 2018 and 8893 units in 2021."
Pick-n-carry cranes which form the largest segment of the domestic material handling equipment market enjoying about 95 per cent share saw ~1 per cent YoY growth adds Krishnan. "Exports contributed ~3 per cent of overall sales and grew ~38 per cent YoY driven by the equivalent increase (~38 per cent YoY) in demand for pick-n-carry cranes."
Moving on sales of conventional cranes which include truck-mounted all-terrain rough-terrain crawler and industrial cranes peaked at 656 units in 2021 according to Off Highway Research.
Increasing automation in MHE
Automation and technological advancements have been transforming the MHE landscape in India. Integration of robotics, sensors, and data analytics has improved efficiency, accuracy, and safety in material handling operations. Indian companies are increasingly adopting automated solutions to enhance productivity and reduce manual labour dependency.
Automated material handling systems can perform tasks more quickly and consistently than manual labour. They can operate 24/7 without breaks or fatigue, resulting in higher throughput and reduced processing time.
Added Shetty, "JCB India has pioneered the integration of digital technology in its range of machines through advanced Telematics called 'LiveLink'. JCB machines work in off-road and often remote locations and LiveLink helps in remote monitoring and fleet management on the key parameters of service operations and security of equipment. Technology has been transforming the way machine-to-machine and machine-to-customer business is being done. All vital information about the machine is available to customers on their mobile devices through a web browser or also through the 'LiveLink' mobile application. Additionally, the system also sends out alert SMSs to registered mobile numbers."
Automation for popular material-handling vehicles such as mobile cranes tower cranes aerial working platforms scissor lifts and tele handlers include sensor-based solutions that can automate the machine's stability motion and fluid handling for better safety and higher performance.
"Motion-control sensors reliably measure rotational speed position and acceleration while process sensors can measure the levels temperature and pressure of fluids" explains Priyadarshan Bawankar, Product Marketing Manager - Heavy Industries, Baumer India. "Load-measuring sensors fitted to buckets or trailers can further help automate operations and the load cycle in particular."
Baumer India's sensor-based solutions can help to accurately position and steer the machine by providing precise distance measurements object detection angle and inclination measurements. Baumer India provides solutions both to users for retrofits as well as directly supplies to OEMs.
The most popular automation kit for a crane is the safe load indicator with hydraulic shutoff according to Siddhartha Rao, Managing Partner, Vertex Infracore Solutions. Mobile cranes fitted with a safe load indicator cut off the hydraulics if the operator attempts to lift or handle loads beyond the crane's peak load capacity at a particular lifting angle thus preventing untoward accidents.
"Another popular automation kit for tower cranes is the anti-collision system which prevents collision with nearby structures buildings trees and other tower cranes working in the vicinity even two adjacent cranes in the same bay running on the same rails," he adds.
"India needs automated material handling devices to enhance industrial safety and improve viability," believes Suprabhat Sarkar, Vice President, Teknomin Construction. "Battery-operated automated devices would strengthen the Government's carbon emission reduction drive as well as help improve the occupational health of employees."
While Sarkar can't see the dependency on cranes reducing, he sees other conventional material handling methods like diesel tippers being replaced by sophisticated electrical dumpers. Conveyors are eco-friendly but sometimes unable to carry high loads.
Road ahead
Infrastructure development and the economy are interlinked and directly impact one another. The Gati-Shakti Programme has integrated all infrastructure activity in real-time. This will be a game changer as it will promote greater cohesion between different departments.
The government continues its focus on infrastructure development through allocations in the budget. This year has a 35.4 per cent increase in infra-capex outlay taking it to Rs 7.5 lakh crore. Further, Rs 60,000 crore has been allocated for 3.8 crore houses for drinking water under the Nal se Jal programme. About Rs 48000 crore for 80 lakh affordable housing houses will create infrastructure-building opportunities. Significant allocation to States to cover PMGSY digitisation OFC networks and a new master plan for expressways will support our business.