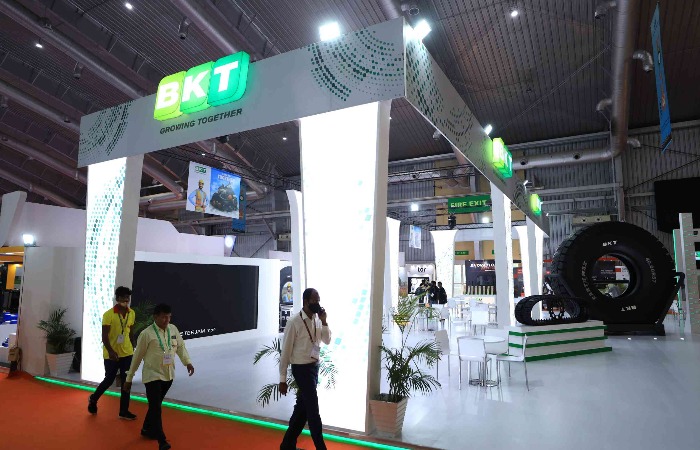 BKT Tires, a vertical of Balkrishna Industries (BKT), the Indian multinational company, and a global player in the Off-Highway tire market, is excited to announce its participation in EXCON 2023, one of India's premier construction equipment exhibitions. Poised as Sout-east Asia's largest infra construction event, EXCON 2023, will take place from December 12 to 16, 2023, at BIEC Bangalore (India). BKT Tires is set to unveil a remarkable range of cutting-edge tires that aims to redefine the construction and industrial sectors.
In alignment with this year's EXCON theme, 'Building India's Tomorrow – Technology, Globalization, Sustainability, Inclusiveness,' BKT Tires will focus on enhancing efficiency and reliability – two key values in the construction and industrial sectors. The exclusive BKT Tires space at Hall 1LL – A3 invites attendees to witness firsthand the groundbreaking tire solutions on display, providing an opportunity to explore how these pioneering products can be a game-changer, enhancing overall performance and efficiency.
BKT Tires has strategically positioned itself as 'Bharat ka Tire,' signifying its commitment to being a quintessentially Indian brand. With a diverse product portfolio spanning across agriculture, industrial, construction, earthmoving, mining, and material handling sectors, the company is actively pursuing a leading role as the preferred choice for Off The Road (OTR) tires in the burgeoning domestic market.
BKT Tires' participation in EXCON 2023 underscores the company's unwavering commitment to cater to the ever-evolving needs of the construction and industrial sectors. Over the years, BKT has consistently raised the bar in tire manufacturing, and this event stands as a testament to their ongoing pursuit of innovation and excellence.
EXCON 2023 promises to be a remarkable gathering for industry experts, and BKT Tires is eager to contribute to its success by being the 'Event Sponsor'. Attendees can experience the future of tire technology in the construction and industrial sectors at BKT Tires' space at Hall 1LL – A3.