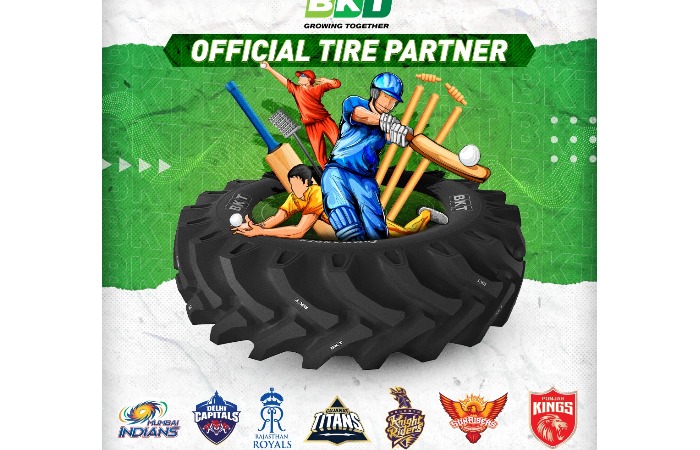 The Indian multinational company and global player in the off-highway tyre market, Balkrishna Industries (BKT), announces its partnership with seven leading teams in the 16th season of the most-watched T20 Cricket league in the world. BKT will be the 'Official Tyre Partner' for Mumbai Indians, Punjab Kings, Rajasthan Royals, Sunrisers Hyderabad, Gujarat Titans, Kolkata Knight Riders, and Delhi Capitals.
BKT is known for its global partnerships for all major sporting events as they promote some of the most important values of dedication, hard work, determination towards one's goals, and being rewarded for one's efforts. The season marks BKT's fourth consecutive association with Mumbai Indians, Delhi Capitals, Kolkata Knight Riders, Punjab Kings, and Rajasthan Royals, and its second collaborative year with Sunrisers Hyderabad and Gujarat Titans.
Commenting on the partnership, Rajiv Poddar, Joint Managing Director, Balkrishna Industries, said, "Over the years, we have seen the cricket T20 league generating strong appeal in the sporting ecosystem and transcending to be one of the biggest events on the international sporting calendar. The partnership with T20 cricket adds to a growing portfolio of BKT's global strategic relationships. Today, we are delighted to announce our official association with seven T20 teams. This is an amazing endorsement for the brand and further strengthens our dedication to delivering our commitments. We are confident that this partnership will create a positive impact on our brand, generating more interest and value."
BKT's partnership with T20 Cricket League teams comes as no surprise. Supporting cricket globally, BKT has also been the 'Official Off-Highway Tyre Partner' for KFC Big Bash League (The Australian Cricket League). With its collaboration with the seven teams in the T20 Cricket League, BKT gains immense brand visibility, providing a wonderful platform to interact with consumers and improve engagement levels, in addition to increased brand recognition and sales.
Partnerships like T20 are a key pillar of BKT's marketing strategy. Globally, BKT has always been collaborating with Monster Jam USA, La Liga Spanish Football League, Italian Serie B Football Championship, LIGUE de Football Professionnel France, Rugby World Cup France, United Rugby Championship, and Euroleague Basketball within 2023. BKT supports the unity driven by sports by bringing people together to enjoy the events and generating healthy competition along with other virtues embodied by these sporting events.
All sports events are selected based on a precise strategy aiming at greater user proximity and increased brand awareness, assisted by RISE Worldwide, the exclusive sports consulting agency for BKT in India.