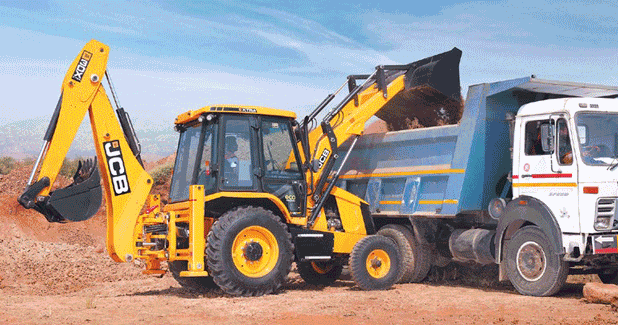 Backhoe loader is the front-runner among the infrastructure equipment used in the country with almost 50 per cent of the market share in number of unit. With the infrastructure market is picking up, backhoe loaders are back in action, as new features and innovations being added to increase efficiency and productivity.
Two years back when we were interacting with the stakeholders of backhoe loader industry, the sentiments were not positive, as the growth was almost stagnant. However, 2016 saw a steep growth in the sales of backhoe loaders, while 2017 continued with a double-digit growth thanks to the pick up of infrastructure projects in a big way. Today, India is considered to be the largest growing backhoe loader market globally.
A star in infra equipment
Backhoe loader is a multipurpose equipment with use in wide range of applications such as digging, dozing, and levelling etc. Its multi-utility feature and mobility have made the machine the preferred choice of construction equipment in small and medium projects. A backhoe loader is said to be the first equipment entering a project site while also the last one leaving the project site, due to its wider scope of applications in various activities.
Backhoe loaders remain enormously popular in India, with sales in 2016-17 reaching almost 30,000 units, according to an Off-Highway Research report. The popularity of the backhoe loader is due to its versatility, mobility, low ownership and operating costs, easy financing and excellent resale values, as well as the widespread availability of after sales support. The Indian backhoe loader market is lead by JCB with a market share of close to 80 per cent while others such as CASE, Mahindra CE, Escorts, ACE, etc constitute the remaining share.
As the clear market leader, JCB has a wider popularity in the market with a wider after sales support, financing, resale value, etc. Says
Jasmeet Singh, Head - Corporate Communications and External Relations, JCB India,
'Since its introduction four decades ago in 1979, the JCB backhoe loader has been synonymous with performance, productivity, efficiency, and mobility. This machine is one of the most popular machines in the Indian construction equipment industry and continues to be the first machine that is put to work at a construction site. It has played a pivotal role in building the infrastructure of the nation and today, over 2,50,000 JCB Backhoes are working in India.'
Abhijit Gupta, Brand Leader and Managing Director, CASE India,
comments on the popularity of this machine, 'Loader backhoe is surely the superstar of the construction equipment industry because of its multiple uses in road construction, building construction, mining and agriculture. Indian market is dominated by loader backhoe and it is estimated that in this year loader backhoe will account for 43 per cent of the total market share.'
Advantage backhoe
The biggest advantage of backhoe loader is its versatility in applications and mobility. These two features make it an ideal equipment to perform most of the general applications. Highlighting the advantages of this popular machine,
Sachin Nijhawan, VP and Business Head, Mahindra Construction Equipment,
says, 'Backhoe loaders themselves are amazingly versatile machines. They are favourite of industry experts across the globe. Being a favourite doesn't keep the machine from becoming outdated or obsolete though.' He further adds, 'We live in the day and age where machines are required to single-handedly perform multiple tasks. Multifunctional machines is the trend of the changing times. The backhoe loader while versatile will have to adhere to the trend if its market share has to be kept safe. Attachments for a backhoe loader are the answer to the multi function machine dilemma. There are more than 25 attachments available which can prove to be a boon to any backhoe loader owner. The attachments such as auger, rock breaker, grabber, ripper tooth, etc, help increase the scope of work the backhoe can handle, thereby adding to the uptime and eventually the profits that the backhoe garners for its owner.'
According to Singh, Multi functionality and mobility are the key USPs of a backhoe loader as the machine is able to move freely between or within various work sites. He adds, 'A backhoe loader has the capability of handling and executing multiple tasks at a construction site unlike any other equipment in the industry. Another advantage is that people now are well versed with the concept of a backhoe loader and are comfortable in operating the machine. Even though availability of a skilled operator is a challenge in the ICE industry, familiarity with this equipment helps garner skilled resource. All these factors put together is what makes a backhoe loader as the most widely used equipment in India.'
Gupta explains the advantages of using backhoe loader in a construction site, 'Loader backhoe is a multitasking machine as it can use the backhoe to dig material from the ground and with the help of the loader, it can gather all the material and load it on the truck. It is also used for other works such as constructing or demolishing small houses, transportation of materials which are not too huge and heavy in proportion to the machine, paving roads and so on. Hence, the machine results in an overall increase in the productivity. Because of its multitasking nature, loader backhoe will be in great demand.'
Availability of various attachments makes backhoe loaders even more versatile. Says Singh, 'JCB backhoe loader is equipped with a world-class range of attachments such as pallet fork, rock breaker, jib crane, sweeper collector, auger, six-in-one clam shovel bucket, etc, which makes it even more versatile and suitable in various applications.'
Nijhawan elaborates on the multi utility features in Mahindra EarthMaster range of backhoe loaders, 'We have a large set of attachments for our customers to choose from. We will also be making some more attachments for our backhoe loaders for enabling them for varied and newer applications and thus making them a truly versatile machine. The range of attachments include a host of various buckets for specific applications including 6-in-1 and coal bucket on the loader side while ditch cleaning and square hole buckets on the backhoe side among others. Other applications include earth drills, rock breaker, jib crane, forklift, pole erector among others.'
Backhoe loaders vs excavators
In the recent times, there is a new perception among contractors on the applications of backhoe loaders and mini-excavators. There are many similarities in applications between these two equipment. Some consider mini excavator is more productive due to its properties such as ability for 360-degree swing, compact and lightweight, easiness to enter space constraint areas. However, considering its versatility in applications and mobility, a backhoe loader can perform more jobs of different types
in a project site and can move faster from one place to the other.
In general, speciality machines such as mini-excavators are considerably more expensive to buy and maintain, and do not have the mobility offered by backhoe loaders. These factors make backhoe loaders the preferred natural choice of small contractors and first-time buyers.
According to Singh, though there are certain features overlapping in functions, backhoe loaders and excavators cater to different working conditions. 'A tracked excavator is required by a contractor where the machine will remain at a site for a prolonged duration for excavation work and comes in a variety of sizes. Backhoe loader is used at projects where mobility is of utmost importance. So, the choice of the equipment for a contractor will depend on the type of job that must be completed at a project site. For example, the rate of excavation of a 20-tonne excavator will be more than that of a backhoe loader. So, depends on the type of application, the deployment of equipment varies.'
Says Gupta, 'There is no major difference in the overall productivity of a loader backhoe compared to the same class excavator. Loader backhoe is a multitasking machine which caters to more applications than excavators and at the same time, transport of loader backhoe is more convenient than excavators to different work sites.'
Loaded with innovations
Backhoe loader is an ideal machine for infrastructure development works with its design and other features. But there have been innovations and new features added over the past many years. JCB as the market leaders, has added many new features in its range. A lot of changes are taking place in the digital space. Keeping in line with this scenario, JCB has combined the traditional mechanical engineering practices with digital technology.
Singh elaborates, 'JCB currently offers the widest range of backhoe loaders in India with five different variants - 2DX, 3DX, 3DX Xtra, 3DX Super, 4DX. This range is developed to suit different user segments for different applications. Our JCB 2DX backhoe loader is the smallest in our portfolio and has been specifically designed
to suit the rural and/or smaller applications. While the large 4DX is the most productive backhoe loader in India and is best suited for mass excavation or digging in hard strata.'
On the innovations in JCB backhoe loaders, Singh explains, 'We introduced the iconic JCB backhoe loader, ecoXcellence, with 30 new innovative features, including 15 industry firsts, and five world firsts, with an Automated Manual Transmission (AMT) called Easy Shift. Apart from this, this world-class machine comes with features such as an SOS switch, Economy and Power Mode, Guide me home, and Smart App machine Diagnostics.'
Easy Shift allows gear shifting to take place with no operator effort through a rotating knob below steering wheel, thus, replacing the gear lever. This facilitates ease of operation, a rested operator and also ensures better productivity. The Smart App Machine Diagnostics app enables the service engineer to focus on the area that requires repairs without any lag in time. Through a bluetooth dongle paired to a smart phone, information on the malfunction can be sought within no time, thus, saving time and also leading to subsequent increase in revenues for the customer and operator.
Telematics is another major feature in JCB range. Singh informs, 'Our Telematics technology, the JCB Livelink, is primarily the bed rock of all the digital integration in our products and services. This state-of-the-art technology enables users to get SMS alerts on their mobile phones or smart devices regarding service alerts, operations and security of their machines. The information is available in real time regarding the health of the machine including engines and gives vital information to the customer in terms of number of hours the machine has been operational, service intervals, fuel levels, malfunctions if any, etc.'
He adds, 'Integration of Telematics in the earthmoving and construction equipment industry has significantly revolutionised the way our customers now interact with their machines. Livelink ensures that customers are able to manage and monitor their fleet remotely through their smartphones or mobile devices.'
To monitor these machines in real time, JCB has set up a world-class central command centre at their Ballabgarh facility. JCB dealerships have also set up similar Livelink command centres to ensure that real time support is provided to customers. According to Singh, over 60,000 Livelink enabled machines are successfully working in India. He adds, 'The JCB range of backhoes has been getting better and better with each passing year and the recent introduction of the new JCB ecoXcellence backhoe loader at Excon 2017 has set a new benchmark in the industry.'
Nijhawan elaborates on the innovative technologies associated with Mahindra backhoe loaders, 'With the launch of the new telematics system DigiSense by Mahindra group, our equipment is loaded with advanced technology to track performance on real-time. We are also carrying out various technological enhancements through improvisations in few key aggregates to enhance fuel efficiency and increase the productivity of our machines, thus helping them deliver even higher output. With better technology and design enhancements, our equipment would be able to lower lubricant refilling requirement with extended service intervals, thus reducing the overall maintenance cost and improving total cost of ownership.'
He further adds, 'At Mahindra, we believe in providing value add to customers right from product development by utilising the best technology and hence our EarthMaster is a truly personalised machine with ergonomically designed cabin, higher operator comfort, larger storage space and new-age digital cluster that helps the operator to identify and trouble shoot problem by reading messages and hearing warnings in six different languages.
CASE has also made its efforts in infusing new technologies into its range. Its PRO series launched at Excon 2017 has been designed basis the customer's feedback. 'The CASE PRO series loader backhoe is powered by an FPT Industrial S8000 engine which delivers powerful performance and fast response time, coupled with 8 per cent higher productivity and fuel savings of up to 10 per cent .The series is re-engineered from the ground-up to deliver industry-leading backhoe breakout force, higher loader lift capacity/reach and best-in-class cab visibility,' Gupta claims.
On the design features, Gupta elaborates, 'The new PRO Series loader backhoe has a robust, robotically welded two-piece structural frame design, which results in great stability, performance and serviceability. For versatility in different Indian operating conditions, the machine is designed with heavy-duty structures, tanks, fenders and rims. To give the series a muscular look, there is a dual-colour tone, with a mix of grey on the lower parts of the machine and power tan colour on the upper parts.'
He further adds on functional features, 'Bigger buckets allow greater load lifting and increase productivity. The series is equipped with a superior working range and will reach deeper than any other loader backhoe. There is a choice of two configurations: a standard dipper dig depth of 4.5 m and 4.7 m, or an extendable dig depth of 5.9 m.'
On the hydraulics and transmission features, Gupta adds, 'The power shuttle transmission provides four forward and reverse speeds. The hydraulically shifted clutches allow the operator to change direction and travel speed on the go, while the control valves deliver smooth speed and direction shifts, resulting in smooth and accurate operation. The new single-piece engine hood provides excellent access for maintenance. The machine layout has been designed to ensure all daily service points are easily accessible at ground level, for quick and efficient servicing.'
In the recently launched PRO Series loader backhoe, CASE has redesigned the operator seat making the cabin more spacious. The ergonomics now offer better comfort and even smoother lever operations. The PRO series is also equipped with CASE's telematics solution EAGLE EYE for enhancing the performance and efficiency of the machine. This Asset Monitoring System gives the freedom of machine monitoring and remote diagnostics alerts at the click of a button on a mobile or desktop computer.
Gupta says, 'The CASE PRO series loader backhoe is higher in productivity and fuel savings with lower maintenance cost, which are most demanded in the India market.'
Market outlook
As a multi functional infrastructure equipment, backhoe loader has wider scope of applications. In the current market scenario, due to the way infrastructure development and construction activities are progressing in the country, the demand for backhoe loaders is sure to go up. Says Singh, 'Government's focus on creating world-class infrastructure in the country will definitely drive demand for backhoe loaders, both in rural and urban applications. Moreover, continued thrust on infrastructure sector in the current Union Budget across sectors such as Affordable Housing, Railways, and Airports also signifies greater demand for earthmoving and construction equipment, including backhoe loaders.'
According to Gupta, after a continuous phase of market sluggishness and recession, the construction sector is on the verge of a turnaround now. He adds, 'The sector received a boost from the government with renewed focus on road building and as a result, the market grew by 39 per cent in 2016, and further by 12 per cent in 2017.
However, there is a massive amount of work yet to be done in the country, especially with government's focus on infrastructure development and projects like Bharatmala, Pradhan Mantri Gram Sadak Yojana, UDAN and Sagarmala will call for large volumes of equipment to complete them. We are ready with our range of construction equipment products and considering the set of conditions prevailing in the country and other foreseeable factors at this moment, we expect the market will follow an upward trend in the coming years as well.'
As the most popular construction equipment in India, the demand for backhoe loader is sure to grow in the coming years due to the amount of infrastructure development and construction works anticipated. Meeting this demand will be a challenge in future for OEMs and contractors considering the production, aftermarket support and availability of skilled operators.
- Sudheer Vathiyath