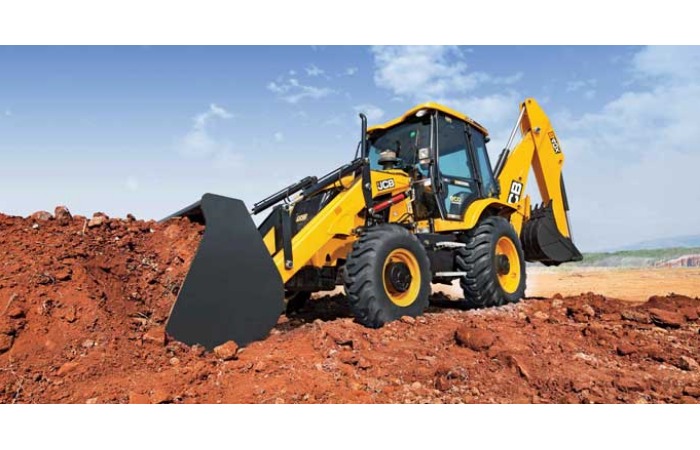 India is the largest market for backhoe loaders which accounts for almost 50 per cent of all construction equipment sales in unit terms. Research reports estimate that there is an active population of around two lakh backhoe loaders in India. This indicates the privilege this equipment is enjoying in Indian infrastructure market. Recently, the COVID-19 pandemic has adversely impacted the backhoe loader market also like the other industry segments. As per the recent CRISIL Research report, the construction equipment sales in India nosedived to a 70 per cent drop and equipment utilisation has dropped to 50 per cent in the April-June quarter of this year. The slowdown is expected to continue throughout the year. However, backhoe loaders may be relatively less impacted owing to their lower cost and multi-functionality, according to the report. How is the market progressing for backhoe loaders? What are the positive factors for backhoe loaders to stay ahead in the market? What will drive the growth in the coming years?
Market scenario
As mentioned, India is the largest backhoe loader market which has the widest scope of applications in the entire cross-section of infrastructure activities. According to Rahul Joshi, Head - Product Planning, Marketing & PMO, Mahindra Construction Equipment, infrastructure development in India is seen as the underlying factor driving backhoe loader sales. He adds, "Though the outbreak of COVID-19 has already impacted the two quarters of the construction equipment industry, the impact on backhoe loaders is much less. Overall, the backhoe loader industry will close this year with growth."
According to Puneet Vidyarthi, Brand Leader, CASE India, backhoe loader sales dropped considerably due to the slowdown in sectors such as infrastructure, agriculture, constructions, roads etc. However, he adds, "the markets are opening up as the government has announced a lot of measures to revive the construction sector. NHAI has identified 1,500 km of road projects to boost coastal connectivity. Finance Minister Nirmala Sitharaman has hinted towards incoming of more projects in the Rs 111-trillion National Infrastructure Pipeline. Also, Off-Highway Research forecasts the backhoe loader market to get a moderate growth and reach a level of 45,000 units in 2022-23. We're confident that these measures will revive the sector and boost the sale of backhoe loaders as well."
COVID has been an unprecedented crisis and has severed a dent in the Indian economy in a major way, as also for the CE industry. According to Manish Handa, Business Head – Earthmoving & Road Equipment Division, Action Construction Equipment, the first quarter of the financial year 2020-21 bore the brunt of the negative impact of COVID. "However, we have seen some traction in the next two months (June-July 2020) which may be a factor of pent-up demand. The Q3 FY 2020-21 will be crucial and the demand revival will depend on the government push for infrastructure spends. We are getting positive indicators as the government is pushing the on-going projects for timely execution. Overall, we feel that the industry may show a positive growth graph from January 2021 onwards (YoY basis)."
According to Jasmeet Singh, Associate Vice President, Corporate Communications and Corporate Relations, JCB India, with the onset of the 'unlock' process, the construction activities in the country are being revived. "Infrastructure projects are restarting, leading to green shoots and positive signs for the construction equipment industry," he says. After witnessing a slowdown due to the ongoing pandemic, the industry is now witnessing some improvement in the equipment utilisation, especially for backhoe loaders, which are versatile in nature and can be used for a variety of applications. "Especially with the demand in rural India picking up, we feel that backhoe loaders with their high mobility and productivity will find significant utility in these applications. While in the months of April and May construction activity went down to almost zero, the months of June and July did witness a recovery. This was majorly a combination of pent-up demand and also the slightly improved sentiment due to the revival of infrastructure projects. Our state-of-the-art telematics technology also indicated improvement in equipment utilisation over the past two months," Singh adds.
Advantage backhoe loaders
Backhoe loaders are the most popular construction equipment sold in India. They are efficient machines and are the most versatile machine in any construction or production site. According to Joshi, looking at the cost and utility of backhoe loaders, the overall impact on sales is not that high as in other construction equipment. During this market condition, the penetration of small excavators and local attachments in backhoe loader market has been checked. He elaborates on the advantages of backhoe loaders, "If a site is manageable with required production, customer preferred backhoe loaders over bigger machines citing depression in the overall economy. The difficult market conditions have less impact on the backhoe loader machines which are versatile and are all-rounder at any site."
According to Vidyarthi, the market for backhoe loaders is linked closely with the levels of activity in the construction and infrastructure sector. The pandemic slowed down all such markets and impacted the sale of construction equipment in general. However, Vidyarthi is positive on the growth of backhoe loaders as he says, "The government has announced many projects in the construction and infrastructure sector which will require fast and efficient equipment. As these announcements come into play, we are positive about seeing growth in this segment."
Rural and urban demand
Backhoe loaders are equipment with the widest applications in projects of urban and rural segments. There is a huge potential in the rural infrastructure in India. As Joshi highlights, "The government is focusing on villages as the Pradhan Mantri Gram Sadak Yojana (PMGSY) is at full swing. Mahindra being an agricultural extensive company in roots with its tractors selling in rural India has its presence majorly in rural market. With villages on the path of development, our 60 per cent of sales is in rural sectors of tier 2 and tier-3 cities. Many construction activities are happening around villages. Also, one machine in a village becomes a good earning source for a family. These machines are creating an alternate source of independence in rural market, hereby helping in creating an 'Atmanirbhar Bharat'.
On the urban applications, Joshi adds, "For tier-1 cities, backhoe loaders are majorly used for maintenance purpose. A good number is working in Municipalities for waste management. Backhoe loader is an undeniable part of any project and is a must have machine. Urban projects are not an exception for this, but require specialised and bigger machines as well. Urban contractors prefer bigger machines and the sale of bigger construction equipment is comparatively higher. This affects the overall TIV of backhoe loaders where the customer may convert to other specific machinery. Leaving the lockdown months, the overall backhoe loader market in urban infra sector has not been hit hard."
According to Vidyarthi, backhoe loaders provide fuel economy, energy efficiency and technological advancement which make them an excellent and preferred choice of equipment in many sectors including urban infrastructure.
Singh highlights the trend in rural market, "We are seeing a gradual improvement in the utilisation of backhoe loaders over the past few months. Rural and semi-urban pockets are leading the charge and are helped by a fresh push by the government under schemes such as MNREGA and PMGSY. The rural economy has a significant potential to become growth driver for the construction equipment industry."
Also, the movement of migrant workforce will create a push to develop infrastructure deep inside India, according to Singh. "There is a need for creation of connectivity through roads, highways and also in the area of general infrastructure such as hospitals, schools and housing, all of which will effectively boost demand of the construction equipment industry. Industries will need to be created and segments like municipal waste, village roads, rural infra are set to grow," he adds.
According to him, the construction of roads and highways has always played a pivotal role in the growth of the sector and that must continue.
Supporting customers
The COVID-19 and the subsequent lockdown in the country have impacted the backhoe loader customers severely in the past few months. Though the unlocking process on, the market is struggling to deal with the tough market conditions. Contractors and other customers of backhoe loader market are banking on the government and OEMs for support. While, OEMs are re-aligning themselves in the new normal situation, Singh says, "At JCB, we are re-aligning and re-calibrating our business priorities. The first and foremost priority for us shall remain the health and safety of employees at manufacturing facilities across India. The second priority is ensuring re-booting of the supply chain so that the supplier and the dealer network become seamlessly operational once again, to help the customer, suppliers and dealers who have been struggling to cope with the recent market conditions."
He further adds, "We, at JCB India, are fully committed to offering world class products to our customers. Even during the lockdown, we have remained committed to providing customer support for equipment that were engaged in essential services."
Joshi explains on the company initiatives, "There are moratorium offers to customers in order to cope with current economical crises. Further, we are supporting customers through our call centres, remote service assistance, and parts express van so that the physical movement of customers could be reduced. We are also working on all social media platforms and providing all sort of information necessary to our existing customers as well as every person involved in industry."
According to Vidyarthi, commitment to customer is paramount for CASE. He adds on the customer support initiatives, "We are engaging with our current customers online and have given them loan extensions and warranty support to ease out any pressure. In terms of spare parts and product support, we have a good amount of stock supplies and even in these challenging times, we are delivering parts and scheduling services keeping all the safety precautions in mind. Through our financial arm, CNH Capital, we are offering lucrative schemes that can help potential customers in buying equipment. We are giving them the opportunity to buy the equipment first and pay for it 90 days later. We have also introduced a 48 hours loan approval policy to facilitate easy loan service."
For fleet owners, CASE offers maintenance contracts with dedicated service manpower available at site to ensure uptime. Case Sitewatch is also monitored by Case After Market team, to ensure that timely action can be taken in case of any potential disruption in working. "We care about our customers' business and are always ready to go the extra mile for them," he adds.
Technology for new normal
Digitalisation and automation will play a major role in the new normal world. According to Singh, greater focus on technologies such as Telematics, IoT, Big Data and Machine learning will increase the efficiency of the machines and also assist in site management, thus leading to better site management. He elaborates, "At JCB, we have pioneered the integration of digital technology with construction equipment. All our machines are equipped with world-class remote monitoring telematics technology - LiveLink. This helps in the remote monitoring and fleet management on the key parameters of Service, Operations and Security. The technology now helps over 150,000 machines communicate real time on machine location, its operations, performance, downtime, service alerts and security. The digital platform connecting machine owners with end users/contractors also increases the reach of business for customer."
Over the years there has been considerable development at JCB, in terms of savings in fuel and maintenance, both of which are ultimately of benefit to the customer. Singh adds, "Our 'Intelli' series of machines are aimed to improve productivity, reliability and efficiency to ultimately benefit customers. We introduced the new ecoXpert 3DX backhoe loader, a machine with fuel savings of up to 12 per cent and up to 22 per cent lower maintenance costs. The machine has 30 new features like smooth gear shift, new ergonomic seat, LED lights, etc. It is also equipped with JCB's 'IntelliPerformance' and 'IntelliDig' technology that gives operators real time indication on the depth and reach.
Additionally JCB India's wide dealer network with over 700 outlets ensures that JCB customers are never too far from professional product support."
Digital technology has also made inroads in the parts and product support aspect of the company's business. "With the parts application, customers can now place an online order for JCB parts and, our dealerships can map the location of the service engineers in the field through SmartServe application," Singh says.
According to Joshi, the overall industry now tends to shift to a virtual interaction. He adds, "As a technology-driven company, we are now taking help of the virtual interface more. We are working towards creating more trouble-free machine and a system to provide remote assistance to our customers. Sales team is now having virtual IDs and accessibilities in order to converse with sales prospects. Various Apps are being created to simplify sales and service process. But we must understand that construction industry is very ground rooted industry and shifting all the operations virtual is not practically possible. Our field team is required in ground and every individual must work with responsibility. Mahindra having a social obligation towards its nation is working on training, bringing in awareness and safety of its employees and customers. Our central team has created an App, which regularly monitors the COVID situation around employees. Our team is ready to go back to business post COVID."
CASE is working on manufacturing technology-rich products that meet the upcoming emission norms. Vidyarthi elaborates, "Our current range of EX series of backhoe loaders are powered by the renowned FPT engines and are robust, easy to maintain and feature advanced telematics for remote maintenance. In this segment, we have 770 EX OL, 770 EX PRO, CASE 770 EX Magnum PRO and 851 EX PRO. The PRO series backhoe loader is powered by an FPT Industrial S8000 engine which delivers powerful performance and fast response time. The series is re-engineered from the ground and provides backhoe breakout force, higher loader lift capacity/reach and best-in-class cab visibility. It has a robust, robotically welded two-piece structural frame design which results in great stability, performance and serviceability. 770EX- Magnum has an optional 15 ft backhoe; one ft longer than what is available in the market."
The CASE backhoe loaders are also equipped with Eagle Eye Telematics System, a real-time vehicle tracking and communication system based on GPS technology which keeps a track of machine's performance, security and efficiency. "CASE has always believed in incorporating technology that enables their customers and will continue to do so," adds Vidyarthi.
ACE has introduced the rugged and reliable backhoe loaders. The all new AX124 is powered with the 76 hp and 96 hp Kirloskar engines. Handa explains more features, "These machines are equipped with improved hydraulic pumps and advanced structured loader arms with higher breakout force while digging or loading materials, ensuring 10-15 per cent higher productivity. Further, it is fitted with globally renowned transmission from Carraro and hydraulic pumps from reputed brands and is available in both two-wheel and four-wheel drive options."
The advanced engine technology in ACE backhoe loaders helps to maximise performance, minimise fuel consumption and the impact of emission regulations, while the advanced hydraulics provide higher productivity. To keep up with the modernisation of construction equipment, ACE also provides option of telematics. It helps the machine owners to remotely monitor and supervise the various functional parameters of the machine and remain updated of its health and maintaining the same to optimum levels for better performance.
Unlocking and market progress
The nation-wide lockdown imposed in the country towards end-March to fight the spread of the deadly COVID-19, the industry and economy impacted severely. Now with the unlocking process underway, the industry is hopeful of a steady recovery and gradual comeback. Singh observes, "With the 'Unlock 4.0' announced in India and opening of businesses, we are hopeful of a brighter future for the construction equipment industry. The government has already announced a slew of measures to stabilise the impact on the economy. Hence, it has become even more important now, to reboot and resume the activities in the infrastructure development space. With the rise of the rural economy and the continual focus on infrastructure, we expect to see further improvement in the equipment utilisation for backhoe loaders."
According to Joshi, outlook on backhoe loader market is always positive and there is no alternative for backhoe loaders. He adds, "With unlocking in process, market is on the upward trend. The industry will come back to its normal pace. Good news for the domestic companies is that now they have the most awaited 'atmanirbhar' wave among customers."
Long term outlook
In spite of the current slowdown, the initiatives taken by government will help the industry to grow at a faster pace. "Make in India and self-reliance projects will boost FDI and domestic industry to grow. The Indian customer is now aware of how the country's economy works and is wise enough to take the right decision," says Joshi.
The government has announced measures to revive the construction sector. Building 34,800 km of national highways in five years and more projects in the Rs 111-trillion National Infrastructure Pipeline are expected to boost construction and infrastructure development in the country. "We are confident that these measures will boost the sector with immense opportunities and bring it back on track, thus generating adequate equipment demand, for backhoe loaders as well," adds Vidyarthi.
According to Handa, the infrastructure and construction sectors are key drivers for propelling development of the Indian economy. "The intense focus of the government for initiating supportive policies, including their edict of 'Atmanirbhar Bharat' would surely ensure timely creation of world-class infrastructure in the country. This will certainly augur well for the CE industry."
According to Singh, JCB is an embodiment of the 'Make in India' and the 'Atmanirbhar Bharat' programme. He says, "The government's ambition of making India self-reliant is possible only once we start to invest in building world-class infrastructure in the country with greater adoption of technologies like Telematics, IoT, Big Data and Machine Learning. We need to continue to invest, innovate, create, scale-up, and export. This would support rapid recovery and sustained growth in the future."
JCB entered India in 1979 and has remained committed to the country's growth story for the past four decades. "Despite the current stress, we believe that as a nation there is a significant opportunity for us to become a part of the global supply chain," Singh says.
He adds, "Our flagship product, the JCB backhoe loader is indigenised to almost 97 per cent (by value). This has been possible due to sustained efforts over the years. The same 'Made in India' machine is exported to many countries around the world. And we are further committed to increasing the localisation levels across all our product lines and are working relentlessly to reduce imports."
As the development of India's infrastructure gains momentum, the need for modern material handling equipment like backhoe loaders is also expected to rise. "The smart innovative features of the machine and its versatile, safe and efficient nature have always been the key demand driver for JCB backhoe loaders. Moreover, government's plans for infrastructure development and announcement of big-ticket projects also drive growth for this multi-utility product," Singh says.
However, there are also some challenges as Singh highlights, "For infrastructure projects to be successful, liquidity is essential. The pandemic has made banks and NBFCs even more risk-averse. Transmission of liquidity is critical for our industry – the RBI has done a lot in the past few months and the benefits need to be passed on to the end-users. The risk appetite must not become nil. NBFCs are very important to construction equipment financing. The last-mile lending from NBFCs will be instrumental in the rapid recovery of the industry." On a long term, infrastructure development, rural as well as urban, will be a continuous process in the country and backhoe loaders are going to play a vital role in future as well like today.