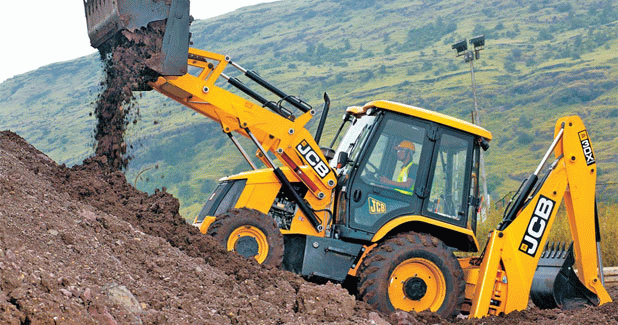 Rural development driven by Gram Panchayats and small municipalities coupled with the Swachh Bharat Abhiyan give a new lease of growth to this utility category construction equipment.
Gone were the days when the backhoe loader market was exploding in all facets of India?s infrastructure development. All recognised suppliers were registering negative to flat trajectory growth since FY 2011. Although the market leaders retained their leadership in terms of market share, the actual numbers had fallen by 10-20 per cent Y-o-Y. On the other hand, some recent entrants like Ashok Leyland-John Deere JV have practically no sales in this equipment category.
Thanks to the major allocation for rural development in Budget 2016-17, funds being made available at Gram Panchayats levels and the Swachh Bharat Abhiyan, the tide has turned and the prospects are still improving for the backhoe loader industry, driven by the development of rural roads under the Pradhan Mantri Gram Sadak Yojana (PMGSY). However, the focus of growth is the rural sector as against the traditional infra earlier.
Since the activity focus has shifted to the rural sector, the nature of challenges posed for the industry, to encash the growth prospects are of a new dimension altogether. The most significant challenge is the availability of operation and maintenance skills and delivery logistics in far-flung areas like the sub-Himalayan region, etc. How effectively the industry addresses such challenges will be the key to its success, in ensuing years.
Rural focus, chimes CE Inc
The industry is unanimous that rural developments will be the key growth drivers of the backhoe loader market for the next few years. Most major players have recognised the situation.
Jasmeet Singh, Head - Corporate Communications, JCB India Ltd says, ?The government is now focusing on rural India as one of the key drivers for the economy which is largely addressed in this Union Budget as well. If you look at the numbers, around Rs 97,000 crore is being allocated for roads, in which about Rs 19,000 crore is for rural roads only. The Pradhan Mantri Gram Sadak Yojana project is actually one of the key drivers which led the sales boom over the last 10 years from 2003 to around 2008-09. So, in effect, rural roads or rural infrastructure prospects are also very important in driving the revival of this industry. At JCB, we make backhoe loaders which are entry level equipment. However, now with the renewed thrust on rural and semi-urban areas, municipalities and Gram Panchayats are also becoming important. Urban India has its own saturation. Ultimately the driver of growth has to come from rural, semi-urban areas or the villages. Backhoe loaders as a product will also get pushed further into these markets.
Manish Mathur, General Manager (Marketing & Product Support), ACE, explains, ?Municipalities and Gram Panchayats in future would be adding a significant number to the sales of backhoe loaders. Owing to the Swachh Bharat Abhiyan, municipalities and civil bodies are definitely focused on improving the cleanliness and housekeeping in different states and a versatile equipment (like) backhoe loader is a much required necessity to attain the above goals.?
?The role of municipalities and Gram Panchayats is to be reviewed in a much larger context than just the sale of backhoe loaders. The Centre has devolved higher financial powers to the states. The Gram Panchayats, now, are looking at good allocation for building toilets, roads, etc. So, backhoe loaders, mini-excavators, tractors with multiple attachments like dozers, tipping trailers, small mobile concrete mixing machines, etc, will do well,? confirms Amarnath Ramachandran, President, LeeBoy India Construction Equipment Pvt Ltd.
?Municipalities across the country have all along been customers for backhoe loaders. The allocation of funds for various schemes under Central ministries and the Swachh Bharat Abhiyan will boost the demand in a big way,? joins in Rajinder Raina, General Manager - Marketing, Escorts Construction Equipment Ltd. Says Sunil Tiku, Senior Director - Sales & Marketing, Terex Equipment Pvt Ltd, ?Municipalities and Gram Panchayats play a good role in revival of backhoe loader sale in our country. Many rural roads are getting refurbished or newly built all across the country. PMGSY is still continuing up till 2019.?
Critical success factor: Requisite skill training and development The CE industry has been proactive in instituting in-house skill development programmes in the country. The Infrastructure Equipment Skill Council (IESC) supported by iCEMA and NSDC is the government?s initiative for Skill India in the infrastructure equipment space.
Singh rightfully comments, ?Technology can work only if you know how to use it.? He adds, ?We have 14 operator training centres across India providing one month?s training course to the operators. Technology improves; it is not as if the machines become difficult to operate. It is only that the first stage of technology is always easy. You should be able to leverage that technology. So till date, we have about 24,000 certified operators from JCB, across India. We have also now tied up with NSIDC, and the International Development Council wherein our courses are also going to be linked with the PMGSY projects. We have really invested heavily in terms of ensuring the skill level of operators.?
Mathur says,?Three years back, ACE set up a dedicated Training Centre in Faridabad to cater to the needs of skill development in the field of operation as well as maintenance of construction equipment.
We have been utilising our established infrastructure for this aspect and periodically we have been conducting training and certification programmes for backhoe loaders as well.?
Amarnath reiterates, ?There is a shortage of skill availability in rural sectors. Operators have to be trained. LeeBoy has a training school - the LeeBoy EDGE, our school for Expertise Development Growth & Excellence where trainees are taught operation of the machine and maintenance. They are further posted on actual sites where they encounter challenging conditions and learn to handle them. There are many agencies working in enhancing and grading skills. Over 50 per cent of our fleet is operated by our own operators trained and certified at the LeeBoy EDGE.?
Raina outlines the initiatives by Escorts with CSR intonations, ?Skill sets remain an area of concern. For a product like Digmax II which is designed to deliver more, the operator remains the key person. A good operator can make a tangible difference in a production machine like a backhoe loader. Fuel consumption and productivity in particular depend majorly on the operator skills. In addition to imparting training to the operator on our machines, Escorts is an active member of IESC and Skill Development is a part of our CSR activity. Escorts has its biggest training facility near Bengaluru which is fully equipped with machines and sub-assemblies. A new facility has been set up in Faridabad besides the training centre at Ballabgarh plant.?
Says Tiku, ?We encourage rural operator to train in Terex Training School, where we provide basis operational and maintenance training for one month at very nominal price.?
The price challenge!
Mathur accepts that price will be a challenge. He says, ?We feel that the final sales price/pricing of backhoe loaders to end-users has also been one of the main reasons that the sales in this segment have been dipping in the past, apart from the sluggishness in the economy. With the cost of the machine and owning and operating cost increasing every year, it has been very difficult to attain viability by operating a backhoe loader, especially for the rental/unorganised segment. Definitely, a machine which can offer value for money proposition with lower cost and desired reliability will succeed in times to come and we are sure that our product fitted with world-class aggregates and lower owning and operating cost should make a mark soon.?
Amarnath on the other hand is wary, ?The unit prices of machines are already at disastrously low levels. The machines built in India are used 300 per cent more than their European/American counterparts. The main reasons backhoe loader is the leading player in the CE segment are: a) low price as compared to tracked excavators of the same weight; b) mobility; and c) flexibility. However, if you pit the backhoe loader against a 7t excavator for digging below the ground level, the tracked excavator is far more efficient and productive. If you compare it to the front-end of a 7t articulated loader, the loader is again far more efficient as the backhoe loader has high turning radius and most of the ones in India are two-wheeled drives. As timelines get more critical and ample work is available, the trend will shift to specialised machines like tracked excavators, skid-steer loaders, small graders, compact loaders, etc.?
Raina has a different take, ?The biggest challenge would certainly be equipment finance. The financials of hirers in rural areas not being strong, finance becomes that much more difficult. The sales approach and product positioning needs recalibration in such markets as the buying criteria and behaviour is different compared with the urban market. Price definitely remains one of the deciding factors but not the only factor.?
Tiku expresses the same concern, ?The major challenge in rural market is funding of equipment. Many customers do not hold even a Pan Card. Financing houses are more funding with the external guarantor which is a big challenge.?
According to Singh, ?On pricing, every company has its own policies. Reducing the price is never the option but giving more value to the customer at the same price is always a better option. So, our stand obviously would be to give more value rather than just reducing price.?
Innovative delivery logistics at the new customers? doorstep A few players are prepared while others are not, when it comes to delivery capabilities at the doorstep of customers.
?Response time and turnaround time are the two measures of efficiency of after-sales support. This entails proximity to the worksite of the customer/projects. In the last one-and-a-half years, we have almost doubled our dealership outlets to give the maximum uptime to the machines. The dynamics of after-sales support is going to see a paradigm shift. It is a challenge and an opportunity that needs a bit of innovation,? says Raina.
Mathur is very confident on this business aspect. He says, ?Currently, we are operating from more than 100 dealer locations in the country. All these locations are well-equipped to provide timely service and spares support to customers. These locations are further supported by 18 Area/Regional Offices spread throughout the country. We have always believed that customer satisfaction can be achieved only by providing the right product, at the right price and supported by the right product support.?
Amarnath explains his standpoint, ?We work very closely with our dealers, on both sales and service and the customers have access to both. With today?s communication enhancement, information flow is quick and the only challenge to rapid service is movement of vehicles across state borders due to archaic laws.? Singh presents the strength of JCB, ?We have now got the largest and widest reach in the industry in India. We have largely addressed the issue of reach. We are now close to customers. But reaching is not the only thing. Our 650 outlets have over 6,000 trained people who are available for services which include sales, spare parts support, and service support. To further improve our services, we now have service vans - Workshop on Wheels. In case of a request from a customer, our Workshop on Wheels goes to the customer rather than getting the machine to the workshop.?
He adds, ?Our Telematics solution LiveLink facilitates efficient service to customers and dealers, for communicating on the issues/requirements and provides the necessary solutions. We are heavily involved in terms of upgrading and giving more value to customers. Telematics is going to be one of the sunshine areas where you will see a lot of traction and our system is not just a GPS system. The machine talks (to our customers), virtually realising information in terms of the location, operation, maintenance, fuel, battery, etc. Everything is available on the smartphone screens of our customers. That greatly improves the street management concept of our customers. So I think one needs to have products which are rural-specific or at least products which can effectively work in a rural environment also. This means having the existing range being fixed into rural markets or developing something which is specific to the rural market. These are the two areas where we will be focusing on and we have a certain product range as well which is focused towards rural areas like the 2DX range. Definitely to reach the rural market, you need the right way of penetration into the market. That is one of the challenges which we have already addressed because we have the largest dealership network in India with over 650 outlets. That means we are present virtually every 100-odd kilometres.?
Rentals impact on growth
?The growth of the rental business in the rural sector would primarily be governed by the Risk-Reward ratio of the machines and we feel that better priced machines would be able to penetrate the market faster due to viable owning and operating costs,? opines Mathur.
Raina is pro hirers as he says, ?The backhoe loader market is dominated by hirers. As the thrust on works in the rural sector increases, the traction for backhoe loaders in rural markets will increase. This will help the market grow. A good monsoon can take the growth beyond 15 per cent in the last two quarters of FY16-17.?
Amarnath also confirms, ?In any economy where contractors are over-leveraged, rentals will have a large role to play. The problem in India today is two-fold. The rental companies do not get paid and they, in turn, default as many of them are first-time owners. As the contractors stabilise, this will settle down.
The rental market for backhoe loaders is very important because a lot of our machines go into the rental market as well and that is one of the reasons why we have taken feedback from the rental market and we understand the importance of it. That is why you see all our changes in the Eco Excellence are towards improving the ownership cost of the machines. The Eco Excellence range is actually going to be beneficial to the rental market because it improves the fuel and maintenance costs, the two big cost factors for customers.?
Prospects 2016-17
Raina says, ?The current technology and specifications of backhoe loaders are appropriate for Indian work applications. We have all the variants available with options and attachments that the best-in-class has to offer. No major product changes are in the offing during the current fiscal. The market is looking up. The current fiscal should see a 10~15 per cent growth against the last year.?
Mathur is skeptical, ?We are slightly skeptical of a significant increase in the backhoe loader industry size because of the current viability issue especially in the rental segment.?
Amarnath is euphoric, ?LeeBoy works on a calendar year and we are looking at 80 to 100 per cent growth over last year. Our products are constantly upgraded based on customer feedback and technical advances with our partner-suppliers.?
Singh says, ?How far the market will revive is frankly anyone?s guess at the moment. We are already seeing the recovery. At JCB, you would be aware from 2011 until October 2015 the market was going down month on month. It was a very difficult time with a continuous slide. But in the last six months, that slide has stopped and now we have started our recovery and it is a slow U-shaped recovery where we are seeing green shoots. However, a full recovery will only depend on the sustainability of these green shoots in the next couple of quarters, at least. We feel certainly this year is going to be better than the last two years. In the last Excon, we showcased a lot of new machines and new technologies, one of them is the Eco Excellence range of backhoe loaders which is almost 10 per cent more fuel efficient and has 30 per cent reduction in the scheduled maintenance cost. We have also recently launched a backhoe loader which is based on the 2X platform and it is basically a loader used in rural and semi-urban markets.?
?Market should revive to an average of 2,700 units per month. We don?t think that any changes are required in the product,? says Tiku.
North-east prospects: Equipment Bank
Raina has a mixed opinion,?The North-east region holds a lot of promise and excitement for equipment manufacturers. Each one of them is going to offer a unique package to garner a sizeable share. We at Escorts have focused on after-sales support with the belief that it will be the differentiator between competitors. An equipment bank is a decent idea but it has its own flip side. For one would like to see a pilot project to start with, this will help.?
Mathur affirms, ?Yes, definitely an equipment bank for the North-East region would benefit regional contractors, but success of such a concept would always be in doubt owing to different issues shrouding the North-eastern states.?
Amarnath has a different opinion, ?Opening an equipment bank for the region may not have much relevance as contractors executing these projects are based in Mumbai, Hyderabad, Delhi, etc. They have multiple projects. Ideally, for an infra company, an asset should be available when required and dumped when it is not. The question here is who pays for the unabsorbed portion when the equipment is idle. Executing multiple projects is a complex mathematical problem. Also, capex accounts for 9 per cent of the project cost only. Execution involves the whole project which includes bitumen, steel, cement, etc.?
Singh opines, ?Every contractor would like to minimise his cost at the micro level. The concept of an equipment bank at the moment in India is at a very nascent stage. The rental market is pretty fragmented where you have individual players who are working, but I am yet to see a large scale structured equipment bank actually coming to India and flourishing at the moment. As markets mature and as people understand and once there is an excess of machines in the market, then actually you could think of such a concept. However, it is a good step.?
Final round-up
Unique to India, backhoe loaders will continue to be the star product for the earthmoving and construction equipment industry. In fact, this equipment has educated the world of its multifaceted capabilities in support of infrastructure construction in probably the most innovative applications to achieve the desired construction speeds at economical costs. Now it will play a similar role in the rural development of India.
?Rural roads and rural infrastructure prospects are very important in driving the revival of backhoe loader industry.?
- Jasmeet Singh Head - Corporate Communications, JCB India Ltd
?The machines built in India are used 300 per cent more than their European/American counterparts.?
- Amarnath Ramachandran President, LeeBoy India Construction Equipment Pvt Ltd.
?Market should revive to an average of 2,700 units per month.?
- Sunil Tiku Senior Director - Sales & Marketing, Terex Equipment Pvt Ltd
?A good operator can make a tangible difference in a production machine like a backhoe loader.?
- Rajinder Raina General Manager - Marketing, Escorts Construction Equipment Ltd