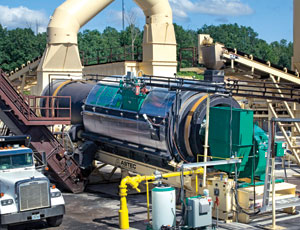 There has been an exceptional demand for automatic concrete batching and mixing plants that ensures the concrete delivered meets their requirements, as the end product is batched and mixed according to international standards.
Modern technology is all- pervasive and it has even influenced concrete batching plants. Be it the ready mix plant or the central mix plant, computers provide effective control of the core ingredients that are loaded in the plant according to the way you programme your computer. Such automated plants are fed with accurate quantities of raw material, accessory equipment can be coordinated and as a result, the output is more uniform than manual loading plants. Even these self-loading plants can be adjusted to be fully automatic, semi-automatic or manual via the control options which you have.
Says Debasis Bhattacharya, Head - Sales and Marketing, Ajax Fiori, "Technological advances in concrete batching have been seen in India over the last couple of decades, thanks to the boom in infrastructure industry and the real estate sector. Hitherto, concrete batching was mostly volumetric but over the years, with stringent quality standards required for almost all civil constructions, concrete batching by weight has evolved. The timely completion of projects and demand for high quality construction have been key drivers for this evolution. So today, whether it is ready mix concrete or site mix concrete at urban or semi-urban areas, the requirement is concrete batching by weight."
"In the last couple of decades, there has been an exceptional demand for automatic concrete batching and mixing plants. The batching plant ensures that the concrete delivered to the end user is within the stipulated time period and meets their requirements, as the end product is batched and mixed according to the international standards," says Sudhakar Waggh, Country, Manager, Aquarius Engineers. He adds, "Our control technology is most user friendly, with proven software, which has been designed and developed over years of experience in this field. This ensures that the batching plant delivers the rated output and accurately batches ingredients within the least specified time. This system is very much stable and cost- effective. Additionally, this system can generate all the required data in CSV formats, which has been highly appreciated and recommended by our clients."
Rajesh Kawoor, Vice President (Concrete Business), Universal Construction Machinery & Equipment, says "At Universal, we have implemented electronic technology for reversible mixers in which segment we are the market leaders today. We have introduced electronically controlled batching plants with reversible type mixers. Further, we have already supplying electronically controlled batching plants with pan mixers. Currently we also offer batching plants with advance computer controls. We also offer batching plants with planetary as well as twin shaft mixers. Also, we have adopted robotic welding technology for fabrication in our plant and are geared up to supply batching and mixing plants to the small and medium sectors." Sisco has recently joined hands with Marcantonini to offer an entire range of mobile and stationary batching plant and precast equipment and systems.
Speaking about the latest trends and machine control technology used Amitava Hazra, General Manager, Operation & CS, Sur Iron & Steel, had this to say. "Compumat is a computerised automation system that allows the supervision and management of concrete batching plants, aggregate bin load systems and concrete delivery systems by flying buckets. This automated control system consists of modular units developed from years of designing systems with our team of our electrical engineers. Today, it allows MCT to integrate their knowledge with the most updated technologies such as PLC's and Wi-Fi. Compumat, is installed on a common personal computer with Windows operating system and allows the system to provide simplicity of use, overall reliability, longer operating life and ease of upgrades and expansion."