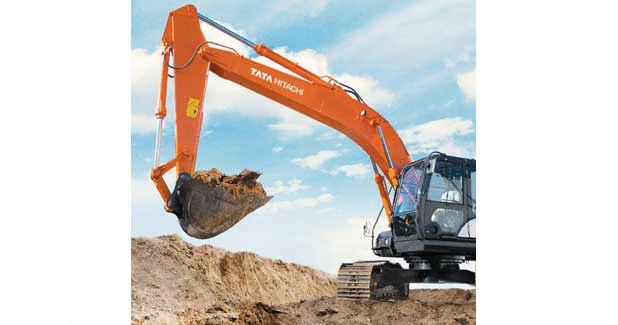 Optimum utilisation of excavators is of utmost importance for the economic operation of the machine. All hydraulic excavator OEMs have introduced matching technologies for the optimum performance of their machines. A sneak peek into the various technologies that promote efficiency and productivity in hydraulic excavators
Excavator market is one of the largest growing construction equipment segments in India.According to an Off-Highway Research report, sales of crawler excavators in India is expected to reach 34,000 units by 2021, from 20,062 units in 2017, indicating a growth of 69 per cent in the 2017-21 period. There is no surprise on this growth considering the ongoing infrastructure developments and the revival in mining. Hydraulic excavators are the most widely used earthmoving equipment in heavy duty operation.
Optimum utilisation
As an equipment with the widest applications across the infrastructure development value chain, it is imperative for hydraulic excavator perform with maximum efficiency and be productive. Which are the factors that support productivity of excavators? What are the new technologies and operational practices that excavator OEMs are offering? Sandeep Singh, Managing Director, Tata Hitachi Construction Machinery Co explains, "As with any asset, what is important is using the machine the right way, thereby improving the return on investment (RoI) for its owner. The machine must be engaged in productive operations - to ensure that the machine runs for a shorter time, but is more productive. And this is where ConSite (available in our ZAXIS GI series) and Insite (available in our EX Super+ series) comes in. Using technology to help identify wasteful machine usage/idling hours and advising on how the machines can be used to be more productive and efficient."
According to Dheeraj Kumar Panda, Director - Sales, Marketing and Customer Support, Sany Heavy Industry India, there are three major reasons why optimum utilisation of hydraulic excavator is important. They are: Timely completion of critical infrastructure projects; best possible return on investment and its direct linkage on profitability; and reduction in carbon footprint of the machine.
From general construction work to specialised applications that require precise control and power, excavators have been a key equipment. Anup Nair, Vice President and Business Unit Head, Hyundai Construction Equipment India, highlights, "At Hyundai, we understand that the expectations from excavators in terms of productivity as well as efficiency are always increasing. These expectations are due to the completion pressures on the projects without any cost overruns. This means that the equipment has to work for extended hours while maintaining the operational efficiencies and reliability."
Being the widely used and primary equipment at construction and mining sites, hydraulic excavator's availability, its optimum utilisation and reliability are key factors for successful completion of any project on time. With a wide range of jobs being undertaken by the excavator, it is essential that the machine capability is understood, operator is trained and the machine utilisation is optimised based on site condition and working environment. Vivek Hajela, General Manager & Head - Construction & Mining Machinery Business, Larsen & Toubro elaborates, "Komatsu excavators are equipped with load sensing flow on demand hydraulics, strong and rugged structures and Komtrax health monitoring system. These enable clear mapping of load, operating mode, operator efficiency with productivity to optimise machine utilisation."
Factors impacting efficiency and productivity When any machine put into work, the top priority will be how efficient and productive is the machine, that decides the operational economy and return on investment to the owner.
According to Singh, the factors influencing efficiency and productivity are the machine speed and forces which are governed by the hydraulic technology used. He adds, "In our excavators, we have used the Optimum Hydraulic System (OHS) in the EX Super+ Series of excavators and the Human and Intelligent Operating System (HIOS III) in the ZAXIS GI Series of machines. These help in providing smooth combined operations for the operator allowing him to do multiple operations simultaneously, thereby increasing productivity. Our focus on operator comfort also helps in improving productivity by reducing fatigue."
Panda highlights machine design and machine operation as the two major factors that impact the efficiency and productivity of the excavator. In design, synchronisation of engine and hydraulic systems is important: better the synchronisation, more efficient the machine is. As far as operation is concerned, the efficiency and productivity of hydraulic excavators is largely affected with skill set of operator, application and geographical conditions, maintenance practices of the customers etc.
According to Nair, the quality of the components and aggregates, maintenance as well as the proper use of the machines on the worksites is the key factors affecting excavators' efficiency and productivity."At Hyundai, we take care of these factors to ensure that our excavators meet the most stringent expectations of our customers. We use only the best-in-class components and aggregates in our products. We constantly upgrade our structure to make it more durable and resilient. Our wide service network ensures that our excavators and properly maintained so that the customer faces minimum downtime, thus resulting in more productivity and profits. We also undertake the training and skilling workshops for our customers' operators so that the machines can perform the desired function at the worksites," he adds.
Hajela says, "Technology, product quality, reliability and aftersales support apart from worksite conditions and operator skills have significant impact on efficiency and productivity of hydraulic excavators. Komatsu excavators incorporate the latest in hydraulics and engine technology. Komatsu designs and manufactures all structures, hydraulic components and engine specific to each model, with a high degree of quality and reliability. Continuous training to upskill operators and energy saving training at site undertaken by L&T helps customers improve efficient utilisation of excavators."
Role of technology
Technology leads to productivity and efficiency of a machine in different ways of saving fuel, preventing from over-working, prolonged life of components etc. Singh explains,"We use regenerative hydraulics that reutilises the returning pressurised flow through a regenerative circuit and channelises this to areas with high demand of oil. This helps to deliver greater flow to circuits that are performance-intensive without spending more power. This improves the productivity of the machines without incurring additional fuel expenses."
Monitoring and control technology solutions also add to the productivity of the machine as Singh adds, "We have ConSite in our ZAXISGI series of machines and Insite in our EX Super+ series of hydraulic excavators. These give recommendations and help identify the areas for improvement in production by pointing out wastages in operations and in power utilisation. This helps in improving productivity and reducing fuel consumption."
According to Panda, use of Information Technology tools like GPS and remote machine monitoring systems, and use of AI and IOT in modern excavators with cameras and sensors placed at components to get real-time actionable data help achieve better productivity in an excavator. New generation of hydraulic systems are driving optimum utilisation of pressure settings and hydraulic oil flow, which ultimately leads to significant improvement in productivity of excavators.
Hyundai excavators use a combination of features that make them productive as well as efficient and reliable. Nair explains, "Our arm regeneration system helps to re-circulate hydraulic energy providing smooth operation of arm preventing cavitation and increasing performance of machine. The one-touch deceleration switch on the joystick lowers the engine RPM. Engine speed is recovered to its pre-selected RPM when it is selected again. This system saves fuel by regulating the pump and engine.
The highly acclaimed Computer-Aided Power Optimisation (CAPO) system that utilises the engine and hydraulic horsepower in unison, allows the operator to set their own preferences for boom and swing priority and power mode to suit the requirement of the job. This ensures that the machine is working at optimum efficiency."
Hyundai excavators also feature Auto Idle function which moderates the engine RPM to idle state when the machine remains idle for four seconds by enabling MCU to send a signal to engine, reducing the fuel consumption and operation cost. The negative flow control proportionally regulates the pump flow with control lever stroke, which saves fuel by regulating pump and engine. These advancements ensure maximum efficiency and productivity, thus ensuring maximum profits for its customers.
Nair adds, "Hyundai also constantly works to make our excavators more reliable and sturdier. To meet the demanding worksite requirements, we have added reinforcement in the idler area to ensure machine durability. This contributes towards a well-balanced and solid machine while operating in adverse terrains. Our forged ring body in lower frame enhances the durability, structural integrity and increases the machine life. Additionally, the boom internal baffle plate and steel casted bearings enhance the life of the boom and arm by maximising impact strength."
Hyundai also takes care of operator comfort as a major factor leading to operational efficiency. "Operators are the key to ensure that the machine works at the optimum productivity and efficiency. It is therefore that we take special care in terms of operator comfort. The controls are ergonomically placed to maximise ease of usability. The cabin is spacious and sports a fully adjustable seat for perfect working environment. All these measures go a long way in reducing operator's fatigue," says Nair.
Komatsu excavators are equipped with the advanced ecot3 (ecology and economy - technology 3). With in-house developed components and total control system, these excavators provide versatility, superior productivity and economical performance, according to Hajela. He adds, "The latest version Komtrax (Level-3) provides a revolutionary new way to monitor Komatsu equipment, anytime, anywhere. Komtrax not only helps optimal control of machine, but also monitors machine health and performance, and provides economical operation guidance to the operators. Starting with basic data like machine location and operating hours, it provides vital information on profitable working of machine, machine safety, machine health, tracks and alerts maintenance on time, machine usage, load condition, eco-guidance and summarised information of all the parameters in one log-in anytime and anywhere."
Customer approach towards technology
There was a time when customers were hesitant to accept new technologies. The approach has changed today as the customers have become more tech-savvy and most of them are eager to explore new technologies and understand the benefits. Singh says, "With the world going digital, customers are increasingly getting tech savvy. Many second-generation entrepreneurs are getting exposed to best practices in India and abroad. So, when we offer futuristic solutions and explain the value to them, they do embrace these technologies." According to Panda, typically new technologies call for increase in input cost and subsequently increase in customer price which is undesirable to many customers. "Here, it becomes critical to communicate the lifecycle cost and incremental value this new technology is creating for the customers for their acceptance. That being said, customers of modern excavator have shown their preference towards adopting new technologies at a faster pace," he adds.
Today's customers are highly demanding in terms of technology and productivity. Hajela observes, "With increased activities, penetration of digital technology in all spheres, the younger generation of customers is keen on digitalisation and data-driven approach towards their projects. This is driving the need for digitalisation/newer technologies in excavators. L&T offers Komatsu excavators which are products with cutting-edge technology and incorporate world-class features that make these machines popular in the market. Several improvements are made to arms, booms and structures to make it more robust and stronger to suit a variety of applications. Operator cabin has also undergone changes to bring in more space and comfort. By using Komtrax, the vehicle health monitoring system, customers have been able to modernise and keep a quick pace with changing technology and benefit from the new features."
New features: added cost or value-add?
Technology improves efficiency and productivity. However, any new technology on a machine adds to its total cost. When a customer looks for a technology, he has to think about the additional cost he has to bear and the benefit he is going to get out of this. Is the technology providing value addition or added cost? Singh says, "We see the upcoming technologies and features as windows to the future. Change and improvement is what has brought Tata Hitachi this far and has helped us maintain our leadership position in the excavator market. We definitely see it as a value-add to the customers."
Panda elaborates, "Initially all new technologies are expensive. However, over a period, with increase in customer base and penetration, the cost factor becomes negligible against the additional value provided by the technology. The case in point is the real-time machine monitoring system/GPS systems in excavators or AC cooled ergodynamic cabins. Once considered an expense, they are considered to be basic requirements in an equipment now."
To what extent the customers accept the technology would depend on the advantages that it offers in terms of productivity and efficiency. "We have introduced many upgradations and technologies in our equipment to help us achieve either higher productivity, efficiency or reliability. Excavator is a price-sensitive segment and any addition in the cost has to be measured against the addition to the customer profitability," says Nair.
Technology matching requirements
When a new technology is introduced, unless it is useful to a customer, it has no value but only has added cost is involved. So technology should match the requirement of a customer. "While we keep our eyes and ears open to track customer requirements, we also attempt to bring value-adds that customers may not have even realised they need them. As in the case of ConSite, we have taken the telematics data of our machines and coupled it with recommendations from our experience to provide a unique service aimed at loss reduction and productivity improvement," points our Singh.
There are customers at different levels of needs, some customers use high-end technology while some others use regular machines that will meet their requirements. Panda explains, "Typically, rental customers prefer low maintenance cost and low fuel consumption while captive customers prefer more production in less cost. Accordingly, we offer different combination of engine and hydraulic systems which would meet the customer requirement profitably."
In this direction, Komatsu is continuously working on improving machine hydraulics, engine and ICT technology. Hajela elaborates, "With machines are becoming smarter, customers are able to see the way machine is used by their team, load condition, operator efficiency and various other performance and machine health parameters on the move, at the click of a button." To ensure customers are able to benefit from the machine technologies, Komatsu and L&T have undertaken two major initiatives: Suraksha-9000, three years or 9,000 hours of extended powertrain warranty program (covering components viz. engine, hydraulic pump, motors and control valve) for Komatsu PC210-8M0 hydraulic excavator is the first of its kind in the industry, according to Hajela. Suraksha-9000 provides not only long-term warranty coverage, but provides for free service and value-added services such as training for energy-saving operation, follow up on Komtrax reports, preventive maintenance checks and KUC (Komatsu undercarriage inspection). With comprehensive service support, Komatsu PC210 customer can focus on the work on hand rather than the spend time on machine maintenance/monitoring. To improve the speed of response to customers, L&T has introduced L&T Equip-Care, the customer request tracking and fulfillment program. Now, L&T customers across the country can register their requirements for service, parts and sales on a single number 1800 833 9990. Equip-Care is designed to handle all customer requests across the country seamlessly and ensure timely rendering of information/service with continuous update on the progress by way of SMS.
Refurbishing for economy
Excavators have relatively longer life compared to other similar equipment. So it is ideal for certain customers to have refurbished excavators who don't require higher efficiency and productivity machines for their jobs.
"Our experience is that refurbished machines have a great potential in future and is expected to grow. In countries like China and Japan, as high as 30 per cent sales is through used equipment. Here in India, customers are ready to pay at least 10-15 per cent extra for the value they get, when a machine is refurbished by an authorised dealer's workshop, backed up by limited warranty, mandatory services, etc, from OEMs like us. Due to the nature of application, short tenure of work or situation where attachments are fitted on the machines, many end-users still prefer used/refurbished machine, than a new machine due to lower capital investment. Major buyers of such machines are small and medium sized local contractors and rental companies who leverage low-cost inputs to offer low affordable rates for their services. Lately, many large construction companies have also started procuring second-hand units, due to some of the above reasons.
All the stakeholders, viz the OEM, the dealer and end-user customer will benefit from this," says Singh.
Tata Hitachi has launched a full-fledged vertical, called the Used equipment Business. "Tata Hitachi Value Plus" is the branding used by the company, primarily for the "Certified Used Programme". Singh elaborates, "We do this business completely through our network of dealerships across India, where the dealer purchases a used/old equipment from the market, exchanges it for a new machine, as per customer choice and requirement of application. Prior to buying back, the old/used machine is inspected by the dealer engineer and only after it is found technically and financially feasible, it is refurbished by the dealer with technical and parts support from us. The refurbished machine is then sold in the open market with Tata Hitachi certification, limited warranty support, 100 per cent assurance, etc. Dealers who are having workshop facilities are trained in this aspect by us. All the processes to carry out this business are well-defined, and the dealer is trained well to follow the same for maintaining Tata Hitachi quality standards to ensure customer expectations and satisfaction."
Panda has a different opinion, "In our experience new excavators provide better value in terms of productivity, efficiency, fuel consumption and moreover they reduce the carbon footprint of the application. In certain cases, where there are financial cash flow issues and fund crunches, refurbishing and reusing excavators can provide a temporary solution. Sany has a rental division which provides both old and new machines on rent. However, we don't supply refurbished excavators in the market."
According to Hajela, used machines find right fit in many low-productivity, low-utilisation applications which are generally done by rented machines. Refurbished used excavators are cost-effective solutions for rental customers/customers wanting excavators for undertaking such low utilisation jobs. With fixed rental rates, these refurbished used excavators provide higher earnings per hour to rental customers vis-a-vis the new excavators. With refurbishment and lower utilisation, the maintenance cost/breakdown repairs remain lower making rental business viable in the current scenario. "We have been working on used machines, largely from the perspective of providing opportunity to customers to trade in their older equipment to upgrade their fleet with newer ones. Based on the condition of the used excavator, and end-customer requirement, we do a range of refurbishment activities including component re-conditioning, structural repairs and complete machine painting. Komatsu machines refurbished by L&T look as good as new and are sold with a warranty period of six months/1,000 hours. Komatsu excavators, with superior reliability and longer life, are the most sought after by used excavator customers," adds Hajela.
Market growth trend
With respect to the wide scope of utilisation in general construction and special applications, hydraulic excavators will find more demand in the market in the coming years. Panda elaborates on the trend, "The hydraulic excavator market is continuously growing with sales reaching its peak in the last decade to about 25,000 units in 2018. This market is continuously growing due to government's emphasis on infrastructure projects and is expected to reach to about 35,000 units by 2022." According to Samir Bansal, General Manager - India, Off-Highway Research, demand for hydraulic excavators in India is overwhelmingly dominated by crawler excavators (machines over 6 MT operating weight) while wheeled machines have negligible demand. He adds, "Crawler excavator is the second most popular construction equipment (after backhoe loader) in the country and constituted 25 per cent of the demand in 2018. Nearly 25,500 crawler excavators were sold in the country, while there was no demand for wheeled excavators in 2018."
Hajela explains, "With intensified activity in the last four years in roads, general construction, aggregate quarrying and irrigation segments, the demand for 7T to 45T class hydraulic excavators in India has witnessed 26 per cent growth (y-o-y) while the demand for 20T excavator has grown by a CAGR of 33 per cent. Over the next two years (2019 and 2020), we expect the demand for 20T excavators to sustain a growth rate of around 25 per cent across the user segments."
Driving demand According to Bansal, crawler excavators are used in a wide range of applications for all types of projects. "Roads, urban and rural infrastructure development, and sand and stone quarries were the major demand drivers in 2018,ö he observes. He further adds, "Rental market has always been a growth driver for crawler excavators and would flourish with the increase in construction activity. Further, implementation of GST has made India a single market with unified tax structure that allows free movement of machines throughout the country and therefore supports rental business, especially organised rental due to input tax credit."
According to Panda, the increased focus by the Central Government on infrastructure development will drive the growth of hydraulic excavators. He adds, "It is expected that all large contactors will start demanding GST paid invoices to take advantages of tax input credit, which might force smaller contractors and plant hirers to register their businesses, which will help the excavator market grow in the medium to long term. The shortage of manual labour is another significant factor which will contribute to the growth of excavators in the long term."
Challenges ahead
The general atmosphere for the infrastructural development in the country is conducive for growth in construction and mining activities. However, land acquisition, long-term infrastructure project funding and stressed balance sheets of many contractors are some of the challenges that need resolution, according to Bansal. He adds, "General elections disrupt the speed of execution of construction and mining projects for a short period. Crawler excavators as it is the most important construction equipment required for infrastructure development. There is still a very wide gap in the needs and the current status of infrastructure in all sectors and the demand for crawler excavators is limited only by the government's ability to facilitate project execution."
According to Hajela, availability of credit at competitive rates, skilled operator pool, apart from emission regulations are the key challenges that will impact excavator demand growth.
Gearing up for future
The long-term future looks positive for hydraulic excavators. Bansal highlights, "Off-Highway Research is bullish about the long-term future sales of excavators, but its market may decline 10 per cent in 2019 to 23,000 units mainly due to elections. However, demand is predicted to grow by 9-17 per cent, thereafter with sales peaking at 37,000 units by 2023."
Panda elaborates on the future plans of the company, "Sany India has been the fastest growing excavator manufacturer in the last few years and we intend to continue setting up new benchmarks. We are bringing the whole range of excavators from 2T to 100T to cater to all application segments. Coupled with our pan-India service network, we are poised to reach the apex within the next few years. As a part of our digitisation strategy, we are coming up with remote machine monitoring system accessible through easy-to-use EVI app. We are also planning to come up with customised excavators to meet special application requirements by the customer."
Nair points out Hyundai's plans, "This year, Hyundai India will scale up its operations to meet the increased demand from the market. This would include various capital investments in terms of technologies and machinery. On the human resources front too, the company plans to add new as well as skill the existing manpower to ensure that the scaling up of operations is a seamless transition."
Earlier this year, Hyundai Construction Equipment India relocated its central warehouse to a 60,000 sq ft facility in Chakan, close to the manufacturing plant. This is done to ensure that the company is able to meet the increasing demand for the components in conjunction with the demand for the equipment.
To augment its sales and marketing effort, the company has recently shifted its marketing and sales office in Pune city. With a focus on constant innovation and development of more products to meet the customers' need, Hyundai recently shifted its research and development operation to an independent facility in Hinjewadi, the IT hub of Pune.
"We will also continue to further augment our sales and service network in order to reach out to as well as support more customers across India and SAARC region," adds Nair.
Hajela highlights, "We have developed and introduced new and highly-productive models such as PC300LC-8 and PC350LC-8 to cater to the quarry, marble and stone industry. We see a huge demand in the near future and we plan to promote these models aggressively pan-India. Even in small size models of PC71 and PC130, we have been promoting variants for tunnel application besides finding new applications in aquaculture and brick industry. Our flagship model PC210-8M0 has become hugely popular in 20-ton market across India and with over 6,800 machines in the field, the PC210-8M0 is fast consolidating its leadership position in the premium segment."
With the new government taking charge at the Centre and indicating its plans to continue its infrastructure development efforts for the country, it is time for construction equipment market to gear up and realign for the emerging demand in future. Hydraulic excavators being the important equipment in infrastructure creation will have to play a major role with productive and efficient machines and operational practices in the coming days.