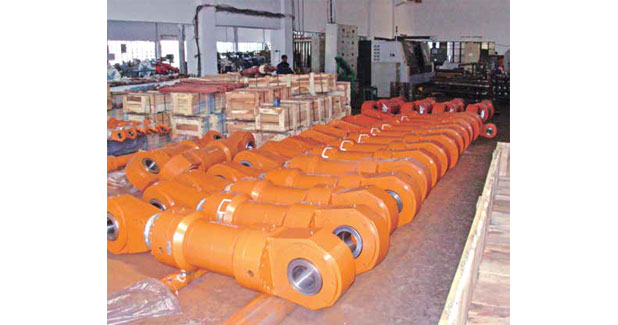 On ground demand of construction equipment (CE) spurs the requirement of hydraulic cylinders for various essential applications by the OEMs. EQUIPMENT INDIA zeroes in on this segment to develop granular market insights.
The Indian hydraulic cylinder industry is tipped to witness reversal from the all-time low to growth, commensurate to the revival of infrastructure projects in roads, power plants, steel plants, cement plants, ports, railways etc. It is expected to get a huge fillip out of this impetus, resulting from the increasing demand for construction equipment such as backhoe loaders, excavators, mobile cranes, compaction equipment, wheeled loaders, forklifts and others. Besides the infrastructure equipment industry, hydraulic cylinders are essential for commercial vehicles and defence applications.
It is widely believed that with the recent announcements of investments in infrastructure projects, demand of capital equipment is set to grow and which in turn will increase the demand of hydraulic components in India. Industry players claim that hydraulics industry in India is projected to grow at a rate of 6 per cent CAGR and the volumes will grow in proportion to the growth in the infrastructure equipment industry.
Ananthagopal K P, Head - Hydraulics Works, L&T Construction Equipment Ltd, states, ?Hydraulic cylinders have several applications, primarily in construction equipment, manufacturing machinery and civil engineering equipment. The demand for hydraulic cylinders is primarily driven by the growing demand for hydraulic cylinder-based equipment which are used in industries such as manufacturing, construction, mining, agriculture, aerospace and defence. As per one of the researches, hydraulic cylinder market is expected to grow at compounded annual growth rate (CAGR) of 4.4 per cent from 2013 to 2018, reaching to $12.5 billion by the end of the forecast period.? L&T Hydraulics of L&T Construction Equipment, a wholly owned subsidiary of L&T, manufactures and markets a wide range of high-pressure hydraulic products, hydrostatic transmissions and customised hydraulic systems. The hydraulic products are manufactured at its state-of-the-art plant in Bengaluru. It delivers hydraulic solutions to meet the needs of construction and earthmoving equipment, mining machinery, engineering and energy sectors as well as bulk material handling segments.
After four years of recurrent decline, the CE industry, which is a proxy for the health of the country?s infrastructure sector, is witnessing some signs of growth in 2015-16. The industry has a current size of $2.8 billion and is expected to grow to $5 billion by 2019-20. Construction industry in India is highly labour-intensive and provides direct and indirect employment to estimated ~35 million people in the country. The slowdown in infrastructure projects hampered the sector so much so that from 70,000 units of construction equipment in 2011, the industry fell to 45,000 units by 2014, as quoted by Anand Sundaresan, President of ICEMA, an affiliated body of the Confederation of Indian Industry (CII). The report, issued at an event, said overcapacity built in earlier boom years is expected to be utilised before fresh investments are made. However, various industry consultants reckon that the construction and mining equipment market will be driven largely by the sheer scale of work yet to be done in all infrastructure sectors, and is expected to reach a level of 89,000 units by 2018 at a CAGR of 17.5 per cent over 2014. Furthermore, the growth potential for earthmoving equipment in India will be an added advantage. If the growth is sustained without any crests and troughs, the size of the industry could grow multifold to approximately one lakh units by 2020.
V P Jain, Managing Director, Oscar Equipment Pvt Ltd puts it, ?All physical infrastructure sectors such as road-making, power plants, steel plants, cement plants, ports, railways etc, will drive demand for capital equipment. With increasing investment in the infrastructure sector, the earthmoving equipment industry foresees huge demand for CE in the coming years. With the ?Make-in-India? initiative, exports shall open up in a big way for Indian manufacturers. However, a lot depends on the implementation and monitoring of new initiatives.?He adds, ?Oscar competes with the world renowned manufacturers such as Bosch Rexroth, Parker, Eaton, etc in industrial segment of their larger presence as one of the preferred suppliers. Its major domestic clients include SMS-Siemag, Danieli India, Siemens VAI (now Primetals) and almost all Indian EPC units along with large Indian public sector units, including the public sector units under Ministry of Defence, and private sector units.
Upcoming trends
Like all other components and ingredients of the mobile equipment industry, this industry too is witnessing technology leapfrog in terms of design, raw material, weight, compatibility, ruggedness, etc. In the coming years, the development of hydraulics would shift to usage of electronics for better control and monitoring along with environment-friendly products. Furthermore, usage of special cylinders with special features like enhanced plating life and enhanced overall life are emerging trends. Customers now prefer to use various valves, manifolds, sensors etc inbuilt on to the hydraulic cylinder itself in place of using them inline previously. In view of increased cost pressures, optimisation of cylinder sizes are also being done by various OEMs. As a result, cylinder players are conducting various calculations and suggesting them optimal solution for this activity.
Ananthagopal affirms, ?The emerging technology breakthroughs would be in the area of affordable high strength alloys for cylinder tubes, sealing system which can operate at higher pressure and temperatures along with environment-friendly coating developments. Cylinder tubes used for high pressure applications are currently being imported along with few of the sealing elements.?
Likewise, Jain states, ?Higher weight haulage vehicle and more volumetric capacity of the equipment have been the trend all over the world. Indian hydraulics industry has to cater to such needs. Indian equipment designers and manufacturers must concentrate on such requirements of the customer. Normally high tensile seamless steel tubes and high performance hydraulic seals are still imported as not being available in the country.?
Kamal Sharma, Vice President - Sales, Dantal Hydraulics Pvt Ltd, highlights, ?Usage of various sensors, cushioning at the end of cylinder stroke, and high pressure hydraulics are emerging trends in hydraulic cylinders.? Position sensors sense the rod position in a hydraulic cylinder and generates the output to tell the position of cylinder. It optimises the operation of cylinder and machine. Machine can be programmed or controlled to give accurate instructions to the cylinders on when to move and how much to move etc. Cushioning in hydraulic cylinders ensures slowing down of cylinders at the end of stroke to minimise the banging effect. This not only saves structures from damage which happens due to continuous banging of structures at the end of stroke, but also provides comfort to the operator. Usage of high pressure hydraulics is also an upcoming trend. High-pressure hydraulics reduces the size of cylinders, tank, pump, valves etc. If optimally designed, it reduces the overall cost of machine.? Dantal is one of the leading manufacturers of customised hydraulic cylinders and hydraulic systems, aircraft hydraulic service, trolleys and car parking solutions in India. The company was established in 1990 and offers complete hydraulic solution to sectors like agriculture, earthmoving equipment, waste management, material handling, mining, industrial applications, heavy equipment, renewable energy sector and defence. Some of the marquee clients it caters to include Action Construction, Caterpillar, Claas, CNH, Escorts, Godrej, JCB, KION, Mahindra & Mahindra, Tafe, Terex etc.
Technology trends
Despite manufacturing, industrial and other sectors are still reeling under protracted slowdown. The Indian hydraulic cylinder industry has not been deterred when it comes to expansion. In fact, most of the players affirm that their capex and technology enhancement plans remained unchanged and they were expanding their capacities and diversifying into new product lines and allied industries. A well-developed supply chain along with robust, fool-proof manufacturing practices would assure the product quality. Training and educating the customer in terms of regular check ups and maintenance practices will improve the quality of product through its entire life cycle. This is because the the expectation of OEMs are increasing in line with end customer requirements. The shift from price-driven market to reliable product and quick service support is seen over years. All the companies were unanimous in their views that the manufacturing process for all cylinders remains the same but to meet specific application requirements, special manufacturing technologies are adopted. ?In order to meet its long term objectives, we have adopted state-of-the-art technology which is on par with international standards. Design and manufacturing technology is constantly upgraded by us to cater to the needs of the future requirements of the OEMs. However, the level of technology varies from small cylinders of high volumes vis-a-vis niche, customised flexible and small volume manufacturing and need to be adopted and adapted,? mentions Jain.
Ananthagopal states, ?The quality of hydraulic cylinders are built right from understanding the application till the proper maintenance of the assembly at regular intervals. We achieve this by having a detailed discussion with the customer to understand the usage, operations, environment etc. The design is then subjected to latest prototyping simulation software to validate and provide the optimum solution. Furthermore, the advancement in manufacturing technology has helped the industry to meet all types of end applications. Manufacturing technology depends mainly on the cylinder size and quantities. Line manufacturing concept with semi or fully automatic handling systems is well suited for higher batch sizes to reduce the cost, whereas one off requires a separate treatment in terms of machinery and process.?
Similarly, Sharma also voices, ?Our quality control system starts from design control itself which ensures that our designs should have ease of manufacturing and meeting all desired output performance criteria. Our SQA department ensures strict control over all bought out parts, detailed and efficient in house process control. Our workmen are highly skilled and ensure that defects are neither passed to next station nor accepted if passed by mistake by previous station. Our various system controls are ensured through SAP. Employee involvement and continual improvements make us proud of our quality. We at Dantal have separated our production lines keeping in mind major applications and these production lines are independent of each other and have the requisite infrastructure which is required to make the cylinder perform accurately. Our earthmoving equipment line is equipped with friction welding, UT testing machines etc. Our small cylinder line has shrink fit machines, semi automated assembly line etc. Special cylinder line has the infrastructure to handle extra long and extra big cylinders. These special infrastructures are in addition to standard machines which are available in all production lines like cutting machines, turning centres, vertical machining centres, burnishing machines, ultra sonic clearing machines, torquing and assembly machines, various test rigs etc. This entire infrastructure ensures that geometry of our cylinders is as specified and ensures long life of our products.?
Forward outlook
Growth of infrastructure industry will be the key driver for success of hydraulic business. Defence and aerospace will be another key segment to watch, with opening of the industry to private players, easing of FDI norms and offset clause will drive the growth.
Ananthagopal points out, ?The Make-in-India initiative along with huge infrastructure thrust will require a major shift in our operations. L&T Hydraulics has geared up for meeting the challenge by setting up of a new state-of-the-art manufacturing unit in Doddaballapur in Bengaluru. We have also lined up resources to develop new products which are currently not in our portfolio in order to become a ?One-Stop-Shop? for all the hydraulic needs of OEMs.?
?Our vision is to see ourselves in the world?s top ten hydraulic cylinder suppliers. To achieve this, we have already increased our spread and also gearing up to increase our capacity and capability. Export is one of our focus areas in current industry scenario and we are currently exporting to various OEMs in more than 10 countries. Recently we have marked our presence in Australia and South Africa by appointing sales force and hope to grow soon. Apart from this, we already have our office in UAE and Europe. The US market is being catered by sales representative having warehousing facilities also. Currently, more than 20 per cent of sales volume is being exported, ?asserts Sharma.
?Hydraulic cylinder is essentially a linear motor and acts as a prime mover to handle all types of loads with minimal mechanical linkages and shall always have a bright future provided the cylinder manufacturing industry feels the nerve of the customers in terms of their expectations even never thought by them earlier. We have also firmed up our plans to cater to emerging OEMs and bulk production needs of defence equipment industry,? states Jain, adding, ?We are present in the niche market of tailor-made hydraulic cylinders for various military engineering equipment, hydraulically-operated industrial machines and integrated steel plants and shall remain associated with them in their emerging demands at our parent unit in Kolkata which will also be supported by our technology centre. We have also firmed up our plans to cater to emerging OEMs and bulk production needs of defence equipment industry.? Overall the industry is set to see an upward trajectory, as market reports a upward swing in demand for CE indicated by the OEMs. However, sustained growth will also be contingent to factors such as the scale and timelines by which new CE sales materialise. The picture would be clearer by early next year.