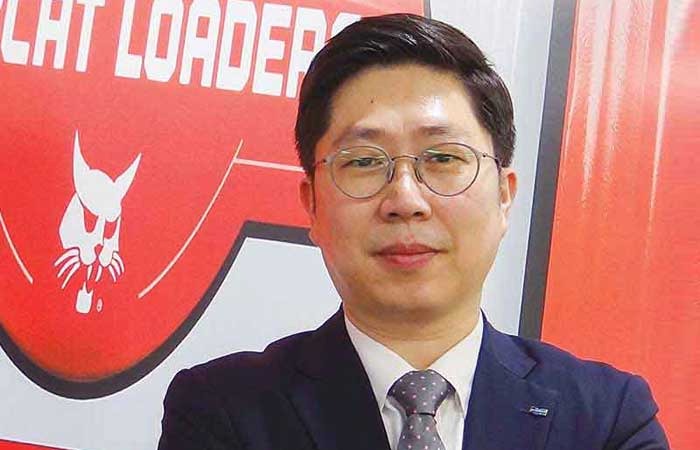 - Hyunsoo Kim, MD and CEO, Doosan Bobcat India
In today's competitive arena, equipment suppliers need to be more and more customer focussed, driving more customer-centric processes. Could you please share such initiatives with your organisation?
Customer centricity being the fulcrum, Doosan Bobcat India introduced B900 CEV stage IV backhoe loaders for the Indian market in 2021. With the rising market demand for advanced machinery and the enhancement in technologies due to mandates to adapt to newer emission norms, the associated cost for such advancements is borne by customers. Doosan Bobcat with its customer-centric approach ensures the Made in India Bobcat backhoe loaders paybacks customers with value addition right at the product design level. For instance, the B900 backhoe loader comes with a highly fuel-efficient Ashok Leyland engine, besides the largest fuel tank in its class, coupled with 10 per cent better fuel efficiency to ensure an approximate 40 hours of uninterrupted work giving us a competitive edge of around 12 hours. So once the tank is filled, the machine idle time is also relatively reduced to avoid refueling.
Nowadays, customers are becoming focused on green initiatives and savings in fuel costs and leaving a lesser carbon footprint. Could you please help us understand the green initiatives on product development undertaken by your organisation?
As our environment is increasingly being threatened by the amount of pollution, Doosan Bobcat India turns its complete focus towards green initiatives by adapting to newer technologies and making eco-friendly equipment for a pollution-free environment. Bobcat B900 CEV Stage IV backhoe loader powered by H4 series electronic engine from Ashok Leyland is amongst the most reliable and proven engines working in the construction equipment segment. The engine produces more horsepower which emits a far lesser amount of smoke and offers great fuel efficiency. Usage of such fuel-efficient equipment is not only beneficial for the eco-system but for customers in reducing the overall maintenance cost. In addition, it helps in extending runtime, ensuring greater productivity and lesser time in refueling, and acquiring fuel, thereby, reducing total operating costs.
Equipment monitoring and increased Human Machine Interface is a new Mantra in the high-end construction equipment industry. How is your organization coping with this demand for customers, and how ready are your products to meet this demand?
Remote monitoring has become a vital parameter for the selection of equipment.
At Doosan Bobcat India, every B900 backhoe loader is equipped with an exclusive Bobcat i-Connect Telematics Solution. This integrated solution helps our customers with all essential alerts on the machine's health, track live location, and remotely monitor information that enhances maintenance, security, and performance. Our customers can always stay connected with their Bobcat machine, anytime, anywhere from any smart device. The key machine parameters can be monitored remotely through mobile applications and the key benefits Include live machine location tracking, trip records, monitoring of engine RPM, fuel and temperature level, fuel contamination, battery disconnect alert, and fuel theft alerts.
What are the plans for electrification of the offering by your organisation? What typical challenges do you think the industry would face if we had to move to complete electric offering for the customers?
More and more equipment owners and companies are making strides toward sustainability and electrification, particularly in the construction equipment segment. Globally, we are the first to introduce a fully electric concept in a compact track loader machine. In India, we are exploring applications and opportunities to introduce electric equipment in consideration of customers' requirements as the new electric prototype machines and concept machines are the next way Bobcat is changing the industry.
Although there are many major barriers to the adoption of electrification in the construction equipment segment. Some of the challenges are infrastructure readiness, such as availability of charging stations, service stations, battery replacement cost, and so on. Besides downtime from charging, adoption to battery swapping and high-power charging solutions for heavy machinery equipment are also major challenges due to the remoteness of work sites and limited or unreliable access to electricity.
With the heavy increase in the expenditure for infrastructure development in this country, how do you think you are going to utilize the opportunity? Are you planning to add more products in the future? Please elaborate.
With markets reviving to normalcy, the current trend looks quite positive. Currently, with manufacturing plants operating near normal, the construction equipment industry is now focused on catching up with the backlog caused due to the pandemic since 2020. However, the recent Budget's focus on encouraging the infrastructure sector is a transformative approach, particularly with the multi-modal transportations through Gati Shakti Master Plan, driven by seven engines - roads, railways, airports, ports, mass transport, waterways, and logistics infrastructure. With markets now in the rebound phase, and with anticipated growth through the Indian Government's National Infrastructure Pipeline, the infrastructure is gearing up with projects across all sectors. This is a great opportunity for us to catch up with the upcoming projects by strengthening our channel network and ramping up the production to meet upmarket demands. Doosan Bobcat established the Chennai plant as the global hub for supplying Bobcat backhoe loaders. With most of our global suppliers having local manufacturing facilities, we have the bandwidth to introduce more variants in the backhoe loader line-up, along with skid steer loaders and compact excavators.
What efforts are being made to make your product more versatile and value for money for customers?
While the backhoe loaders are preferred in both small contracts works and larger infra projects, the versatility offered for the Indian terrain conditions is what gives an edge over the other specialty equipment. The Bobcat B900 backhoe loaders have a much greater selection and are therefore capable of a wider variety of tasks. Unlike specialty equipment, they can also be driven on roads, which makes them the better choice for projects with spread-out worksites. Being multipurpose utility equipment that does the job of both excavators and loaders, they are widely accepted with great awareness and availability across the country. Buckets at both the loader end and backhoe end can be replaced with various attachments. The versatility, agility, low ownership, and operating costs, easy financing, good resale value, and a good network of Bobcat aftermarket support make the B900 backhoe loader value-for-money equipment with an everlasting demand.