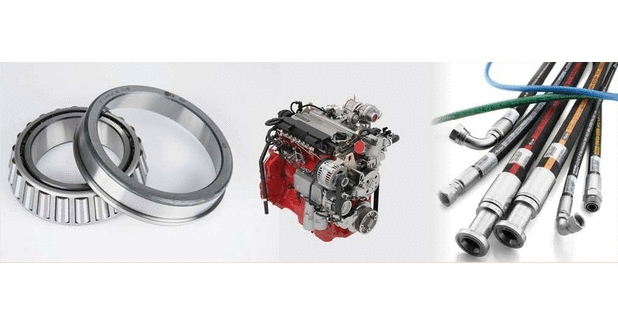 The components, accessories and spares market is all set for a renewed growth in future in the light of increased construction activities. A look at some of the key products, their importance in the equipment functions and the market trends...
Infrastructure sector including construction, mining and material handling segments continues to grow in India for the past few years with a host of positive measures from the government resulting in creation of more infrastructure projects. Many projects have completed, many projects are underway, while many more in the pipeline. This has lead to the demand growth of infrastructure equipment in construction, mining and material handling segments. Construction equipment market is on growth path registering double digit growth in the past couple of years. The trend is expected to continue in the coming at least 2-3 years. All these lead to a positive outlook for component, accessories and spares market.
Diesel engines
Diesel engines are the major source of power for various machines which are utilised in construction, agricultural, automobile and industrial verticals.
Emission is the most important factor considered when we talk about diesel engines. Major manufacturers have taken adequate steps to design engines according to the set emission norms and continue to update according to the revision in the norms from time to time. Engine design evolved drastically due to change in emission standards, fuel efficiency demand, heavy load cycles and more compact design requirements of application from customers.
Market research analyses indicate that Indian diesel engine market revenues are expected to grow at a CAGR of 4.9 per cent during 2018-23. According to industry sources, the market size of diesel engines is approximately 825,000 units.
Lubricants
Lubricants play a vital role in increasing equipment productivity and reducing total cost of ownership by reducing downtime and increasing efficiency. High performance lubricants are required to meet the demands of machines working in extreme conditions. Lubricants play the role of blood in machinery, by working on aspects like long drain interval oils, reducing downtime and increasing equipment life. This in terms have a positive impact on productivity, equipment availability, spares and consumables cost, manpower cost etc.
Effective lubrication management can help deliver value from improved productivity, reductions in lubricant consumption, and lower maintenance costs. Optimising lubrication can have a significant impact on component life, maintenance costs, and unplanned downtime so can contribute to cost savings far higher than the price of the lubricant itself.
The lubricants market in India is robust and expected to grow consistently at a CAGR of 4.64 per cent over the next five years.
Filters
Without the use of a filter, fluid power systems are incomplete. Hydraulic filters keep the hydraulic fluid contaminant free. Modern mining and construction equipment incorporate state-of-the-art technology that requires advanced filtration to maximise performance and reliability. OEM filters are designed specifically to achieve superior protection at extended maintenance intervals.
The global hydraulic filter market is forecast to grow at a CAGR of 4.4 per cent from 2018 to 2023. The major drivers of growth for this market are increasing production of construction, mining, and other equipment, development of innovative and energy efficient hydraulic filters, and increased focus on preventive maintenance of hydraulic equipment and systems.
Hose and fittings
Hose fittings have an impact on the overall efficiency and safety of a hydraulic system. Compact hose and improved fitting design reduces weight of the system, which help improve the performance of the machine. Hydraulic hoses bring about the flexibility needed for the operations of the various actuators in these equipment. Hoses also help in absorbing the high vibrations these machines are subjected to where rigid pipes or tubes will invariably fail. A hydraulic hose meets all these application requirements while serving the basic purpose of conveying pressurised fluid between various components within a hydraulic system.
Hose and fittings have applications in diversified segments such as construction and agriculture equipment, steel mills, oil and gas, material handling. When these end market do well, hose and fittings market are bound to perform and grow.
Bearings
There are various types of bearings available in the market today depending on their scope of applications in the industry. The selection of these bearings for a specific application or equipment will depend on the type of job the machine is performing. In case of heavy loads, three row roller bearings are suitable, whereas for medium to light loads, ball bearings are suggested.
In construction and mining applications, the bearings are subjected to harsh conditions such as dust and dirt. These particles enter the raceway of the bearings and start damaging them while rotating with the balls. Thus, scheduled maintenance is of utmost importance if the desired lifecycle is to be achieved.
Bearings for CE applications constitute a smaller share compared to other industry segments and automotive sector. The construction, mining and material handling equipment application would constitute 8-10 per cent of the overall market with limited information on aftermarket usage. However, with the construction equipment market is growing a faster pace, the bearings market is also positive on a proportional growth for bearings that find application in construction equipment.
OTR tyres
Off-the-road (OTR) tyres are largely used in vehicles, equipment and machinery employed in agriculture, mining, construction and industrial sectors. In the construction of roads and bridges, most of the construction equipment in use are tyre-mounted equipment, be it backhoe loaders, mobile cranes, wheel loaders or trucks, in which different types of tyres are being used. With the construction activities go up in future, there will be an increase in demand for on and off-highway tyres from OEMs and aftermarket. Mining is slowly catching up with the opening up of coal mining to private sector, which will improve the use of more and more heavy mining equipment and dump trucks that can drive the demand for mining tyres.
Indian OTR tyre market stood at 9.1 million units in 2017 and forecasted to reach 15 million units by 2023, according to a research report by TechSci Research. The market is likely to grow at a CAGR of over 9 per cent in volume terms.
Monitoring and control technologies
Monitoring and control technologies in infrastructure, construction and mining equipment has become one of the priorities in the industry these days as the government is pressing for quality and speed in project execution. Many such conditions are mandatory in tendering process, and contractors are now looking for more technology-driven equipment.
Machine control technology has endless advantages including accurate job in first time itself, greater productivity, better quality, lower operating cost, and increased the efficiency of operator. Machine control technologies bring three things to any equipment - better information, better control and better safety. With the increased focus on quality and tight deadlines for the projects, machine control is the best available option. According to industry input, the next 3-4 years should be big for machine control. A 15 per cent year-on-year growth is expected. With the next level of emission that equipment would need to meet, expected around 2021, there will be better days ahead from then on.
Using it judiciously
Judicious use of these aggregate products and solutions in various infrastructure equipment will bring in productivity and efficiency in the overall operations of these equipment, resulting in great achievements in project execution.