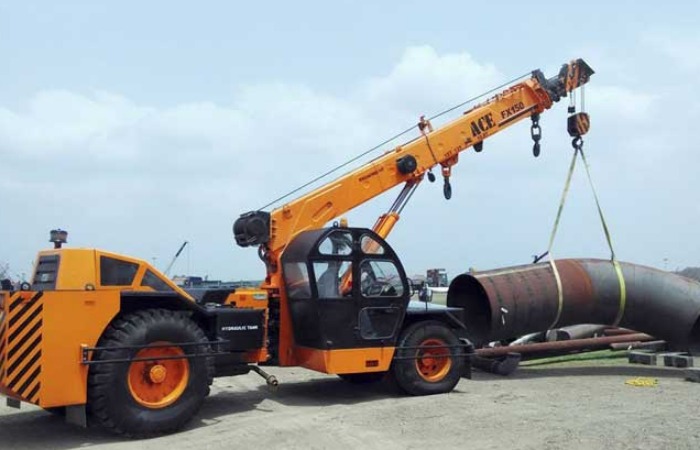 Mobile cranes in India have transformed into safer and productive with changing design and new features to meet the upcoming demands from the user market. In the current scenario, can these developments in mobile cranes lift the market sentiments?
Mobile cranes are the third-largest selling equipment type in India after backhoe loaders and hydraulic excavators. According to an Off-Highway Research report, sales of these machines hit an all-time high of nearly 12,000 units in 2018. The sales of pick-and-carry cranes have increased by around 41 per cent during 2016-18. Higher capacity mobile cranes are also gaining momentum due to the evolution of large projects in various infrastructure sectors.
Mobile cranes in India are being used almost everywhere, ranging from mining sector to manufacturing plants, infrastructure sector, logistics sector, agricultural sector, and urban renewal sector. Based upon onsite requirements, different types of mobile cranes are used by these sectors.
Pick-and-carry cranes: Demand to continue
Pick-and-carry cranes are used for loading, unloading, moving, shifting and erecting material. Currently, the pick-and-carry cranes constitute more than 90 per cent of the mobile cranes market in India. According to Karan Chechi, Founder and Research Director, TechSci Research, these cranes are in high demand among all types of mobile cranes due to their broader application range and lower price as compared to other mobile cranes. Pick-and-carry cranes are mainly used for lifting and moving of lightweight materials. As all these sectors having a requirement of moving and lifting of several materials like pole erecting, carrying pipelines, for moving captive power generating sets, moving steel structures, moving materials in warehouse, loading and unloading of large trucks in industrial sector, the pick-and-carry cranes play a critical role in key site management and load handling. So, "demand for pick-and-carry crane is continuously increasing with the rise in number of projects in different sectors, and this trend is expected to continue in near future," says Chechi.
According to Anil Bhatia, Vice President – Sales & Marketing, TIL, one of the reasons for pick-and-carry cranes dominating the Indian market is due to their lower price in comparison to other types of cranes, making it an attractive proposition for the price-sensitive Indian market. Also "the inter-site mobility, ability to maneuver around tight corners, and a pricing that would make rental operations viable are some of the considerations that go into the customer's choice of a pick-and-carry crane," he adds.
Manish Mathur, Vice President - Marketing & Product Support, Action Construction Equipment, is of the view, "Generally, India is a cost-conscious market and pick-and-carry cranes come with low owning and operating cost. Moreover, maintaining pick-and-carry crane is easy as all the manufacturers are based out of India and have vast sales and service network."
Abhijit Shinde, Head - Sales & Marketing, Escorts Construction Equipment says, "Considering the price range and working advantage, the pick-and-carry crane will be in trend for the coming years. Pick-and-carry cranes will remain in advantage over other cranes considering the capital investment against return."
Heavy mobile cranes: Gaining traction
Medium and heavy-duty mobile cranes are used in large projects in road construction, mining, railways and metro construction, refinery expansions, wind power generation, cement plants and many others. Demand for heavy-duty mobile cranes is being generated from large infrastructure projects like expansion of metro networks in different metropolitan cities, expressways construction, construction of feeder routes, logistics parks, utility
sector, mining activities, refinery expansions, etc.
According to Subhajit Chandra, Divisional Head- Mobile Crane Division, Liebherr India, all-terrain cranes are the most standard and versatile type of cranes used in construction, mining, defence, shipping, port building, rail, road, bridges, oil & gas industry, and other manufacturing industries. "All-terrain cranes dominate the market due to their versatility and operational efficiency. The use of heavy-duty mobile cranes in Indian industries is the sign of growing investments in construction, cement, steel, wind and power sectors, which are factors for the market growth."
VG Sakthikumar, Managing Director, Schwing Stetter India says, "Though the current demand is dampened by the continuously evolving crisis situation, it is projected to be strong for medium to heavy-duty mobile cranes owing to the metro and bridge projects underway across India. A few refinery expansion projects are also expected require large number of cranes of up to 250 T."
Bhatia says, "Demand of mobile cranes, especially in the medium to high capacity cranes in India has been generally institutional. Some amount of demand has also been coming from roads, bridges and metro rail projects. Contractors are looking for cranes that deliver more productivity and, most importantly, greater safety." On the emerging scenario, he adds, "The infrastructure sector has been witnessing many complex and huge projects that require heavy lifting jobs. In view of this, rough-terrain crane manufacturers are coming up with products that have higher lifting capacities and more robust features to work in various jobsite conditions."
Application trends in mobile cranes
According to Chechi, pick-and-carry cranes are mostly used as a material handling tool in various onsite works like mining sector, manufacturing plant, infrastructure sectors, logistics sector, agricultural sector, urban renewal sector and utility sector. Lifting and moving of lightweight materials in various job sites in these sectors is being done through pick-and-carry cranes. So, the demand for pick-and-carry cranes is being generated from all the sectors having requirement of material handling tool.
Although pick-and-carry crane is dominating Indian mobile cranes market, the demand for heavy duty mobile cranes is also increasing in the country due to several investments towards the infrastructural development, increase in mining activities and development of utility sector.
Mathur explains on the trend, "The medium and heavy-duty mobile cranes segment is growing rapidly in India in the last couple of years, especially between 25T to 80T category. The reason is availability of new machines at reasonable price by all Indian manufacturers with most of the components sourced from India. This has reduced the maintenance cost and the high availability (being new equipment) of these equipment made them very popular among both rental companies as well as end-users. In recent times, metro rail, highway bridges, oil refineries and also oil and gas wells across India have driven the demand of these cranes."
There is an increasing requirement for a broader range of higher lifting capacity quality products, with long life expectancy and comprehensive after sales service for such projects.
Chandra elaborates on the application trend in mobile cranes, "In India, we can easily notify many customers with mobile cranes capacity range 100T-200T and crawler cranes capacity range 150T-300T and the rental rates have come down substantially. However, in mobile cranes capacity range 450T-1,200T and in crawlers capacity range 350T-1350T, we can still expect some good movement of cranes in future."
Shinde adds, "Over the past 5-7 years, the market of medium and heavy-duty cranes in India is on the growth path and will continue the trend as government is giving major thrust as well as investment in roads and bridges, mining, shipyards etc."
Technology trends
There was a gradual shift visible in the pick-and-carry crane models in terms of design and features to address the changing needs of the customers. Leading players in pick-and-carry cranes have in the recent past introduced new designs and features in their range of cranes. Mathur says, "In last couple of years, demand from most of the project sites is for Nextgen pick-and-move cranes over traditional Hydra. Nextgen range offers many advantages. They are safer compared to the traditional ones because of their two-part chassis, front cabin and advanced dual circuit brake system and also most of the Nextgen cranes comes with synchromesh advance transmission used in commercial vehicles and hence bigger capacity cranes can be designed easily."
According to Shinde, there are changes in buying pattern with pick-and-carry cranes. Considering the safety requirements in metro and other projects, customers have now started moving towards safe cranes.
He adds, "Looking at the new safety requirements, Escorts has done changes in its product portfolio. Recently, we have introduced NXT series of crane, which are advanced version of hydra with additional safety features like front outriggers and safe load indicator with hydraulic cut off. There is increasing demand of cranes in higher tonnage and height along with safety features. We are working on these upcoming requirements and will soon be launching some of these models in the current fiscal."
Bhatia elaborates on the new design features, "Our pick-and-carry cranes are equipped with a host of innovative features like the 360-degree non-continuous slew, carry deck, microprocessor-controlled safety system etc among others. Mobiload 415, recently launched by TIL, is a new version of pick-and-carry crane, with a maximum capacity of 15 MT at 2.5 m radius over front for pick-and-carry operations and 8 MT at 2.5 m radius for 360-degree slew on-tyre duties. The crane features a four-section boom with extended boom length reaching from 6.5 m to 17 m."
Another trend in the pick-and-carry cranes is the introduction of multi-utility models with various attachments to perform different handling functions in one crane. These multi-utility features are gaining momentum in the market. Says Mathur, "Multi-utility pick-and-carry crane is relatively a new concept but industry has accepted it wholeheartedly. Most of the end-users start preferring these machines over conventional machines but the real challenge of these machines is in the retail segment due to their slightly higher cost. Once the end-users start offering reasonable hiring of the machines, this type of cranes will grow exponentially."
Shinde is positive on this new trend as he says, "Going forward, demand for multi-utility pick-and-carry cranes is expected to grow. Attachments like man carrying basket, unloading rake etc will come in demand."
Fuel efficiency and productivity
Mobile cranes are one of the largest used equipment in the country at various projects and applications. So it is imperative for these equipment to be more fuel efficient and productive. Sinde says, "In today's scenario, fuel economy is one of the main features and for that we are using the engines and drivelines of the renowned manufacturers including our own on hydras. We are also providing SLI, ATS and EMS as option as well as standard fitment based on the model. We also use high quality steel and components like cylinders, and pumps from renowned manufactures which make our cranes more reliable."
Bhatia elaborates on some of the productivity features in TIL's new crane, "Our new RT 880, 80-tonne rough terrain crane has a full five-section telescopic boom of 12.1 to 43.8 m. It is compact and fully maneuverable and is extremely stable with a 4x4 wheel drive. There are options for 10.1 m fixed lattice and 17.1 m tele lattice, resulting in a total extended boom length of almost 61 m and a maximum tip height of 63.5 m, enabling the crane to lift loads at a greater height. This machine comes equipped with a reliable and proven Load Moment Indicator-based control system for the crane operations sophisticated CAN-based operator information and interactive system as well as an advanced telematics system."
On the XCMG crane features, Sakthikumar explains, "XCMG cranes are fuel efficient as a result of load sensitive designs and compatibility of various components achieved through years of design experience. Various intelligent control features are available such as variable outrigger positioning, calibration-free boom assembly, quick switch over between operating modes, automatic elevating compensation in all-terrain cranes and so on. Boom systems feature single-cylinder pin locking for safe and convenient operation."
On fuel efficiency of Liebherr cranes, Chandra adds, "Liebherr models of all-terrain crane LTM1450-8.1 450T capacity and LTM1650-8.1 700T capacity cranes are eight-axle cranes with single engine. Single engine has enough power to supply both in superstructure and carrier and they are well equipped with all the new upcoming emission norms
in India. Due to one engine, maintenance cost is reduced. The best benefit customers can get in India is fuel-efficient operation."
Skill development in operators
A trained and qualified operator is the necessity for mobile crane operations as he can operate the crane safely and with optimum utilisation of technology. Shinde says, "The pick-and-carry crane market in India is maturing year after year and accordingly the number of trained/experienced operators is also increasing. Additionally, we conduct operator/maintenance training programs at our exclusive training centres in Faridabad and Bengaluru. We also conduct training programs at sites of our fleet owners."
Bhatia adds, "Every crane we sell is a high-value equipment and we recognise that only a trained operator is able to capture the machine's full potential. The operator's skill becomes critical towards reducing costly downtime, increasing ROI as well as improving safety. Our round-the-year training modules not only enhance knowledge and skills but provide the competitive advantage."
Sakthikumar is of the view,
"Skill development in both operation and maintenance has recently been formalised through IESC under NSDC and is likely make great impact on safety at job sites in India with standardised evaluation parameters for operators."
Handling it safe
Safety plays an important role in crane operation, be it a pick-and-carry crane or a heavy-duty mobile crane. These cranes if not operated as per the operating standards, it can cause huge damages to men and materials. Crane OEMs have adequate safety features in their equipment. Says Shinde, "As far as our current heavy-duty range of cranes are concerned, other than the safe design in terms of overall balancing of the machine, they are equipped with outriggers, safe load indicators, anti-toppling system, telematics etc, as option in some models and standard fitment in
some models."
On safety in TIL cranes, Bhatia comments, "TIL's safety commitment begins with the design and engineering of our products and extends to operator and jobsite safety solution. After all it is imperative that our customers go home safely, everyday." He adds the important safety features, "All TIL mobile cranes are equipped with electronic safe load indicators with provision of audio-visual warning of impending load moment limit and also feature motion-cut system so that the threshold cannot be crossed. In addition, there is provision of 'black box' to decode usage history."
Sakthikumar says, XCMG all-terrain cranes feature auto tensioning of Superlift attachment while assembly to eliminate errors due to operator misjudgement and achieve balanced boom system with Superlift.
Chandra observes, "With increased investments in infrastructure projects and entry of global players, safety norms are now of utmost importance and are becoming more and more stringent. As a result, the market is moving towards larger capacity cranes, i.e. 300T capacity to 800T capacity all terrain cranes since the end-user is looking for more stability in material handling." Liebherr manufactures cranes as per EN13000 standard. In EN standards, The European Conformity Machinery Directive (ECMD) gives the essential health and safety requirements for machinery.
Current market scenario
In the current year, due to the outbreak of COVID-19 pandemic, construction projects and several ongoing projects have halted, or the pace of activity has slowed down. "In this situation, the mobile cranes market is also facing a de-growth. But the resumption of mining activities, high demand for logistics services and resumption of operations in several warehouses will create a demand for pick-and-carry cranes instead of heavy-duty mobile cranes,"
Chechi says.
On the trends in the heavy-duty mobile cranes, Chechi elaborates, "As infrastructural development and industrial activities are increasing in India due to private sectors as well as government investments, the demand for medium and heavy-duty mobile cranes has also been growing over the last couple of years. But, due to COVID-19 situation, investments in various sectors and ongoing projects of different sectors like infrastructural development, industrial activities, and mining have been stopped suddenly. On account of this, the medium and heavy cranes segment of mobile crane market in India is expected to face de-growth in the current year. So, it is expected that overall mobile crane market will face a de-growth of around 26 per cent in the current year compared with the previous year."
Bhatia observes, "A steep deceleration of growth is envisaged, for production (supply) and consumption (demand). Immediate concerns across the CE segment are revenue losses, project cost overruns, interest burdens being accrued, delay in completion of various projects among others." However, "given the fact that infrastructure propels growth and is critical for making India self-reliant, the government's focus on carrying out the projects with speed will have the desired result for the CE industry including mobile crane segment," he adds.
Shinde elaborates, "Although this pandemic has drastically impacted on the overall construction activities as well as construction equipment industry, from the beginning of June 2020, things have started moving in most parts of the country. People have started resuming their business activities and this is becoming new normal with which we all have to move forward for some more time.
In May 2020, the mobile cranes market was down by 80 per cent but in June the overall response from the market is much better than May. It may take a little more than a quarter for mobile cranes market to come back to the growth path." On a broader perspective, he feels that the industry is expected to come back to normal by October 2020. "New projects which are already announced by the government and the gap created because of the pandemic will improve the demand but better quality, reliable and safe products will be in demand," he adds.
Sakthikumar is of the view that in spite of the continuously evolving crisis situation, it is projected to be strong for medium to heavy-duty segment mobile cranes owing to metro and bridge projects underway across India. A few refinery expansion projects are also expected to require large number of cranes of up to 250T.
Slow and steady recovery
After a slowdown, the market was picking up gradually since the second half of the fiscal 2019-20. The onset of COVID-19 has put a brake on the prospects of the mobile cranes market for now. According to Chechi, the mobile cranes market in India is expected to recover in the next two to three years and grow at a moderate pace. He adds, "The demand for mobile cranes over the next two to three years will emanate from upcoming industrial projects. The demand will also be generated from the government sector as it is expected that government will focus on resuming the ongoing projects and with more investments towards the development of infrastructure. Anticipated growth in e-commerce, FMCG, pharmaceuticals, and cold storages sector is expected to lead to the growth of mobile crane market for handling different logistics operations and warehouse operational activities. Exporting and importing activities will also grow over next two to three years, which will generate demand for mobile cranes for freight loading and unloading activities."
Mathur says, "Infrastructure and retail segments constitute 80 per cent of our volume and in all probability will behave in a bullish way from third quarter (Q3) of the fiscal onwards. As the industry has not done any business in the first two months of Q1, the overall business in this period may be down to 20 per cent but we believe that in second quarter (Q2), we will achieve 60 per cent and in Q3 we will reach our
level of last year and will register a grown of 15-20 per cent in fourth quarter (Q4)."
Chandra says, "Due to the unexpected COVID-19 impact, we can expect some challenges in terms of upcoming projects in India. However, we expect that the move in infrastructure, cement, wind sector, and fertiliser sector to certain extent can create the demand for mobile cranes. Government's plan for more highways and expressways will boost the demand for construction equipment and high capacity all terrain cranes."
According to Sakthikumar, the market is recovering but at a very slow pace. He adds, "There is very good movement in infrastructure sector, especially road projects like Bharatmala and greenfield expressways, high-speed rail, metro rail projects where the government has approved to start work with limited workforce due to COVID-19. So customers will shift towards
more mechanisation to order cranes and road machinery to speed up
their work."
The demand for mobile cranes will be visible only once the infrastructure market is back on track. This will take at least a year and also it will take more time for the market to stabilise. The silver line in this difficult time is that the opportunities of infrastructure development are immense in the country and a lot has to be done in the coming years.
QUOTE
"Skill development in both operation and maintenance is likely to make great impact on safety at job sites in India with standardised evaluation parameters for operators."
- VG Sakthikumar,
Managing Director, Schwing Stetter India
-----
"Maintaining pick-and-carry crane is easy as all the manufacturers are based out of India and have vast sales and service network."
- Manish Mathur,
Vice President - Marketing & Product Support, Action Construction Equipment
-----
"Considering the safety requirements in metro and other projects, customers have now started moving towards
safe cranes."
- Abhijit Shinde,
Head - Sales & Marketing,
Escorts Construction Equipment
------
"All-terrain cranes dominate the market due to their versatility and operational efficiency."
- Subhajit Chandra,
Divisional Head- Mobile Crane Division, Liebherr India
------
"Rough-terrain crane manufacturers are coming up with products that have higher lifting capacities and more robust features."
- Anil Bhatia,
Vice President – Sales & Marketing, TIL
--------------
"Mobile cranes market will face a de-growth of around 26 per cent in the current year compared with the previous year."
- Karan Chechi,
Founder and Research Director,
TechSci Research
---------------