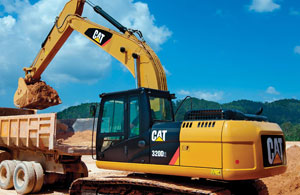 Building on the solid performance of its 320D predecessor, the new 320D Series 2 hydraulic excavator is an exceptionally reliable, highly productive machine that lowers operating costs through reduced fuel consumption and simplified routine maintenance. The 320D Series 2 machine features a new engine, powerful hydraulic system, durable main structures and a refined operator station. Depending on the region, the 320D can be configured with a standard or a long undercarriage, designated the 320D L. The 320D/D L Series 2 uses a Cat? C7.1 engine that meets US EPA Tier 2, EU Stage II and China non-road machine emission stage 2 regulations.
The new engine, rated at 104 kW (139 hp), uses an electric governor to control the mechanically actuated, low-pressure, fuel-injection system. The new system ensures optimum performance and reliability in areas where fuel quality is less than premium.
Hydraulics, structures, operator environment
The 320D/D L Series 2 implement hydraulic system, with a main-relief pressure of 35,000 kPa (5,076 psi) and maximum oil flow of 2 x 202 L/min (53 gpm), provides high hydraulic horsepower for digging and lifting, as well as for using heavy-duty, hydraulically powered work tools. Available couplers including the Center-Lock Pin Grabber allow the operator to quickly change work tools and move from task to task for optimum machine utilisation. Field-installed auxiliary-hydraulic kits are available with custom hoses and tubes ready for quick installation.
Work tools, serviceability
The versatile 320D/D L Series 2 can use a wide range of buckets, either pin-on or coupler-type, along with a selection of ground-engaging tools, to fit the machine to its digging environment for optimum performance and durability. Buckets feature precise geometry for easy loading, which speeds digging cycles, increases production, and conserves fuel. The selection of Series 2 work tools includes grapples, shears, hydraulic hammers, multi-processors, pulverisers, vibratory-plate compactors, rippers and rip-and-load packages.
Cat C6.4
The Cat C6.4 with ACERT Technology introduces a series of evolutionary, incremental improvements that provide breakthrough engine technology. The building blocks of ACERT Technology are fuel delivery, air management and electronic control.
ACERT
Cat? hydraulics deliver power and precise control to keep material moving.
Operator comfort
Caterpillar offers the most intuitive and easy to operate excavators while providing great all around visibility and exceptional operator comfort.
Structures
320D is designed to handle the most rugged operating conditions, while providing long life and value. Robust undercarriage: A solid foundation built tough to absorb the stresses of everyday work. Undercarriage options: Choose the undercarriage option that best matches your application. Rugged structures: Structural components and the undercarriage are the backbone of the machine's durability. Caterpillar places a lot of emphasis on the machine's durability during the designing and manufacturing of its excavators.
Booms, sticks and bucket linkages Built for performance and long service life, Caterpillar booms and sticks are large, welded, box-section structures with thick, multi-plate fabrications in high stress areas. Work Tools Attachments The 320D has an extensive selection of work tools to optimise machine performance. Wide variety of work tools: Caterpillar offers a complete line of work tools to match all application needs. These include hammers, grapples, multi-processors, shears, pulverisers, vibratory plate compactors, rippers, etc.
Caterpillar buckets: The industry's broadest selection of buckets that help optimise machine performance and match application needs. The buckets range includes general purpose buckets, heavy-duty buckets, heavy-duty power buckets and ditch cleaning buckets.
Caterpillar Ground Engaging Tools (GET): Choose from a wide variety of tips that maximise bucket and machine performance. Side cutters and sidebar protectors are also available.
Couplers: Hydraulic pin grabber plus allows quick and easy tool changes without having to leave the cab. Picks up a large variety of tools equipped with standard pins. With dedicated coupler no loss of tip radius, maximising the breakout forces on the 320D.