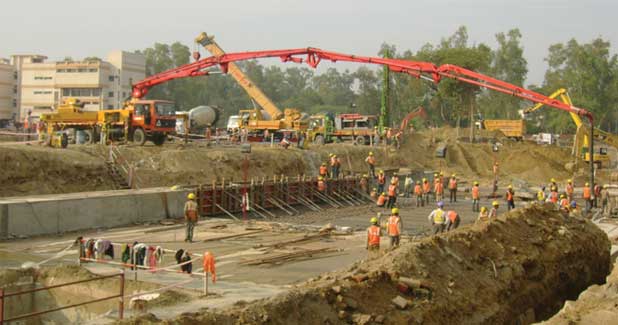 The government's various initiatives on revival of infrastructure sector and favourable policies have driven the growth of Indian construction equipment market in the past 2-3 years.
Mahesh Madhavan
elaborates on the market scenario over the years.
India remains a bright spot for investors, given the country's demographic dividend and need for huge spending on infrastructure development, not only to meet the infra deficit, but also to reignite the pace of economic growth. The government's intense focus on developing world-class infrastructure, backed by its ability to facilitate quick implementation of projects, financing and simplification of procedures for project awards and clearances, are factors that are going to drive infrastructure in the years ahead.
The infrastructure construction equipment (ICE) industry has had its ups and downs over the last decade. The rise till 2007 was followed by a marginal decline post the global financial crisis in 2008. It fared reasonably well till 2011 followed by an industry slump, driven by the Indian economic environment that lasted till 2015. The 2011-12 levels (in volume terms) were again reached after five years in 2016-17. The over 24 per cent jump in 2017-18 is attributed to resurgence in buying driven by the legacy clean-up of stalled government orders, particularly in the roads sector. The Public-Private Partnership (PPP) renegotiations, adoption of Hybrid Annuity Model (HAM) which saw many stalled orders being revived led to a spurt in purchase. The slump from 2011-12 levels was due to a mix of policy paralysis, land acquisition challenges and resultant implementation issues. Interestingly, the two five-year periods from 2007-12 and 2012-17 saw similar cumulative construction equipment (CE) sales (in volume terms) of around 290,000 for each of the five-year period, reflective of the stagnant nature of the market during the last decade. The subsequent estimated rise in CE sales during the current year (2018-19) of 15 per cent provides hope that the ICE industry can look forward to better times in the next five years.
The CE market (new equipment only) in India grew at about 24 per cent in volume and was valued at Rs 345 billion during FY 2017-18.
The growth in the equipment industry continued largely driven by sectors like roads and railways. Other sectors like real estate and mining were yet to recover.
Investment in infrastructure is driving growth opportunities. Recently, there has been a spurt of government announcements particularly in the roads sector to kick-start growth through public spending till private investments kick in. The government has decided to go down the route of massive increase in targeted spends in capital expenditure and infrastructure to revive economic growth. The capex target of over Rs 50 trillion is a significant increase of ~ 21.4 trillion in construction activity. Schemes and projects like Sagarmala, Bharatmala, Jal Marg Vikas, Smart Cities, AMRUT, Housing For All, Expressway network, Diamond Quadrilateral for high-speed railways, Dedicated freight corridors, River linkages and Waterways are some of the infrastructure programs across the country that are expected to accelerate demand for construction equipment in the coming years.
Key segments driving demand
For the next two-three years, roads and highways would be the main growth drivers of construction equipment. Simultaneously, the coal sector is expected to see greater demand for equipment as Coal India is gearing up to meet the one-billion tonne target by 2020 as set by the government. At the same time, it is encouraging to see captive coal mines looking to invest in technologically superior equipment.
Urban Transport and Airports have started evincing interest in technologically advanced equipment and this trend is expected to continue at least for the next five years. The real estate sector has shown negative growth over the past few years and has an inventory of over seven lakh unsold units across the top 10 cities. This will take over four years to clear, but the silver lining is the commercial sector where demand for office space by the IT/ITeS and service industry continues unabated. From a segment-wise share, earthmoving equipment accounted for more than 67 per cent of the overall volume, which was largely led by backhoe loaders and hydraulic excavators.
Earthmoving equipment
The Indian construction, mining and allied equipment industry continues to be sensitive to the demand for backhoe loaders and hydraulic excavators. The backhoe loader alone contributed to 40 per cent of the overall sales by volume during FY 2017-18, a very India-specific phenomenon. Backhoe loaders in China account for hardly 0.5 per cent of the overall construction equipment sales while in North America it accounts for 8.5 per cent. Backhoe loader is the equipment of choice as the market shifts from manual labour to mechanisation. Hydraulic excavator usually is considered as an upgrade to backhoe loaders by most customers. The trend noticed across most customers is that they buy a hydraulic excavator within 5-6 years of the purchase of a backhoe loader.
The segmental share of equipment with earthmoving category for FY 2017-18 can be summarised as below:

Approximately 39 per cent of the sales were from all type of roads. This also includes the sale to quarries, which largely supply to road projects
While 14 per cent sales were from irrigation and railways
Less than 17 per cent sales were from general construction and real estate projects, and
The rest from other segments like rural, mining etc
Concrete equipment
The concrete equipment industry also continued to show a strong growth, even though the largest contributor, real estate, is yet to recover. This growth was led by demand from railways, concrete roads and irrigation projects. Roads and highways saw intense growth; 85 per cent of the concrete equipment sales during FY 2017-18 came from roads, railways, power, and irrigation segments. Real estate and general construction accounted for 10 per cent of the sales and is yet to pick up. This is contrary to how the industry was 4-5 years back, where real estate accounted for more than 50 per cent of the total concrete equipment industry. Transit mixers, concrete pumps and self-loading concrete mixers (SLCMs) are the most preferred equipment rented by contractors and institutional segment. During FY 2017-18, close to 30-35 per cent of the transit mixer sales and about 10-12 per cent of the SLCM sales were towards the rental/hirer segment. Transit mixer volume sales to institutional segment increased by 8-10 per cent during FY 2017-18.
Road equipment
Most equipment mainly find applications in national highways. Equipment such as pneumatic-tyred rollers are mainly used in national highways and for tarmac construction in airports.
In the past 1-2 years, state highways have started using the equipment similar to the ones used in national highways - the traffic density of roads has increased manifold, forcing most state highways to be upgraded to four-lane or sometimes even converting them to national highway status.
Further, large private players have started to participate in state highway projects, bringing in new technology which earlier was restricted to national highways alone. The volume of state highway roads have prompted these players to participate in the same, which earlier was ignored. Another primary reason is that most state highway projects are still awarded on EPC mode, thereby reducing their risk compared to BOT. Road construction historically has had a high penetration of rented equipment like backhoe loaders, hydraulic excavators and compactors. In the immediate future as well, it appears that large contractors and developers propose to hire capital-intensive equipment like crushers, motor graders, chain dozers and pavers, instead of purchasing them outright.
Material handling equipment
The material handling equipment (MHE) industry has a wide array of products specific to the needs of different user industries. Pick-and-carry cranes, tower cranes, crawler cranes and truck-mounted cranes such as all-terrain, rough terrain and truck cranes are the key products used in the construction industry.
Real estate, urban development projects, power, railways, ports and industrial segments account for close to 85 per cent of the MHE sales. Other segments where MHE is sold include mining, irrigation, quarry and road segments. Over the last two years, the sales of pick-and-carry cranes have increased by around 41 per cent. Power sector is the largest user of all other cranes - tower cranes, truck cranes, crawler cranes, all-terrain cranes and rough terrain cranes. Metro rail projects across the country also use high-capacity cranes like rough terrain and truck cranes. During FY 2017-18, there was a decrease in demand for rough terrain cranes from the government sector since projects were outsourced to private contractors who preferred to buy truck cranes instead of rough terrain cranes to execute the government projects. The rental market in the MHE segment, which was previously very strong, witnessed a steady drop during the period 2012 to 2015. However, the industry picked up pace in 2016. There is a good opportunity for heavy capacity cranes like all terrain cranes, rough terrain cranes and truck cranes in the rental segment, providing job contract services for oil and gas, refinery, power and metro rail segments.
Impediments for growth
The government, in the last five years, has done many structural changes across the segments to ensure that the infrastructure development can be carried out at full pace. But the results of these changes are yet to be seen in some segments. The current demand for equipment is driven largely by the roads and highways segment. Some of the key impediments for the equipment industry to realise its potential would be:
Real estate and mining segments are still lagging behind. The government should ensure providing some boost to these segments for them to come back to the growth cycle
On reviving PPP in infrastructure projects, in the short run, the government might be able to infuse funds to kick-start projects. But in the long run, this move might not be sustainable.
Flagship projects like National Highways and Infrastructure Development Corporation (NHIDCL) focussed on North-East India is still lagging behind due to various issues like terrain, climate, unfavourable working conditions etc.
Strategies that will lead to increase in use of equipment across segments There could be disruptions in the industry, both from a product and service perspective. Some likely developments are given in Table above. As can be seen in the Table, there is scope for a few innovative disruptions; it would be interesting to see what would set these in motion.
The industry is cautiously optimistic with faith partly restored with the recent push in roads, irrigation, railways and coal mining sectors. More reforms are anticipated to follow in other sectors boosting construction activity and in turn equipment sales. Some enabling activities that the government could action:
Land acquisition role has been shifted to states and more progressive states could benefit
by being proactive here. Ease of doing business at the Central level through DIPP initiatives and at the state level through regional action could bolster the investment climate.
Like in the case of the coal sector, innovation is required in iron ore licensing through transparent processes.
Quarry blocks need to be allotted once they have received the required clearances from the environment and pollution boards.
Common emission standards and rules need to be implemented for tyre- and track-mounted equipment.
To eliminate financial stress, the industry needs quick and easy access to capital as well as reduction in interest rates for construction equipment.
The initiatives taken by the government have started showing results from early 2016. The policies favouring infrastructure development has provided a fillip to the CME industry's growth potential, which became evident as sales of equipment rose to over 24 per cent during 2017-18.
Mahesh Madhavan is Head- Construction & Infra Practice at Feedback Consulting.