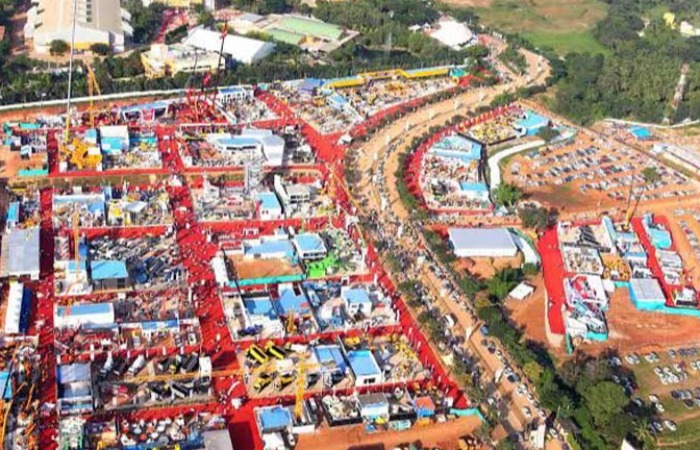 According to a report from Off-Highway Research, construction equipment (CE) demand peaked at 68,193 units in 2011, but sales declined successively for the next three years to 44,514 units in 2014. The trend reversed and the market started to grow as a result of the government's renewed focus on infrastructural development and related policies and administrative reforms. The construction equipment market grew by 2 per cent to 45,371 units in 2015, 37 per cent to 61,965 units in 2016 and 18 per cent to 73,031 units in 2017, breaching the earlier high of 2011.
Sales grew by an impressive 35 per cent to peak at 98,286 units in 2018 but fell 15 per cent to 83,470 units in 2019. Demand declined a further 12 per cent to 73,593 units in 2020, a much less severe fall than the industry's expectation at the start of the pandemic. The market mitigated the impact of the Covid-19 well and despite a severe second wave of the pandemic, registered a 12 per cent growth with sales of 82,218 units in 2021.
Among large volume equipment, crawler excavators grew 33 per cent in 2021, mobile cranes 34 per cent and wheeled loaders 31 per cent. Mini excavators witnessed an impressive rise of 50 per cent, while rigid dump trucks registered very strong growth of 70 per cent in 2021. Telehandler market also expanded by 30 per cent, motor graders sales increased by 5 per cent and skid-steer loaders by 4 per cent in 2021.
Based on all the foreseeable factors at the moment, the Indian CE market is expected to follow an upward trend in the next five years. Off-Highway Research forecasts it to grow by 11 per cent to 90,950 units in 2022 and a further 8 per cent to 98,550 units in 2023. Sales of CE are predicted to fall 7 per cent to 91,800 units in 2024 but will bounce back with a 9 per cent growth to 100,100 units in 2025 and a further 6 per cent to peak at 106,200 units in 2026. Above forecast assumes that no further wave of Covid-19 will hit the country.
Almost all types of equipment will witness growth, though the market will continue to be dominated by the five most popular products: backhoe loaders, crawler excavators, mobile cranes, compaction equipment and wheeled loaders. Backhoe loaders will continue to remain the largest selling type of equipment, but crawler excavators would grow at a faster pace. In addition, the market for mini excavators and skid-steer loaders will expand significantly from current levels.
Said Arvind K Garg, Executive Vice President and Head, L&T Construction & Mining Machinery, "Komatsu's bulldozer model D85 is already an undisputed market leader in the 200 HP segment. At the same time, L&T's vibratory compactors are making deep inroads into the market. They are poised to corner a large chunk of the market very soon. We are upbeat about the sector's growth prospects and emerging opportunities supported by the Government's drive for infrastructure development and ambitious programmes like Gati Shakti and the ambitious National Pipeline Project."
Anand Sundaresan, Managing Director, Ammann India, said, " Undoubtedly, India offers a huge opportunity for the growth of CE industry, due to the government's focus and trust on infrastructure development. The recent budget has been quite encouraging for the CE industry. The budget is an investment-oriented budget with over 35 per cent increase in capex outlay for infrastructure development covering road, river linking, railways and affordable housing amongst others. The Prime Minister Gati Shakti master plan for express way for faster movement of goods and people will spur road construction activity. Further, the announcement of the growth of highway network by 25,000 km in 2022-23 will help the CE industry. So overall there are huge opportunities for the CE industry to grow including our products."
"Schwing Stetter India has appointed close to 26 dealers for our excavator market and is continuously expanding the dealership network for our SLM sales. The market is looking very upbeat for the Schwing branded products and the product portfolio which now encompasses the complete range for concreting, road construction, earthmoving and mining applications. We foresee a 53 per cent increase in sales for 2022," said VG Sakthikumar, Managing Director, Schwing Stetter India.
"The context to look at this would be the government's thrust on infrastructure development as announced in the current year's budget, with significant outlay increases across several sectors. These projects across roads, highways, ports, railways, irrigation and urban and rural infrastructure will be the demand drivers for our growth going forward. Roads and water supply have the highest intensity of use of CE among the major identified demand drivers. The increases in the above-mentioned outlays are enabling drivers for a healthy growth in the CE industry this year, avers Rahul Shorey, National Head – Construction, Tata Hitachi Construction Machinery Company.
Dheeraj Panda, Chief Operating Officer, Sales, Marketing and Customer Support, Sany Heavy Industry India, feels that the market scenario in India looks promising. He added, " Various future projects of the government like railway projects, flyover projects, metro projects are the most promising, which will certainly drive the demand for equipment in future. Numerous on-going development projects such as metro, railway, bridges and flyovers have skyrocketed the demand for construction equipment in the market."
Said Kennady V Kaipally, Country Manager, Bonfiglioli India, " We have a very positive outlook on the future of power transmissions products in general and our products in particular, for the Indian market. Indian construction, mining and material handling equipment are witnessing a multi decadal structural uptrend. Infrastructure requirements coupled with need for mechanisation and shift to specialised and more productive equipment, remain the key growth drivers for this uptrend. These growth drivers will generate a need for innovative power transmission solution that must meet specific local Indian requirements."
Focus on Excon
Scheduled from May 17-22 at the Bangalore International Exhibition Centre (BIEC), the expo will spread over 300,000 sq m of display area and is expected to attract over 1,000 exhibitors from India and abroad including countries like USA, UK, France, Germany, Italy, UAE, South Korea, Singapore and Sri Lanka. The five-day exhibition expects to attract over 40,000 business visitors from all over the world. At the recent roadshow in Mumbai, Sakthi Kumar said, "Our theme this year is on "Building India for a New World: Competitiveness, Growth, Sustainability, Technology. Excon will exemplify the role of smart technologies and innovation in India's infrastructure development to achieve the vision of making India the global hub for construction equipment manufacturing by 2030."
Some of the highlights of the expo includes exclusive focus on alternate fuels, AI pavilion, finance plaza, skills, women operating construction equipment and machinery, equal opportunity awards for women, MSMEs, digital transformation besides sustainability and safety, among others.
Here is what the industry is set to experience at the 11th Edition of EXCON – scheduled from May 17-22 at the Bangalore International Exhibition Centre – an event with the acceleration of infrastructure creature at its heart.
The infrastructure sector is a key driver of the Indian economy. It is highly responsible for propelling India's overall development and enjoys intense focus from the Government for initiating policies that would ensure the time-bound creation of world-class infrastructure in the country. "The allocation of Rs 20,000 crore in the Union Budget for PM Gati Shakti - multi-modal connectivity for the states with focus on roads, railways, airports, ports and waterways besides expansion of 25,000 km of National Highway Network in 2022-23 would give tremendous push for infrastructure development in the country," said Deepak Garg, Member, EXCON Steering Committee and Managing Director, Sany Heavy Industry India, at a recent EXCON road show in Mumbai.
The Indian construction equipment industry, being the third largest market in the world, currently holds a prominent position in the global construction equipment landscape. "Government of India's ambitious Rs 111 lakh crore National Infrastructure Pipeline would augur well for the Indian construction equipment industry to become the second largest construction equipment market in the world, with a size of $25 billion by 2030, said VG Sakthi Kumar, Member, EXCON Steering Committee and Managing Director, Schwing Stetter (India).
Garg shared, "Encouraging the adoption of world-class technologies for speedy implementation of infrastructure projects is the current need of the state. Excon will not only deliver the best-in-class technologies along with cost-effective solutions, but will also bring more awareness among all stakeholders on the latest developments in construction equipment industry."
Leading construction equipment manufacturers at the exhibition would demonstrate the versatility of machines, sophistication in construction technologies and more importantly showcase the cost effective solutions for builders and contractors for speedy implementation of projects with focus on quality, safety and environmental sustainability.
The Indian Construction Equipment Manufactures' Association is the Sector Partner and the National Highways Authority of India and Builders Association of India are supporting Partners for Excon.
Key features at EXCON
Visitors can expect more than 300 product launches along with numerous B2B meetings and networking forums.
Special focus on Women in Infrastructure & Awards.
Special pavilions on Academia, Artificial Intelligence, Alternate Fuels, Finance Zone and Start-ups.
Industry conferences by CII, BAI and ICEMA.