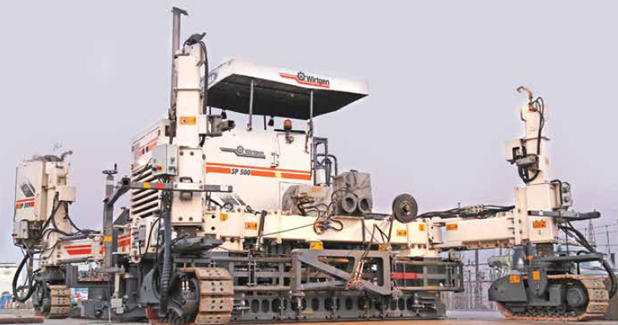 Renewed thrust on building new concrete roads by Indian government spells a boom for concrete paving equipment industry in India.
Most of the highway network in USA was built with concrete roads and some stretches of the Golden Quadrilateral project are also on concrete. Mumbai-Pune Expressway (fully operationalised way back in 2002), constructed by HCC and L&T was perhaps an iconic concrete road project in India. A new era is about to begin. Nitin Gadkari, the then Minister for PWD in Maharashtra had been instrumental in sanctioning this game changer project. Now as Union Minister for Roads and Highways he continues to be a vociferous proponent for building concrete roads in India. 100 new concrete road projects have already been announced by him and all NHAI supported road projects fall under the purview of concrete pavements. Logically, this development will promote the use and sales of concrete paving and other allied equipment, in large numbers, across the country.
Although the comparison between Asphalt and Concrete roads is a never ending debate, in most parts of the globe, in essence concrete roads are cheaper, faster to build, last longer and require minimum post construction maintenance costs. There is a trade off in terms of better riding quality available on asphalt roads. However, in context of India?s plans to revive economic growth, wherein funds limited and further revenue costs need to be optimised, concrete roads are the most viable and long lasting solution.
Many specialists opine that concrete slip form paving is the least understood subject in Indian construction industry. Unlike asphalt roads which can be repaired any time with less investment, concrete road once made cannot be repaired cheaply. Whatever is the quality of road made in the first go one has to live with it. Hence it is very important that concrete professionals comprehend the full perspective of delivering high quality concrete roads and pavements to have long and trouble free life span of over three decades. Similarly the Contractors also need to understand the difference between simple spreading and leveling vis-a-vis slip forming concrete.
Market vision
Upcoming prospects for Concrete Paving and Allied equipment need to be visualised in a few separate buckets:
Roads and Highways: India?s drive to build 30 kilometers of roads per day; 10950 km road projects targeted for award by end of this fiscal; allocation of Rs.81,114.59 Crores for highway development; 100 new concrete road projects; Sagarmala Project and the government?s determined efforts to increase PPP and BOT awards will be positives for Highway and smaller class concrete pavers, texturing machine, curing machine, curb casters, crash guard casters; offset drainage pavers and others. Irrigation: Krishi Sinchayee Yogna (PMKSY) outlays Rs 50000 crores in 5 years; Ken-Betwa river linking project revived, development of inland waterways; many aided irrigation projects by World Bank(5), Asian Development Bank(4), Japan International Cooperation Agency(11) for many states under consideration by Ministry of Water is likely to drive the growth of Angled pavers of different sizes and others. Airports: Airport Authority of India is aiming to add 200 new airports by 2030, significantly the controversial new international airport at Panvel near Mumbai and up gradation of the existing will definitely require the use of such equipment for aprons, aircraft hangers, drainages etc.
Ports and Inland Container Terminals: 35 projects worth around Rs 50,000 crore are in the pipeline for investment in the port sector under public-private-partnership (PPP) model. Sagarmala Project related to Roads and Ports sector, along with Make in India movement for increased transportation and freight movement will also contribute to the growth of such equipment because it is required for constructing hard ground in loading, unloading and storage areas.
?Currently, the market size for slip form paver is limited but looking at the concrete road projects coming up in our country, the requirement will be 10 fold,? comments Mitul Patel, Managing Director, Apollo Inffratech Group.
Ramesh Palagiri, Managing Director and CEO, Wirtgen India, affirms, ?Till recently the market size was small but with government focus on concrete roads it should pick up in a big way in the coming years.?
?For the concrete pavers and allied machinery, there is a big boom now. It should continue for the next couple of years. I expect at least 15-20 machines to be sold this year. The sales may decline later on depending upon the number of idle machines,? mentions, Vinayak Rege, Product Application Specialist, Gomaco International.
Post paving equipment applications
A concrete trimmer is useful for accurately preparing the grade in advance of the paving machinery. A trimmer will use the same elevation strings that the paver uses and therefore will be accurate to within 3 mm of depth. This form of grade preparation is much more accurate and efficient Depending upon the surrounding terrain and traffic patterns, it may be necessary to add concrete placing equipment to the job. This concrete placing equipment will be used to receive concrete from a transit mixer or dump truck, and place it in front of the concrete paver. Some varieties of concrete placing equipment are also equipped to spread the concrete in a consistent layer in front of the concrete paver, which will improve the performance of the slip form paver.
Following the concrete paver, should be a texture/cure machine. This machine will perform a number of critical functions such as spraying a liquid curing material on the new slab to prevent premature dehydration, and placing a desirable texture in the new slab for water drainage and traction.
Saw joints must also be placed in the new concrete slab to prevent random cracking. This process should be done with an automated concrete saw to add economy and efficiency to the paving process.
Used and rental equipment options
There has been a long gap since the completion of the last major concrete road project in India. Although, the contractors had procured paving and allied machinery in large numbers, at the material time, their present condition is bad due to neglect and nil usage. As such availability of used equipment in fully operational condition is very low.
?Concrete roads were laid in some stretches of the golden quadrilateral and thereafter it was used only in city roads in certain cities. Now again the focus is on concrete roads. Hence used equipment market is small,? observes Palagiri. ?Due to the fact that concrete paving has not been extensively used in India in the past, used machines are very limited in supply,? confirms Patel.
In the rental space, there are mixed reactions. Palagiri opines, ?Renting in India is not feasible as of now due to the uncertainty with regards to project duration due to several constraints, hence not viable. Once we have time-bound projects, it would be viable.? On the other hand, Patel confidently informs, ?HEM will provide rental equipment under medium to long range rental agreements.? Now Apollo Inffratech has technical collaboration with HEM Paving - USA.
Challenges
One of the problems in the road/airport building industry is finding a qualified labor force. High volume concrete paving jobs require a well-trained and reliable staff. From management personnel to machine operators to concrete finishers, reliability and experience are critical. It is very important to make sure the machinery chosen for the job is matched to the technical expertise of the employees that will be on the job.
?Many machinery manufacturers have created machines that are too electronically equipped to be effectively operated and maintained,? says Patel.
A concern for the emerging technology will be the durability, considering the environment for all concrete paving jobs. Another concern will be the availability of a skilled group of engineers that will be required to operate and manage this advanced equipment. (For others refer box on critical success factors)
Emerging technology trends
The new SP 94 paver from Wirtgen is a fully modular inset model on four steerable, swiveling crawler tracks to pave concrete surfaces with a width from 2 m up to 9.5 m and a paving thickness of up to 450 mm. Both metric and imperial inset slab paving moulds are available, optionally with crown profiles. Thanks to its modern exhaust gas treatment, the SP 94 complies with the emission standards.
?Wirtgen group has been present for 20 years in India and this experience is helps in providing application support for concrete roads,? says Palgiri.
?Emerging technology would include laser guided systems. Currently, this technology is expensive and will most assuredly get less expensive in the future,? says Patel. ?New quality control tools like MIT SCAN-2 can check the position of dowel and tie bars fast by non-destructive method,?says Rege. He adds, ?Computerised paving management technologies which reduce or avoid human errors will prevail. Currently, customers are using decade old technologies, which are cheaper to acquire and they are not inclined to the higher price for adopting the latest. Quality does not come cheap.?
Conclusion
A horde of new opportunities in various infrastructure sectors are around the corner, beckoning the manufacturers, suppliers and dealers of concrete pavers and allied machinery to put their act together to meet any challenge thrown in their direction by the market.
The growth trajectory is expected to continue for at least a decade. Further progression will depend up on the short and long term achievements.
Paving Applications
National Highways
State Highways
Urban & village roads
Airport aprons
Canal lining
Kerbs
Drains
Crash guards
Container storage yards in ports/ICDs
Concrete Roads: Advantages & Disadvantages
Advantages:
High Compressive Strength
Gains strength with age
Highly durable
Not subject to weathering
Easily mouldable to any shape
Can be sprayed to fill fine cracks
Can be made earth quake resistant
Speedy construction using slip forms
Resistant to oil leaks
Economical to maintain
Disadvantages:
Low tensile strength, cracks easily
Steel reinforcement necessary for durability
Contracts and expands with temperature
Needs expansion joints
Shrinks on drying: contraction joints necessary
Not entirely impervious to moisture
Contains soluble salts leading to efflorescence
Creep in concrete needs to be controlled.
Lower skid resistance, adversely impacts tyre life
Not suitable for high altitudes.
Critical Success Factors
High quality labour & technicians.
Concrete Mix Design
Compaction and levels of sub strata
Ensuring dry lean concrete layer on sub strata
Concrete Paving and levelling
Vibration frequency prevents segregation
Edge formation with mould
Prevent cracks due to climatic conditions
Temperature management in the key
Adequate curing with water ponding
Meticulous groove cutting
Reinforcement and dowel bars
Providing under pass drainage
Reposition underground utilities