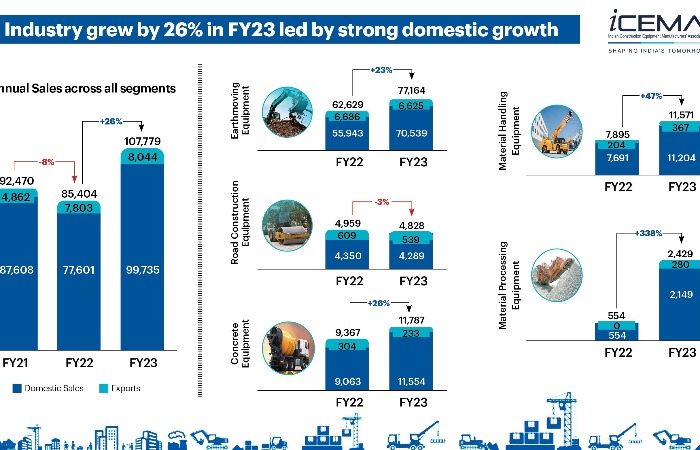 The Indian construction equipment industry recorded an excellent 26 per cent growth YoY with sales crossing the one lakh unit mark in FY2022-23. CE sales in Q4 of FY23 (January-March 2023) increased by 23 per cent, over Q4-FY22 and by 22 per cent over Q3-FY23. On a month-on-month basis, sales in March 2023 increased by 17 per cent over February 2023.
The significant growth in FY23 was driven by all four sub-segments of the CE industry, except road construction equipment, which recorded a slight de-growth of 3 per cent. A total of 77,164 units of earthmoving equipment were sold in FY23 – a 23 per cent jump in sales as compared to 62,629 units sold in FY22. The sales of backhoe loaders and crawler excavators, accounting for over 90 per cent of total sales of earthmoving equipment, increased by 28 per cent and 17 per cent respectively during the year.
Similarly, concrete equipment sales went up by 26 per cent to 11,787 units in FY23 on the back of an equivalent increase in sales of concrete mixers which contributed around 60 per cent of sales in this segment. The material handling equipment segment recorded an impressive 47 per cent growth, driven by a 25 per cent surge in sales volume of pick and carry cranes, accounting for more than 80 per cent of the total sales in this category. A significant increase in telehandler sales was also witnessed with 713 units sold in FY23, compared to 342 units in FY22. The material processing equipment segment too consolidated its contribution to total sales with manifold growth in screeners, jaw crushers, impact crushers and cone crushers.
"The growth comes on the back of the enhanced pace of construction and mining activity during the year which resulted in a significant increase in demand for all types of construction equipment,", said Dimitrov Krishnan, President, ICEMA and Managing Director, Volvo CE India. It is estimated that road and highway construction was about 30 km/day during FY23, which created a demand for machines like excavators, motor graders, crushers and screeners, etc.
"The support from the Ministry of Road Construction & Highways (MoRTH) has been instrumental in driving the demand for construction equipment as over 40 per cent of CE demand originates from this segment. We are really grateful to Hon'ble Minister Nitin Gadkari for his visionary outlook for the road sector of India and we hope that this sector will continue to be a strong demand driver for the CE industry in future as well", said Krishnan. He further urged the Government to ensure a steady and high pace of highway construction be maintained throughout the coming years to create a sustained demand for construction equipment. He also added that a focus on debottlenecking the issues to accelerate the pace of execution of the existing infrastructure projects would enable the industry plan better to cater to the emerging demand for the equipment.
Besides the road and highway sector, a steep increase in railway construction in FY23 clocking 14 km/day of track laying owing to the commissioning of new lines, doubling and gauge conversion, etc., enhanced the focus of the state governments toward traditional infrastructure development – roads, irrigation as well as rural/urban development and the steady revival of the real estate industry were the other factors that contributed toward the growth of the industry and resulted in higher demand for construction equipment during the year. Additionally, a 15 per cent increase in coal production in FY23 led to higher sales of mining equipment like high-capacity excavators, motor graders and dozers.
"FY2022-23 was a year that saw volumes peak to the best-ever performance, with the industry sales volume exceeding the pre-pandemic level by 10 per cent." commented VG Sakthikumar, Convener, ICEMA Industry Analysis and Insights Panel and Managing Director, Schwing Stetter India. "Infrastructure projects including high-speed trains, metro-rail, and national highway construction contributed to the growth of CE industry in Q1 and Q2 and the growth in subsequent quarters was backed on petrol and refinery, steel plant, and port development projects," said Sakthikumar.
Sakthikumar mentioned that, with the Government's continued focus on infrastructure development and a significant increase in the capital expenditure outlay announced in the Union Budget 2023-24, demand for construction equipment is expected to remain robust in the near term with growth expected to be around 15 to 20 per cent in FY24.