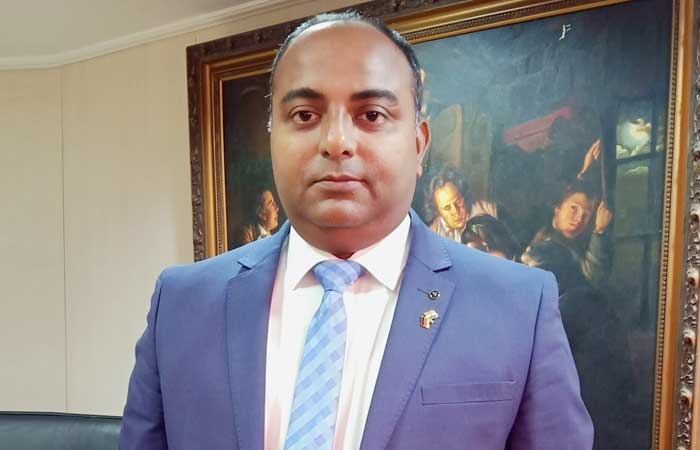 - Subhajit Chandra Divisional Head – Mobile Crane Division Liebherr India
How is the medium and heavy-duty mobile cranes market progressing in India? Which projects are the major demand drivers?
The India mobile crane market is anticipated to register annual growth rate of over 5 per cent during the forecast period 2020-2025. Unfortunately, Due to unexpected Covid-19 pandemic, we can expect some challenges in terms of upcoming projects in India. However, infrastructure and industrial development have played a crucial role in the Indian economy over the past few years. The Indian government is expected to increase its spending on public infrastructure to meet its ambitious development plans. Over the past few years, the construction industry has seen a huge growth, which has created a demand for construction equipment.
The crane market in India started growing post-2016, as the government and various state governments initiated heavy construction projects like smart city projects, metro rail projects. Moreover, projects like dedicated freight corridor is also expected to boost the construction industry, thereby creating a demand for mobile cranes.
We have expected the move in infrastructure, cement and wind sector even at certain extend from fertilizers sectors, which can create the demand of mobile cranes. The accelerated PPP projects in that the Ministry of Road Transport and Highways has planned to construct six-lane roads under the Golden Quadrilateral programme, which aims to construct around 6,000 km of roadways in the country in order to connect the four metropolitan cities to each other, will boost the demand for construction equipment and high capacity all-terrain cranes, increased mining activities. Apart from that, the government has rolled out several policies to allow infrastructural development in India. They have relaxed FDI regulations in the construction sector.
There is an increasing requirement for a broader range of higher lifting capacity, quality products, with long life expectancy and comprehensive after sales service. Mobile all terrain cranes are the most standard and versatile type of crane used in construction, mining, defense, shipping, port building, rail, road, bridges, oil and gas industry and others manufacturing industries.
All terrain dominates the market owing to growth in the construction sector across India due to his versatility and operation efficiency. Use of heavy-duty mobile crane in Indian industries is the sign of increase in investments in construction, cement, steel, wind and power sectors are factors for the market growth. Liebherr make 450T to 1200T capacity all terrain cranes used in wind mills applications, infrastructure sectors, construction of elevated corridors, lifting the chillers and much critical applications in the industry.
Our Liebherr make 450T capacity all terrain crane – Model LTM 1450-8.1 features a very long yet powerful 85-m telescopic boom with single engine. The Liebherr 8-axle crane has been designed for worldwide cost-effective mobility and fast, easy set-up on site, which has resulted in the LTM 1450-8.1 being capable of travelling on public roads with a 12-tonne axle load including its 85 m long telescopic boom, all supports and a complete hoist winch. This means that it can be quickly prepared for use once it reaches the site.
Liebherr unveiled recently 650T capacity all terrain crane –Model LTM1650-8.1 at the Bauma 2019 event, the successor to the legendary LTM 1500-8.1, the best-selling large crane ever. Of course, this heavy-duty crane has the same genetic concept as its predecessor i.e. ultimate performance on eight axles. The result is that the 8-axle crane can complete hoisting work in the 700-tonne class or even higher with ease. It therefore has a nominal lifting capacity of 700 tonnes. In a lifting capacity comparison, the LTM 1650-8.1 exceeds its predecessor's capacity by between 15 and 50 percent, depending on its equipment package. LTM1650-8.1 has got the max lifting capacity 700T at 3m working radius with 80m main boom with single engine which is important factor considering the fuel consumption which affect the direct operation cost of the project.
Our crane model LTM1750-9.1 has excellent success in India, until date we have sold 2 no's in India in The key feature of the 9-axle LTM 1750-9.1 is that, it can carry its entire telescopic boom on public roads. Its high load capacities and variable boom Systems enable it to cover a wide range of uses. In terms of its construction, this Liebherr make 800T capacity All Terrain mobile crane is designed for particularly short set-up times. The lifting capacity 800T at 3m working radius with 52m main boom and 91m strong luffing jib makes the crane the best in the world in 800T capacity class.
Liebherr make 1200T capacity all terrain crane model LTM1200-9.1 the 9-axle crane delivers maximum load capacity and one of the longest telescopic booms in the world. Various lattice extensions are also available. The Y telescopic boom guying delivers significant increases in load capacity. The 9-axle chassis includes active, speed-dependent rear-axle steering developed by Liebherr.
When it comes to other types of mobile cranes in India, there has been a marked increase in interest but a significant drop in rental rates over the last couple of years due to intense competition and the large quantity of machines flooding the market. In India, we can easily notify many customers with mobile cranes capacity range 100T- 200T and crawler cranes capacity range 150T – 300T and the rates have come down substantially. However, in mobile cranes capacity range 450T- 1200T and in crawler does capacity range 350T-1350T, we can still expect some good movement of crane in future.
The mobile cranes market in India is still dominated by pick-n-carry cranes. Why?
Pick and carry crane has a separate ball game all together as far as mobile crane is concerned. The demand for pick and carry cranes has a strong correlation with the industrial growth. The pick and carry cranes undertake a wide range of lifting jobs across infrastructure, mining, agricultural, industrial and urban renewal sectors. The application like pole erection, or laying pipelines or even going by its traditional application, pick-n-carry crane can find its wide usage as support equipment in construction projects at job sites whether it is for commercial or residential projects, for moving small material or moving steel structures etc. Significantly, the product can be widely used for intra-and inter-plant moving in the manufacturing sectors, to support a host of production activities.
Pick and carry crane is the strong support for higher capacity all terrain and crawler crane assembly and dis-metalling. Importantly, the competitive pricing factor would keep pick and carry cranes at an attractive buying proposition for potential buyers. Competitive pricing in its designated capacity class, would continue to make the machine attractive for rental companies and minor hirers, which constitute its major buying segment. Affordable pricing would also make the cranes attractive for first time buyers as well as contractors.
What are the major design changes in your range of products?
Our Liebherr models of all terrain crane LTM1450-8.1 i.e. 450T capacity and LTM1650-8.1 i.e. 700t capacity cranes is 8 axle crane with single engine. Single engine has enough power to supply both in superstructure and carrier and they are well equipped with all the new upcoming emission norms in India. Due to one engine maintenance cost reduced. Definitely two engine maintenance cost is more. The best benefit customer can get in India is fuel-efficient operation. The strong luffing jib is best suitable for Plant operation and in real estate for lifting the jib of tower cranes at higher reach, our strong luffing Jib makes the crane at the best in the 450t class capacity crane.
Our telescopic boom is a puncture proof and torsion resistant construction made of high strength fine-grained structural steel. The oval boom profile provides maximum stability during bending and torsion. All telescopic sections are extended or retracted by a double-acting hydraulic cylinder. With the rapid-cycle telescopic system TELEMATIK, the various extension lengths can be positioned fully automatic or manual. All telescopic sections can be telescoped hydraulically under partial load. The telescoping process is monitored by the LICCON control on the monitor with telescope images. The telescope length is displayed on the LICCON monitor in the crane cabin.
The Crane Control: The control system consists of a LICCON monitor with central computer and operating unit, operating and control unit, input and output modules, two keyboard units and four hand joysticks. All crane movements are continuously electronically controlled. The Liebherr System Bus (LSB) and the Controller Area Network (CAN) manage the data transfer. The maximum working speed of the hoist, luffing, telescoping and slewing gear can be limited at the LICCON control.
What is the role of safety in heavy-duty mobile cranes? What are the added safety features in your mobile cranes?
Liebherr manufactures crane as per EN13000 as a manufacturing standard. In EN standards, The European conformity Machinery Directive (ECMD) gives the essential health and safety requirements for machinery. The number of mobile and crawler cranes accident over the past many years remained constant and it has been analysed that the mobile cranes were the largest contributor. The worldwide accepted and 5technologically highly enhanced standard EN 13000, which guides the safety norms for the mobile cranes especially operating within a functional plants, has a widespread effect on the safety concerns, and has reduced the numbers of accidents in modern day cranes almost to nil.
The EN13000 calls for few important criteria's which are to be strictly followed and concerns only safety features of the cranes thereby minimizing the casualties and fatal accidents caused by petty faults of the operators. As this is to be kept in mind, that an operator is only an operator. Hence, Liebherr offers the Override switch and data logger, Variable Outrigger placements and Fleet Management system such safety features to avoid the accident and human loss.
You can notify our following additional features of mobile crane which are unique:
Liebherr Patented VarioBase® (Variable Outrigger extension) System: VarioBase® means the maximum load capacity is calculated directly in the crane control. Thereby the crane control considers the current working position of the crane. It helps to considers unequal extended outrigger beams, e.g. at constricted job sites and provides higher load capacities and lager working areas. VarioBase® calculates for each job situation the maximum load capacity and makes crane jobs more secure. VarioBase shall have the capability to work on outrigger with extension of individual outrigger to the extent of available space without any step (continuous). Individual outrigger extendable arbitrarily to each other. The Crane system is able to calculate the relevant capacity according to each arbitrary outrigger position, which should be displayed in the operator cabin. Innovative measuring technology of VarioBase®: The in-house developed systems can only provide accurate results if accurate values are available. Liebherr provides maximum safety.
Eco Mode: With the help of Eco Mode an automatic adjustment of the diesel engine speed, fuel is saved and noise emission is reduced.
BTT (Bluetooth Terminal): By wireless remote control & display unit operating hoist and luffing winches to detach/attach hook block from/to front bumper for better safety, engine start/stop & speed regulation, electronic level display and automatic levelling.
The current unprecedented market conditions have put a brake on the demand due to slowdown in construction activities. How do you look at this scenario for the mobile cranes market?
The second half of 2020 also did not start on the positive note many were expecting due to the Covid-19 pandemic. However, as consumer spending increased throughout the year and promises of a vaccine grew and the world grew more accustomed to a "new normal"—a better economic picture began to emerge. While industries such as manufacturing, construction and trucking were considered essential throughout the pandemic, they were still negatively impacted at the start because of lower demand and stay-at-home orders in many regions.
As per the market review, GDP grew 7.5 per cent in the third quarter. This helped to recover what had been lost in the previous quarters. GDP for 2020 overall though was down 3.4 per cent compared to 2019, indicating there is stillroom for growth. In general, there appears to be more optimism going into 2021. Manufacturing growth has strengthened and there is a greater sense of positivity in many markets related to the heavy equipment industries.
How do you look at the market recovery and outlook for mobile cranes? What will drive the growth in future?
Backed by the highly advanced building and construction, oil and gas, and logistics industries, India is the centre of attraction of players in mobile cranes industry. Abundance of raw materials, labours, and well-developed manufacturing infrastructure are further driving the growth in India.
The last quarter of 2019 and the entire year 2020 were dominated by Covid-19. India, rather the world was ill prepared for the impact and scale of this pandemic, which has led to lockdowns and a still to be determined impact to country growth.
The government of India is also constructing one of the largest Greenfield airport projects in the world named Navi Mumbai International Airport (NMIA). The first phase of the airport will be able to handle more than 20 million passengers annually and the airport will be expanded to handle more than 90 million passengers annually.
Thus, the ongoing projects and the growing investment from the foreign players and government side are driving the crane market in the country. Therefore, the market studied is anticipated to grow over the forecast period.
The mobile crane equipment rental market holds considerable potential for future growth. Hence, the front running organisations are constantly updating their equipment fleets with advanced technologies. Crane players stand to benefit from increasing government investments in infrastructure development in emerging economies. The Indian government is expected to increase its spending on public infrastructure to meet its development plans. Right this movement we can hope to recover the country from Covid-19 pandemic.