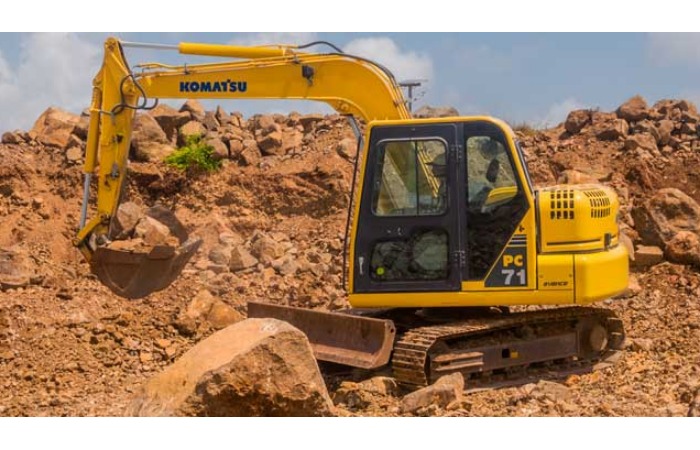 Since excavators can be put to use in a variety of applications such as for digging of trenches and wells, demolition, grading and landscaping, river dredging as well as for the transportation and unloading of materials and leveling of the ground, they are currently rated as one of the most important among the many machines required to carry out the nation-building work. Globally, the hydraulic excavator market is expected to register a steady market growth at a rate of 2.85 per cent in the forecast period of 2021 to 2028. The hydraulic excavator market in India has been impacted by the slowdown after the onset of Covid-19 pandemic. Though the market recovery is slow, it can bounce back with the support of policy measures as vast opportunities lie ahead in infrastructure creation in the country.
Rising awareness towards global warming and climate change is increasing demand for the green building, which is driving the growth of the market. Growing urbanisation and infrastructural activities in many regions are driving the growth of the hydraulic excavator market. The increasing number of large scale mining-related projects; road and port construction is also boosting the market. The increased demand for oil and gas construction sectors has also expected to grow the market. Growing popularity for hybrid hydraulic excavator vehicles will propel the growth.
Availability of modern and facilitating infrastructure is a crucial requirement for the growth of any industry. Government initiatives like 'Make in India' and schemes like 'Housing for All' are steps in the right direction.
With smart cities project in the pipeline, investment in road construction and housing projects will spike demand for mini excavators. Rise in diesel prices will also boost the demand growth for mini excavators as they are more fuel efficient than heavy excavators. Furthermore, the announcement of metro rail projects in states like Maharashtra will also go a long way in generating demand for excavators.
Market size
Says Rahul Shorey, National Head (Construction ), Tata Hitachi Construction Machinery, "The excavator market peaked in FY2018-19 following three years of sustained growth led by increased government focus and investment in the infrastructure sector. However, the excavator market was significantly affected national elections in early FY2020. This was followed by liquidity issues as a fallout of elections, as well as the continuing effects of the IL&FS crisis. Further, just as the market was recovering its growth trajectory from January 2020 onwards, Covid-19 lockdown hit in March, adversely affecting sales. All this led to the market contracting by more than 20 per cent in FY2020. Given the extreme impact of the lockdown on sales of the first quarter of FY2021, the market was bracing for a second successive year of contraction."
Arvind K Garg, Executive Vice-President and Head-Construction & Mining Machinery Business, Larsen & Toubro, had this to say: "In recent times, demand for hydraulic excavators peaked in FY2018-19 to 25,000 plus units and was expected to sustain over the years. However, the pandemic hit the demand in 2019-20, shrinking it to about 18,000 units. Demand during Q1 of FY20-21 was obviously severely affected, but we witnessed a sharp rebound from September 2020 and onwards, which helped the annual demand recover to the FY 19-20 levels."
"Last year, the excavator market touched 18,000 units. The start of last year was good. Later on the numbers dipped due to Covid-19 pandemic. However from September onwards, the market picked up. Compared to other industries, 2020 was a good year for the construction equipment sector. But if your compare to the previous year (2019), the market is down by 20 per cent," said VG Sakthi Kumar, Managing Director, Schwing Stetter (India).
Opportunities galore
Speaking on the opportunities for the hydraulic excavators market, MV Rajasekhar, Chairman & Managing Director, BEML, said, "The government's Infrastructure Development Plan is instrumental in creating huge demand for construction equipment including hydraulic excavators. The plan will result in a huge demand and growth for hydraulic excavators in the near future. Coal mining companies are planning for higher capacity mining projects to increase production; which requires deployment of higher capacity hydraulic excavators (100T and 180T class). Hence, there will be a requirement of higher capacity hydraulic excavators in future in coal mining sector."
Dheeraj Panda, Director – Sales, Marketing and Customer Support, Sany Heavy Industry India, was of the same opinion as BEML CMD. He said, "The demand for hydraulic excavators is on surge due to infrastructure development and mining reforms in the country. Considering the prevailing situation, Sany India envisages unprecedented growth and ample of business opportunities for hydraulic excavators amidst stiff competition and uncertainties."
Shorey expects the mini excavator market to continue to grow faster than the overall market with increased mechanisation due to labour shortage, apart from the natural advantage of increased productivity due to mechanisation. He said, "This segment will also be supported by increased allocation for the implementation of the rural water supply programme as well as some migration from backhoe loaders, which have become costlier post CEV4 emission norms implementation this year."
"Mining reforms have also brought the confidence back in the industry. With better clarity on policy continuation, customers are gaining confidence to invest in high quality mining equipment. We are already witnessing a strong demand for Komatsu dump trucks, hydraulic excavators, dozers, wheel loaders from various sectors like coal, cement and iron ore," said Garg.
Importance of Industrial IoT in heavy vehicles
The demands for commercial vehicles have grown dramatically over the last decade. Heavy-duty vehicles are vital to business operations in many industries, from commercial trucking to agriculture and construction, and are expected to operate at remote locations 24/7. Maintenance and repair costs for these expensive vehicles are higher considering a vehicle's lifetime cost. However, maintenance services are very critical as they directly affect the operation efficiency and equipment uptime. Organisations have evolved their maintenance strategies from corrective maintenance to preventive maintenance to ensure maximum uptime and efficient asset operations.
Today, many equipment builders are leveraging the latest advances in technology to meet the quality and standards of ever-demanding operating standards. Emerging technologies such as Industrial IoT are helping the OEMs build the connected equipment to monitor their own condition to ensure higher efficiency continuously. With Industrial IoT, tracking and tracing of vehicles have become faster, more accurate, predictive, and secure. Connected cars also generate real-time data of fuel efficiency and drivers operation, etc. Sensor-equipped vehicles can also inform operators of their exact time to bring a vehicle in for service.
The technology is still evolving, and Industrial IoT is turning out to be the lifeline of the heavy equipment industry.
Industrial IoT solution: Predictive maintenance
Keeping the machine or equipment effectively working 24/7 while reducing the cost of maintenance and repairs is a challenge for equipment manufacturers and users. Emerging technologies like Industrial IoT, digitisation, and big data analytics enable vehicles and industrial equipment to convey their status to a centralised server, making detection of faults easier, more practical, and more direct. By identifying issues proactively, companies or equipment owners can organise the maintenance and service engineer to reduce the equipment downtime.
Predictive maintenance involves evaluating isolated data, such as vibrations, enabling it to go a step further. All available data is pooled together and processed automatically to make an even more precise prediction about the remaining service life of components. This is done using big data analytics, where hundreds or even thousands of parameters from various sources are aggregated and evaluated. Data mining techniques are used to examine historical data to uncover previously unrecognised – and often very complex – correlations. In combination with manufacturer data and information from measuring transducers, it becomes possible to make precise predictions about when components are likely to fail.
This knowledge can be used to make more informed maintenance decisions, such as deferring tasks of lower importance to allow for prompt replacement of components where failure is imminent. It also allows for identifying systematic error patterns and their root causes so that machine parameters can be adjusted to reduce wear.
By leveraging new technologies to improve performance and efficiency, reducing downtime will allow both machine builders and end-users to differentiate themselves from the competition. Those who fail to take any new action will be left behind in a transitioning marketplace.
Caterpillar Inc launched its new hydraulic excavator, Cat® 313D2 L, in India. Manufactured at the Tiruvallur facility, the new excavator has unmatched versatility, improved controllability, easy operation and a comfortable redesigned operator station, according to the company.
"This 13.5-tonne excavator is the next big thing for Caterpillar India. Performance test results show the machine competes with the 20-tonne offering in the market. Today, the industry dictates the use of 20-tonne excavators in certain jobs which can be completed by the Cat 313D2 L. A few customers have already replaced their 20-tonne excavator with this new model which does more work with less investment, less fuel and lower maintenance to save money for the customer," said Gurman Reen, Sales Director, Caterpillar India.
Road ahead
Says Shorey of Tata Hitachi, "We recognise that this is a temporary setback and that to make up for lost time, the govt will continue to focus on enhancing and accelerating investment in key infrastructure drivers like roads and highways, water supply, railways, ports and airports. We therefore expect the market to grow by nearly 20 per cent, which will be further aided by the low base of the first quarter of last year. Further the government has articulated its commitment towards sustaining till 2025, the execution of NIP amounting to Rs 112 lakh crore. We foresee that these factors should aid the continued growth of the excavator market over the next couple of years too."
"With the future infrastructure development plans in place; we envisage there will be demand and continuous growth for hydraulic excavators in infrastructure sector in India. As far as coal mining sector is concerned, there will be demand for higher capacity hydraulic excavators. However, with renewable energy picking up, the requirements of hydraulic excavators from coal mining sector will either reduce or will remain stagnant in future. However, in non-coal mining sectors like iron ore mining (steel), limestone mining (cement), aluminium, zinc, etc. there will be demand and continuous growth for hydraulic excavators in future," says MV Rajasekhar.
Garg thinks that development of world-class infrastructure will continue to be the cornerstone for India, as the country moves towards fulfilling its $5 trillion economy ambition. He adds, "With hydraulic excavators being the most versatile construction equipment across the globe, I foresee a huge demand for hydraulic excavators as well, in the years to come. Digitalisation, alternate fuels, cost effectiveness, versatility and the like are some of the key areas that the industry is working on. With the world moving towards electrical and exploring hydrogen powered vehicles, developments on excavators in this direction, will likely be the next technology frontier."